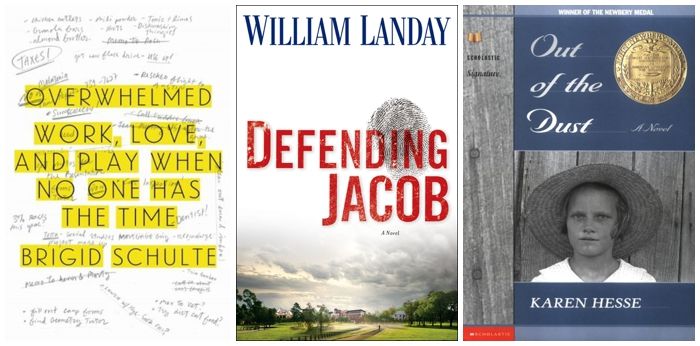 Overwhelmed: Work, Love, and Play When No One Has the Time
came onto my radar from NPR. Brigid Schulte is a reporter for the Washington Post, married to an NPR reporter, and the mother of two children. After feeling overwhelmed (obviously) with work and family responsibilities, Schulte began an exploration of how our society treats work and leisure. It's a fascinating collection of personal experiences, research and cultural expectations. Here's my warning: if you start this book, you must finish it. There is a point about 30% in where it feels like there is no hope for anyone, especially women. But it turns hopeful for the author and all of us when you get to the second section on love and family.
It pushed gently on some of the things I believe about how I spend my time and what is leisure. Inspired by the book, a couple weekends ago Kip and I did a 500 piece puzzle together. It was fun for both of us. Walking together is another thing we both enjoy (the trees!). The stuff I get to do for myself - blogging, crafting, reading, baking (most of the time) - is leisure time to me. I've found a new workout I love, and I (almost) never have to make myself go.
I have to be careful with Etsy and cookie orders because it can be so fun, but it can also make me groan. I've had too much on the to-do list for about two weeks, but I'm working on whittling it down. May 5th will mark a great shift in my responsibilities this spring. I am
so very aware
that these are the ways I choose to spend my 24 hours each day, and I can choose differently. Sometimes it just takes a little while to make the shifts, to say good-bye to some responsibilities and re-prioritize that leisure time.
Defending Jacob
was the book club selection for March, and everyone responded differently to it but were glad they read it. My step-grandpa, Fred, gave it to me and told me I had to read it. He's only done that one other time with The Devil in the White City, and pretty much anyone who picks up that book devours it. Defending Jacob is the story of a family with a teenage son accused of murder. It follows the trial and examines the family dynamics. It made for good discussion at book club, and oh man, the ending.
Out of the Dust
was a reread for me because our seventh graders are reading it. I was walking down the hall with a student last week and asked him about the book. He said, "It's really sad." I remembered it being sad, but thought I better read it again to be sure how serious he was. He was right - it's devastating. Kip's family lived in Oklahoma, and they have a few stories passed down that fit right in alongside the beautiful chapters written in verse by Karen Hesse. It can easily be read in a couple brief sittings, and if you have interest in Kansas/Oklahoma/dust bowl history, you won't be sorry you did. I think some of the most beautiful parts will be lost on our middle schoolers, but I hope they still get something out of it.
If you'd like to do something in your leisure time this week, make some sweet treats and
print these free RV Parties tags to go
with them. I'd recommend these
giant M&M cookies
if you need a recipe.