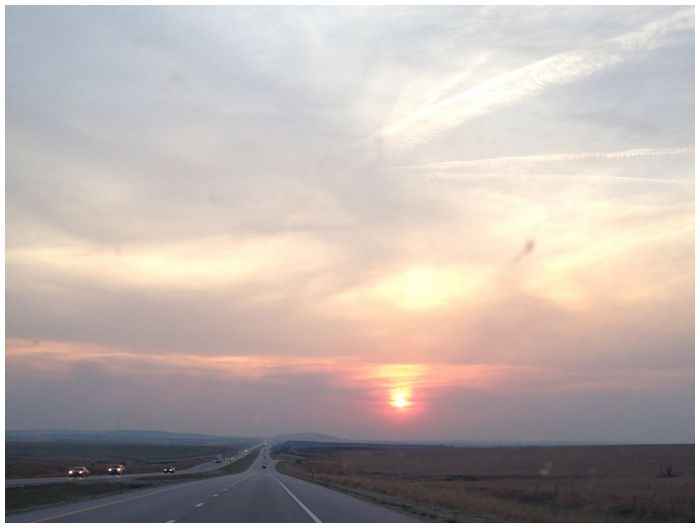 Last weekend was the first one of spring turkey season, so Kip and I went up to Manhattan to see his family. I certainly didn't go hunting, but Kip went with his dad on Saturday. Let's review things that pre-Kip I did not know...
There are two turkey seasons.
The dates of any turkey season.
I
wrote earlier this week
about leisure time, and this is it for Kip. I can't pretend to totally understand yet. They left the house at 5 am on Saturday for round one, and they went back out later in the afternoon when it was over 80 degrees. It requires a lot of gear too. Between all his hunting gear and everything I traveled with (paper cutter, camera, grad school books, computer...all very normal things), the Pilot was practically full when we pulled out on Friday night. We loaded Belle in for her weekend visit to my mom's, made a cookie delivery, and we drove west. As soon as we could, we
tuned into classic country
.
Kip worked as a park ranger during part of college and afterwards, and he knows so many things about the Flint Hills. We watched the prairie fires stretch on between Topeka and Manhattan and saw the haziest sunset as we neared his childhood home. Kip is at home in the places where there is more open land and sky than pavement and housing, and it was a relaxing Friday night drive after a long week of work.
For everything I don't know about hunting, I know this about the weekend - it was a very good one. Time with Kip's family is invaluable. I got to hang out with Kip's two brothers and his mom while Kip hunted, and they are extremely good to me. They listened to me explain Etsy and talk about my final grad school project. I heard a dozen more stories about the trouble the three boys got into growing up and shared good food with good people. No one shot any turkeys, but as we drove home in Sunday's rainstorms, I was thankful and sure that the blessings are numerous in the places where the prairie meets the sky.