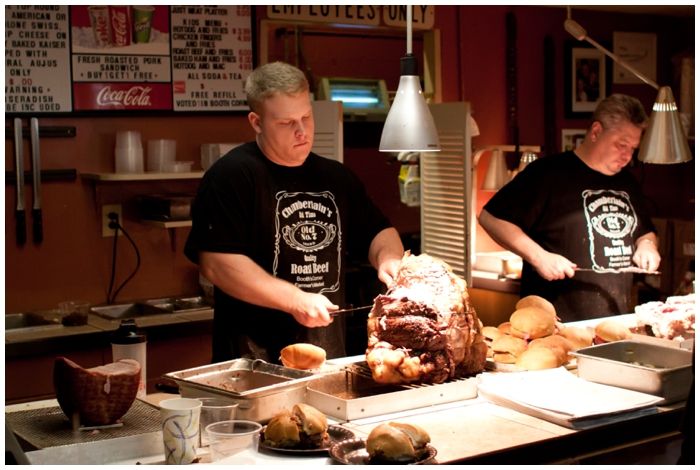 Well I had all these posts and photos lined up to post quickly after we returned home. And then I got WIPED out by some sort of bug that I picked up on the east coast. Thanks planes, trains and automobiles! I'm starting to feel a little bit more like myself, but it certainly was not the way I intended to spend the second half of my spring break. On the other hand, I've watched a lot of March Madness. As usual, my bracket is broken, and I'm the very saddest about poor Wichita State.
But let's back up, and I'll tell you about last Saturday night when we were in Pennsylvania, and I felt like a normal human being. We went to dinner at Booth's Corner which is full of a variety of (kind of weird) shops and plenty of delicious food options. We choose these HUGE roast beef sandwiches from Chamberlain's.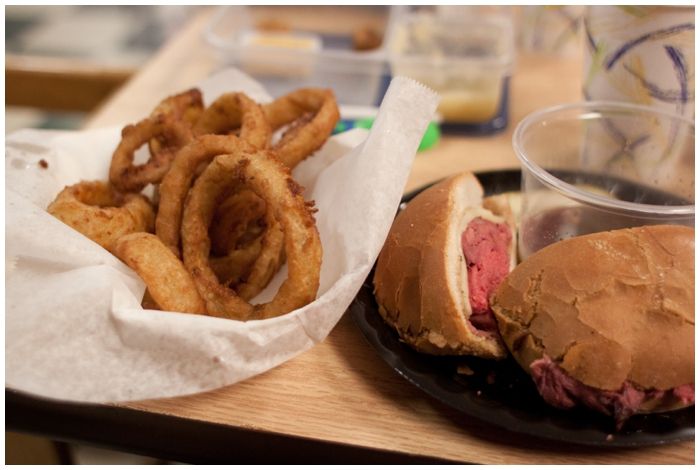 This little restaurant goes through over 800 lbs. of beef each weekend. AMAZING. It was so good to visit with Rachel, Sol and their three boys and eat a lot of fried food and roast beef. Rachel and I could each eat only half of our "junior" sandwiches. We bought a cherry crumb pie from a Pennsylvania Dutch Bakery and headed home to meet the babysitter.

For our Saturday "date night," we went to see the long-awaited Veronica Mars Movie. When Rachel and I found out that my visit lined up with opening weekend, we couldn't imagine anything more perfect for our time together. Rachel and I were both Kickstarter backers, so we had matching Veronica Mars t-shirts to wear. We made the boys wear Veronica Mars stickers on their shirts too!
After the babysitter arrived, we went to have a beer before the showtime. We had a pretty limited amount of time, and Pennsylvania has the weirdest liquor laws (yep, stranger than Kansas!), so we drank our beers in the car. Highly highly recommend the
Lancaster Strawberry Wheat
. So refreshing and not too sweet.
As for the movie, we loved it! It was such a good follow-up to everything we loved about Veronica Mars. And Kip thought it was okay too, even though he has only seen a couple of episodes on Amazon. It kept us on the edge of our seats, and all our old friends were back in the show. Two thumbs up from Rachel and Victoria!