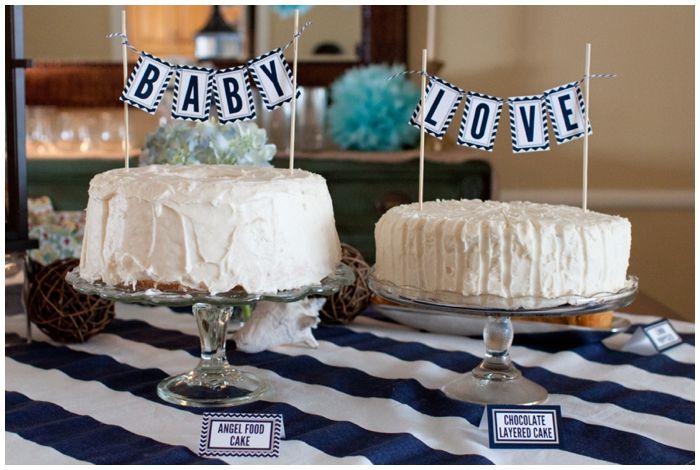 We bounced around a few different shower ideas before we settled on these lovely nautical whales for my friend Anne. She mentioned in passing that she was considering
this bedding
, and I knew we had to use the whale shower from
the shop
. I used many of the items just as Rachel designed them but with more gray and little flags for the cakes!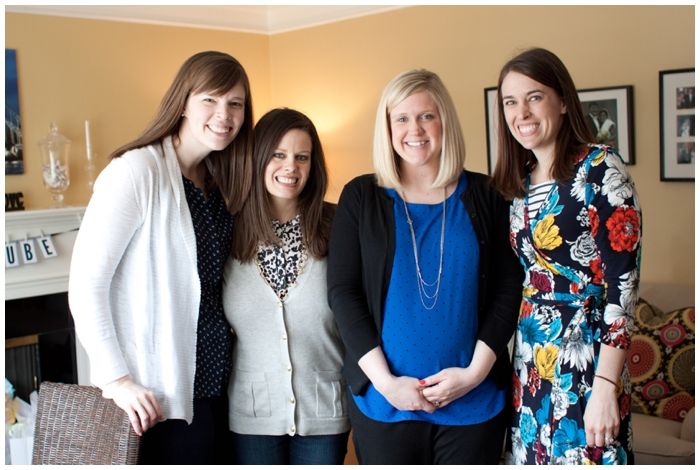 Leah, Erica and I hosted the shower at Erica's house at 2 o'clock on a Sunday so we planned to mostly serve desserts and light snacks. The cake was so fun to serve - a great change from cupcakes and cookies that we always have. (Don't panic, there were also cookies.)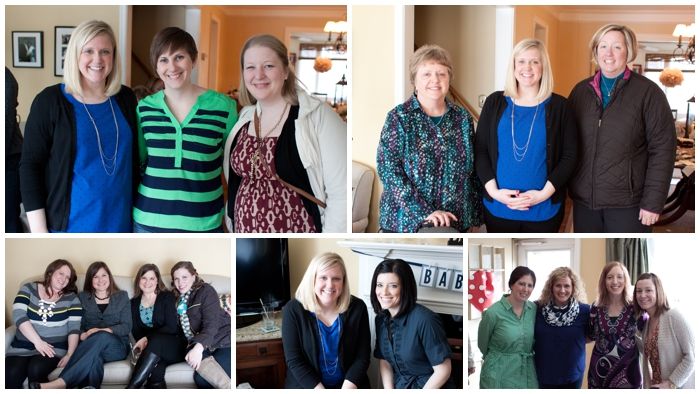 It was a fun friends and family shower with many of Anne's high school friends and our sorority sisters joining the fun. We were glad to have Anne's sister and mom there too. Her older sister has three little boys, so soon her mom will be grandma to FOUR little boys!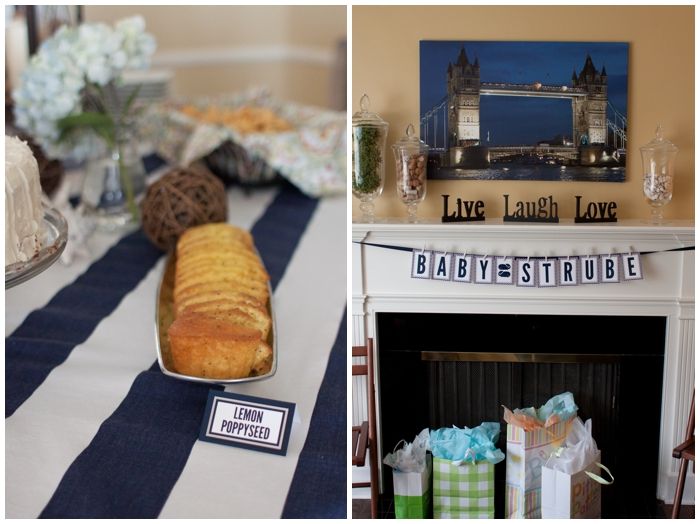 We were worried that we wouldn't have quite enough food, but two cakes proved to be more than enough for about 19 guests. Leah brought some of her famous lemon poppyseed cake loaf, just in case. And the same
famous fireplace from Kate's shower
was decorated with a whale themed banner. (I took the photo above the fireplace when we were in
London
, and it makes me proud every time I see it!)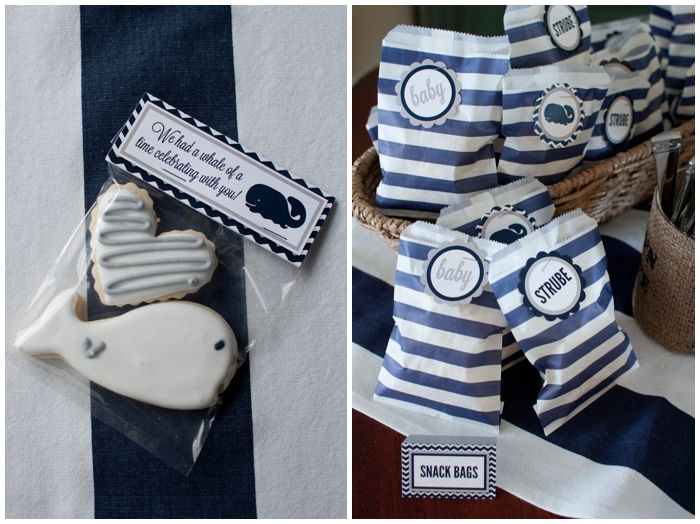 We sent home cookies as favors with little whales and hearts. I filled those little snack bags with a Trader Joe's popcorn that SOUNDED good - browned butter with lemon, herbs and Parmesan. I thought it was okay, Kip and Mom couldn't finish their samplings, and half the guests LOVED it. To be safe, the next time I will just use regular popcorn.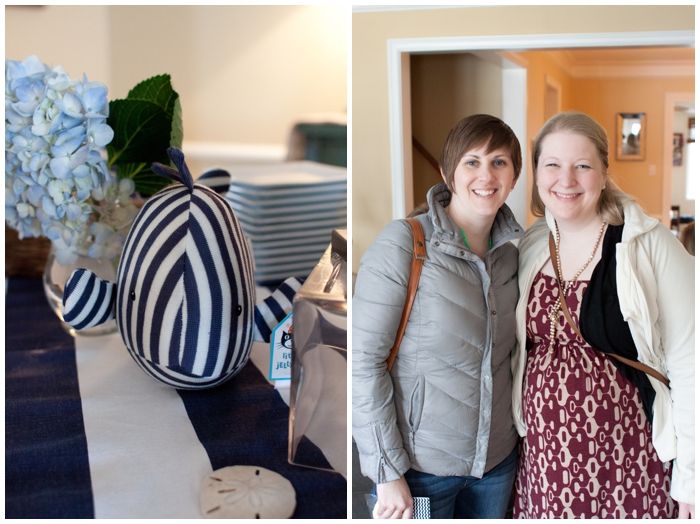 I went to
The Little House
in Fairway to pick up an unrelated project and had to grab this adorable whale named Walter. He matched the party so perfectly! He is super soft with a little rattle inside, and now I'm pretty obsessed with these
Jellycat
toys from London. Moral of the story: don't go to The Little House unless you want to be overwhelmed with cuteness and faint from all things adorable.
Everyone has been into sparkling drinks lately so we offered the guests sparkling wine, water, and lemonade, all from Trader Joe's. I discovered the best shortcut to straw flags by wrapping washi tape around them instead of cutting them out of cardstock. Not to mention, I always have plenty of washi tape. (Or never enough! I want and need this and this too.) Leah made the tissue puffs and Mom re-purposed some navy and white fabric to make table coverings.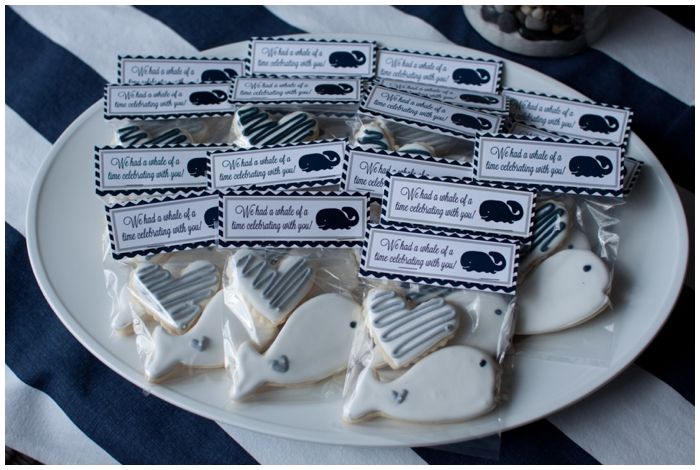 Cookies. Whale-y good ones, in fact. They were fun to make, and I cannot stop it with the sweet little hearts. Valentine's Day has come and gone, but I still want to use the hearts all the time!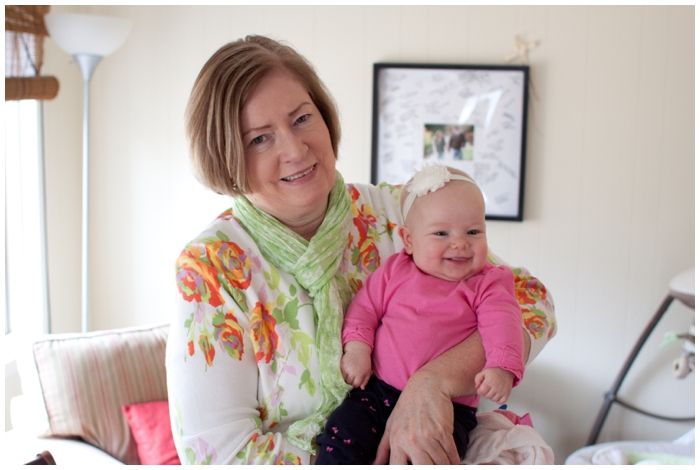 My mom was there, of course, and she held the baby, of course. Look at Maddie's smile! She's a darling little girl. We ALL had a great time showering the next baby to arrive - we can't wait to meet Mr. Baby S! And if you're in the mood for some good green times, check out the fun stuff Rachel has put together for
St. Pat's over on the RV Parties blog
.