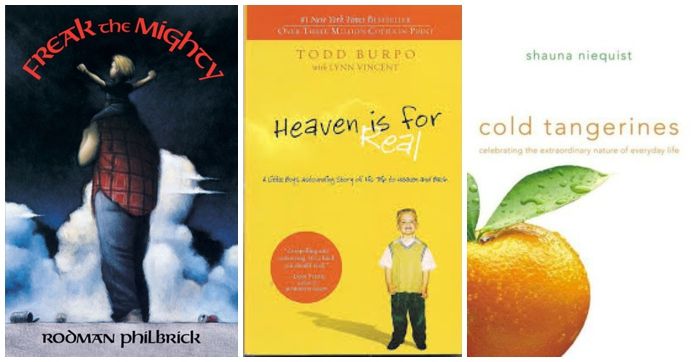 I read three books in January. Well actually, I finished Cold Tangerines on February 1st but seriously, I won't remember in a month to write about it.
Freak the Mighty
is a sixth grade text at school. I gave it to Mom to read first, and she said, "I wish you wouldn't give me these books!" because she stayed up all night reading it. I wish I had read it a couple of years ago because it is SO POWERFUL. So many lessons about disabilities and friendship. I totally cried, and I have a really warm feeling in my heart that our kids read this as sixth graders.
Heaven is for Real
was popular several years ago and comes out as a movie later this year. I never got around to reading it, but my grandma brought me a copy at Thanksgiving. It takes place in Imperial, Nebraska, my dad's hometown! It was a sweet story and a good reminder that a lot of wisdom comes from children. I'm excited to see the movie (
the preview made me tear up
) even though I know it wasn't filmed on location. How cool would that have been?
Cold Tangerines
is Shauna Niequist's first book. I love loved
Bread & Wine
(thought not everyone does) and while the essays in here were similar, they weren't all as compelling as what she writes in Bread & Wine. My favorite essay was about loving your body like you love an old house. (I looked for it online with no luck.) There's a middle book, Bittersweet, that I'll probably read sometime when I want another break from book club books and school related reading. (I bought over $200 worth of books for grad school this semester. Awesome? I guess.)