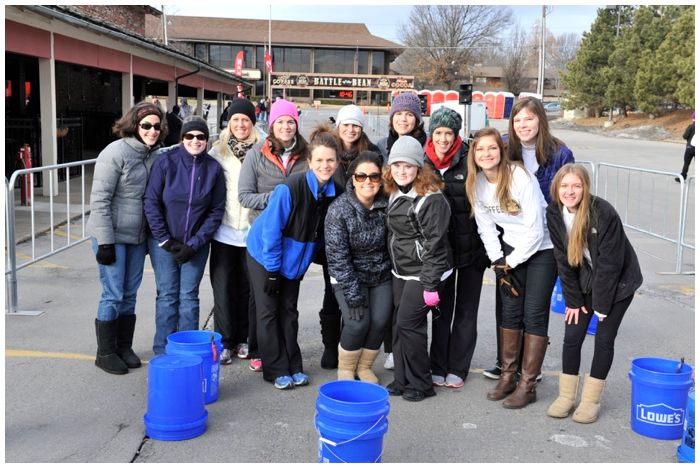 I enjoy
walking
around Kansas City for various 5Ks because they support so many great causes, and I get to race through so many parts of my favorite city. And also usually chat with my friends while we walk! But for the first time recently, I worked a race instead of walking it! In January I volunteered with the Junior League for a race that supports one of my absolute favorite non-profits, Happy Bottoms. It was a fantastic morning working at the start and finish line.
The third annual Battle of the Bean took place in Leawood/Prairie Village. Having a race in January is always a gamble, but at this point in winter we were still snow free. There were two "teams" and each participant either chose a shirt that said "I run for coffee" or "I run for chocolate!" Volunteers received shirts too, and I totally picked team coffee. (
Oh how my life has changed!
). My job was to work the finish line clipping timing chips off the runners. It was warm-ish for a Saturday morning in January, and I loved my job. It was fun to wave them down and great them with a smile before quickly removing their chips. Some people tied their chips into their shoes which meant I felt like an elementary school teacher retying all those shoelaces.
I'd recommend the 5K to walkers and runners for next year. It starts and finishes at Foo's, so people were drinking awesome coffee before and eating custard afterwards. It's a quick little loop around PV/Leawood and parking was accessible. And best of all, it supports
Happy Bottoms
.