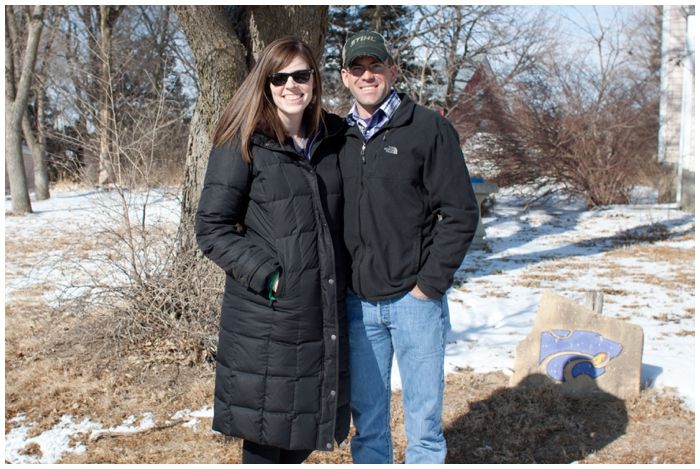 Oh, hey there! I've been meaning to blog but have spent the last couple of snow days doing as little as possible. Today is our third snow day - which is kind of nuts because we have conferences and the buses didn't even have to get out and about - so I have some time to blog again.
Last Friday afternoon, Mom, Kip and I drove out to Jewell County to visit my grandparents, aunt and uncle. It was Kip's first trip, and we really had the very best time. Saturday morning we ate breakfast with my aunt and uncle in Mankato before heading out to the farm for lunch and exploring. Kip has a heart for the country, and I know he loved learning about the family farm. Uncle Keith is a great tour guide, and we drove around to learn about different parts of the farm and see the spots where people hunt close by. They talked a lot, obviously, about trees. Kip's an arborist, and we had lots of conversations about trees native to Jewell County and not.
My mom took this photo of us in front of the farm house and I'm obsessed. She's a great photographer - look at the perfect focus and the frame of trees, the house and barn and a really funny Power Cat post rock. It was sunny but cold, so we didn't spend a ton of time outside exploring.
My grandpa's birthday is in late January. I love that we were able to celebrate the start of his 85th year over the weekend. And Bethany and Keith have a new long hair Dachshund that they adopted from a pet rescue in Nebraska. Weston arrived less than two weeks ago, and he's starting to warm up to his new life in Mankato. He's very sweet.
Saturday night we went to dinner at the Buffalo Roam. It was the first Saturday of the month which meant that it was the special seafood buffet. You should have seen the crowds! We beat the rush and enjoyed a great selection of food together, and then Kip & I noticed the beer prices. The small size pour of Bud Light was only $1 and the big beers were just $2. This whole round of beer cost us only $10! We're celebrating Grandpa's birthday but also life.
Kip and I managed to put a little more food in our bellies after dinner as we stopped at the Sweden Creme for ice cream on our way home. That boy doesn't say no to ice cream. We had a really good weekend with my family, laughed a ton, and enjoyed this part of my family history. Kip went back to work today after two snow days and has already called about a new leash he is making for Belle. He thinks he can make one from climbing rope that Belle won't chew through. I am thankful for his thoughtfulness and all the places we go.