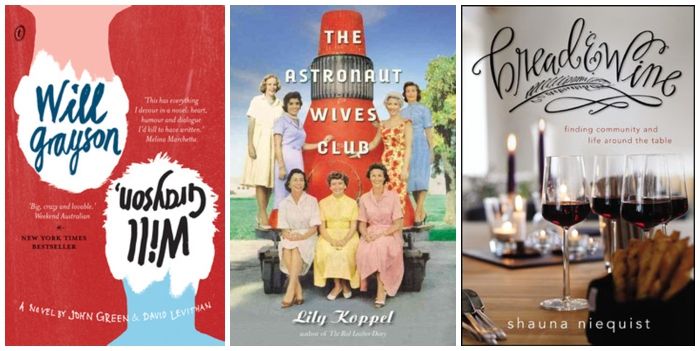 I read some books! Three really good ones too!
Will Grayson, Will Grayson
was written in alternating chapters by John Green (love, love, love) and David Levithan (love, love, love). I have professed my love for John Green before, and he writes in a way that is exquisitely perfect for high school students. And Levithan wrote
The Lover's Dictionary
that I read three times back to back. The two main characters are both named Will Grayson who meet haphazardly in Chicago. There's teenage angst, LOVE, and a wacky musical at the end. I did really like it, though I think it's better read FASTER. I plodded through it a few pages at a time when I wasn't too tired.
The Astronaut Wives Club
was the November book club selection, and it has to be one of the nonfiction books I read the fastest. The stories from the wives are fascinating, and because it is brief anecdotes it reads quickly. It led to a lively discussion at book club about life in the 1960s compared to today for American women which of course cycled back to our favorite topic of "doing it all vs. having it all vs. sleeping at night." I've been pretty much universally recommending it to people who were alive in the 1960s, enjoy space exploration or flight history, and/or are women. So pretty much everyone. There are a couple shortcomings because the anecdotal format means that some story lines are left a little loose, but it's a good Christmas gift for the folks listed above.
Bread & Wine: Finding Community and Life Around the Table
has to be easily one of my favorite books of this year. My apologies to
Kristin
who emphatically told me to read it. I think she even insisted. And then Kate read it, and I still didn't pick it up. We are reading it for our December book club book, but it was the perfect over Thanksgiving read. The collection of essays are beautiful, and I bookmarked over forty passages on my Kindle. There's a whole chapter that should be required weekly reading for me (Be present, not perfect.) It is about food, fellowship, faith and family. When we flew to Indianapolis, it was early but Kip and I were both awake so I just read him passages over and over again. It would also make a great gift because there are many recipes to try. Also, you'll want to make risotto really badly after reading it. (I made it on Sunday.)