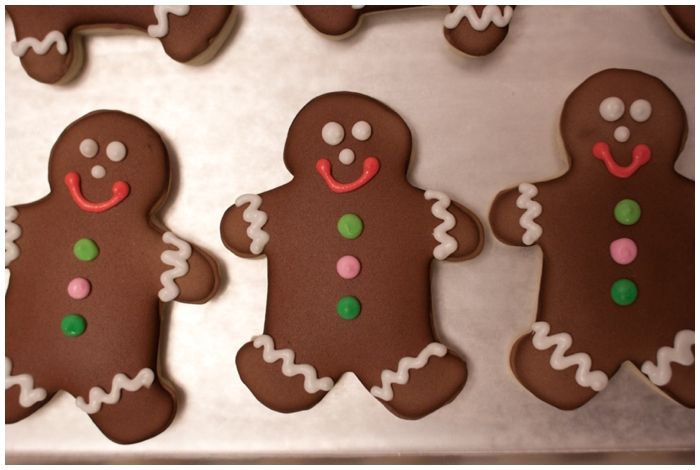 First, let me say it is impossible for me to look at these gingerbread men
without quoting Shrek
. "Do you know the muffin man?" OR "Not my gumdrop buttons!" I love that scene in the movie, and it makes me laugh every time I see it. These could be my favorite cookies from the December cookie making blitz.
I think I made about 35 dozen cookies this December, I lost count at about 28 dozen. I was extremely blessed to have lots of cookie ORDERS. And a boyfriend with a deep freeze. Seriously, it wasn't unusual for me to call Kip and say, "I need you to bring me the mittens, gingerbread men and trees." Ten dozen cookies were left unfrosted for a friend's huge cookie decorating party this weekend, but I still frosted a ton of cookies this year!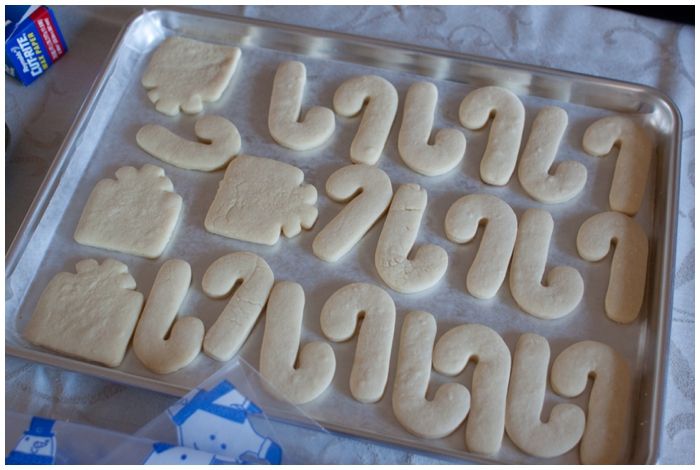 I did frost about 160 cookies at once in the past week. I laid out all the cookies that I needed to frost on my 9 various sized cookie sheets. I probably needed one more half sheet, but then again, I'm not sure I'll ever frost 160 cookies at the same time again. A few times I looked up and just giggled at the mess in front of me. So.many.cookies. And I think all that powdered sugar went to my head.
I spent about an hour preparing the icing, making the colors and getting it to the consistencies I needed. I was glad I spent all the time in advance preparing the colors and icing because it allowed me to just work, work, work. I worked in sections by cookie shape and by color, outlining and flooding in patterns that made sense to me. It was really orderly but definitely insane.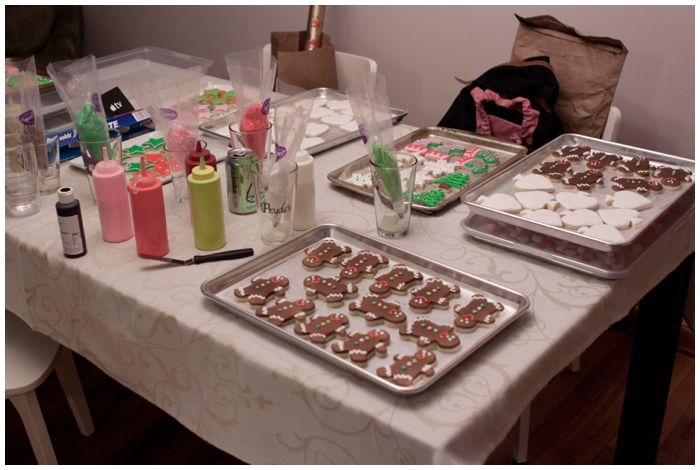 This was the scene in my house a lot of days during December. I just discovered these half sheet lids from Nordic Ware, and I am obsessed. It makes it easier to stack things and keeps things safe and fresh in my little tiny kitchen. The cookies must dry completely before I put the lids on; royal icing is a fickle friend.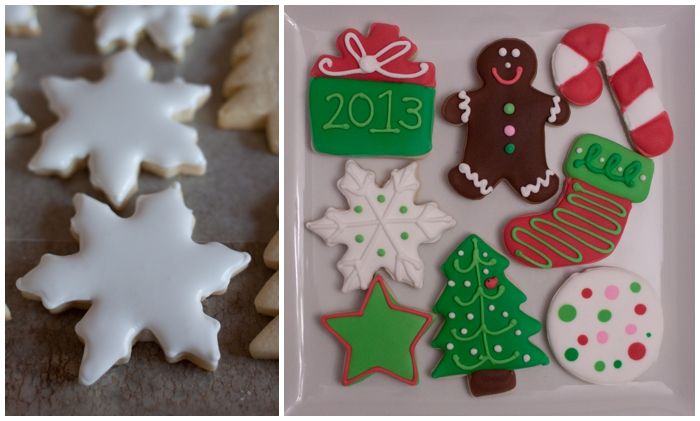 I'm really proud of this bunch of cookies. The planning and attention to details really pulled them all together. The pink was not my favorite choice, but when it's subtle like on the gingerbread and on the (finally) perfected polka dot cookie I love it. I think these cookies will probably make people happy - or at least their stomachs!