Our sweet friend Katherine is having a baby in early 2014 and elected not to find out the gender. It was pretty easy to come up with a gender neutral theme for early December, and Tara and I played up the glitz and glam of green and gold. I didn't design the invitations because I found a perfect one on
Etsy
that I just had to have. (Trying to do less, I swear.) With printing on pearl paper from MPix and gold envelopes, the invites were quickly one of my favorites. Ever.
We had a great group of gals (and little Everett) join us to shower Katherine with baby necessities and best wishes. A few sorority sisters, a friend from high school and even one from their time in Buffalo, New York joined the fun last Sunday.
And my mom, of course. Holding a baby, of course. If you think I'm a baby hog, at least now you know it's genetic.
I used the Silhouette to cut the gold vinyl stars for the champagne glasses, and Tara topped each of them with gold sanding sugar. We served mimosas with gold star straws, of course! Some people thought the numbers were for a game, which would have been cute. I mostly did it so that people would remember which glass was theirs. Tara served a big pile of our favorite muffins from Clocktower Bakery in downtown Overland Park.
It was also super special to celebrate Katherine with her dear Kansas City family including one cousin, one aunt and her grandma. Her grandparents will be married 72 years on December 14th. Betty has 10 great-grandchildren and only 1 girl, so that did it for me. I'm convinced Katherine is having a girl so that her grandma can have more little girls in the world.
(Look closely in the photo of Katherine reading her new Coco Chanel baby book, and you can see all the gold stars I sewed together on my sewing machine.)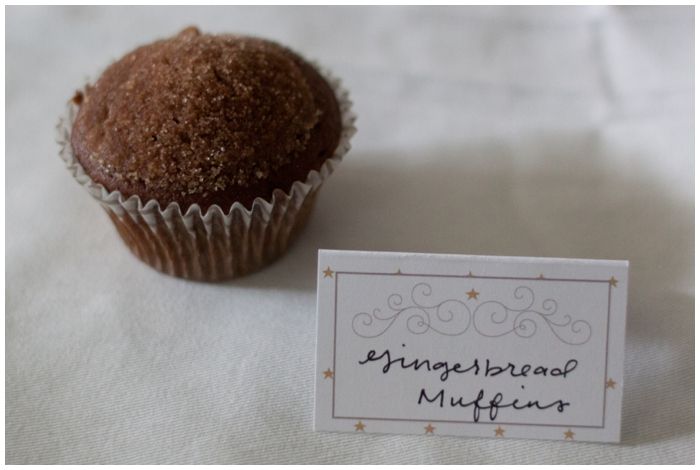 Mom made gingerbread muffins from
Annie Eats
, and we are here to highly recommend the recipe. They have a great flavor, aren't too unhealthy and taste great with a cup of coffee or a mimosa. But honestly, what doesn't taste great with coffee or a mimosa? I will definitely be making these again.

I meant to get a shot of the gold and green star ornaments Tara and Fiona made for the tree in the background. They were perfect for the theme!
AND there were cookies. I had some really crazy ideas about how to frost these cookies so that they were shimmery gold with white too. It's not really worth explaining because when I tried to tell my mom and Kip they both got this "whoa, that's a crazy amount of work" look in their eyes. And I'm pretty sure I'll never frost in that order again. But they sure were pretty!
Kat and Tim were happy to take the extras on the road with them as they headed back to Goodland to prepare for their baby. Can't wait to meet him or her, but mostly sure it's a her!