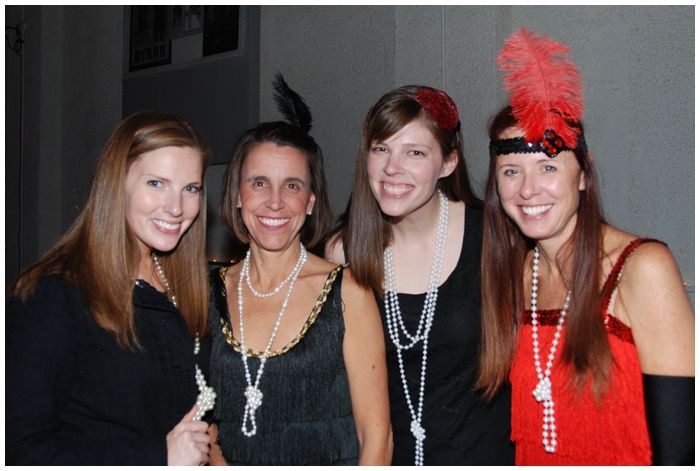 Lauren and I loved BOTAR season this year (did I already mention that like nine times?) and especially all the people we got to know this fall! The week after the ball we were invited to a sweet Roaring 20s party. After a week without rehearsals, we were ready to see the young BOTARs, their escorts, and our friends on Exec. The party was at the
Vox Theatre
, located on Southwest Boulevard in KCK. The event space was perfect for a very Gatsby-type party. There was a vintage car parked inside in part of the room, and Lauren and I never did figure out if it was there all the time or just for the special occasion.
People wore some great flapper costumes. The boys looked dapper with slicked hair, suspenders and suits. One of the girls told us she had like twenty flapper dresses because her sorority always had 20s era parties at KU. Lauren went to a 20s party her BOTAR year, so she already had some ideas ready to go. I pulled together a headband (gifted from Tara), long pearls ($2.99 each at Party City), a lace shell that I owned and a fringe skirt ($19.99 from Party City). The fringe skirt was awesome because it was essentially a piece of elastic with red and black fringe I tied over another skirt. My black pencil skirt from work was obviously longer than Daisy Buchanan would have worn, but I already owned it so no cost.
And I'm pretty sure if you were the type who planned costumes a long ways in advance instead of four hours before the party then you could have sewn or gathered cheaper accessories. When I was googling ideas for DIY flapper costumes, I saw many people do neat things with items thrifted. But honestly, who has the time to thrift costumes?
I was so proud of my finds and things that I pulled together that it did make me want to gather it all up and save it neatly for the next time I'm invited to a Gatsby party. When we were in college, my friends and I had a cooler full of pirate accessories we could pull out anytime we needed a pirate costume. Which was more often than you would think. The sorority house had a costume closet that also came in handy. Have you seen any good pinterest organization tips for organizing costumes? For 30-year-olds?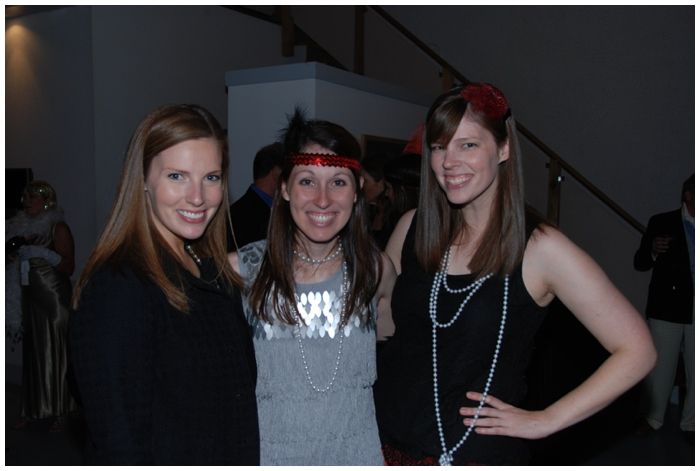 I didn't take any of the photos in this post, and I am extremely grateful to Diana's dad and mom for sharing some of the best. At the top of the post is a great shot of Lauren and me with the president and our VP. Lauren sponsored Diana to be a BOTAR, and we're looking to more fun ahead in the organization.

And here's a cute picture of us where we don't look that much like sisters. The photo on the right is the reason we left the party 30 minutes after I was ready to go. Lauren started talking LAWYER stuff with another lawyer, and I gave up and took off my heels for a while at the front door. It was a wonderful party with delicious Manhattans, great Gastby soundtrack tunes and fun people. I just get tired on Friday nights. #thisis30