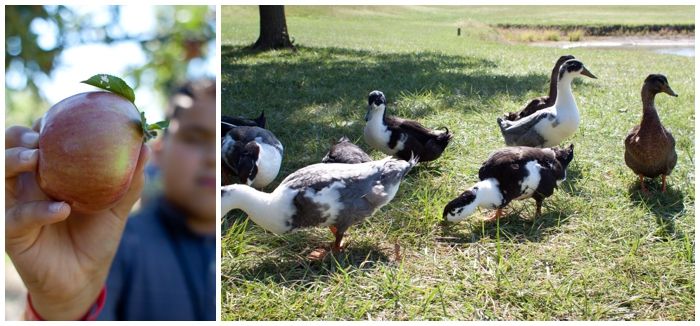 Besides the busyness of the American Royal season, I still have a full time job. And even though I've been busy outside of school, I'm pretty much still been pounding the pavement (or carpet in our building) to try to get a lot done. This school year has felt
busier
, and I'm still trying to figure out why. I think it's because I have a better idea each year of what I can do to help teachers and ultimately students. Here are some of the exciting things going on around our school as the first quarter wraps up next week...
I went on my first field trip of the year last Thursday to Cider Hill Family Orchard. I also went last year with the Lifeskills kiddos, and it was terrible. It sleeted on us while we rode the hayride. This year was absolutely gorgeous, and we had a great time picking apples, eating lunch outside, chasing the ducks, and completing a scavenger hunt together. These kids are so fun, and their teacher is fantastic. I look forward to when I can step away from to-do lists and teacher meetings for a little bit of KID time.
BOOKS. September wasn't a great month for my own independent reading (post pending), but I have books on the brain all day at work. We have gorgeous new classroom libraries, are ordering new books for each grade level, and scrambling to create meaningful literature circle opportunities for our students. We've also already had a book fair, and I'm trying to read to help 6th grade launch their lit circles. Also, somehow I started another John Green book. And Battle of the Books is just five weeks away!
Unit plans are also looking really different around here, and I'm proud of that for the English/Language Arts teachers. When we were growing up, our English instruction was pretty much planned around one book at a time. Then sometimes we took a break to do writing, poetry, etc. I'm super interested in harnessing the power of the theme. So what if instead of a literature circle unit, it's around courageous characters. Then the short stories, informational text, poetry, can all connect to that. We're making cute "courage cards" to pass out to kiddos when we see them doing something awesome around the building. This is the kind of work I have to remember we're making progress on because it's slow. And takes a lot of conversation. But could make for a really awesome integrated literacy experience for kids.
New social studies standards are kicking my rear end a little bit. They are the first major changes since I started looking at them in 2005, and I like the changes. But new standards of this sort require shifts in how teachers use them to plan and ultimately teach. Once a month I meet with all the sixth grade social studies teachers from across the district, and this is by far one of the most rewarding parts of my job. I don't know how much support they get in their buildings (all teacher leaders are working too hard), but I have a heart and brain for social studies so I love working with them even just once a month.
I get to teach! I'm in one classroom on a regular basis, and I've also been spending some time working with our "school within a school" kiddos for some reading specialist homework assignments. It's been a lot of extra work, but the lessons have taught me several important things about "before reading" activities. I like keeping my teaching legs fresh, love knowing our kids, and like the challenge of working with kids who need the extra structure and love. Like I love it.
This was a pretty technical update of what's happening at work, but I'm super glad I wrote it down. I's good to remember we're doing work that matters (most of the time!).