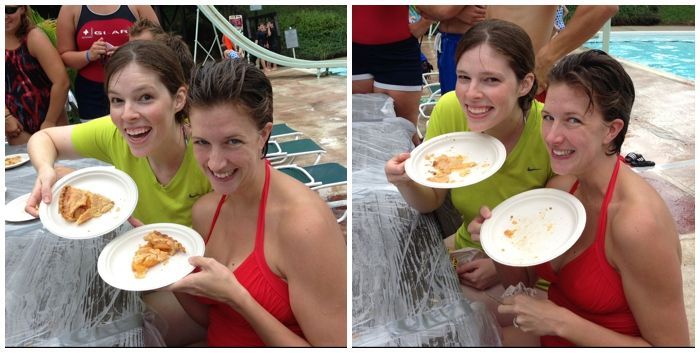 I had a great time in Pennsylvania. It was the perfect way to spend the long weekend with people I dearly love - and all their babies! Rachel and I spent a lot of time sitting on the couch working on internet projects and watching the end of Friday Night Lights (Texas Forever), one episode of Dr. Who (so I'll start watching it now too) and The Great Gatsby (impressive). I told Rachel yesterday that it's a good thing that we like to hang out with our computers so much because it helps to make sure that I don't over extrovert her.
Monday marked the end of summer - though I'm pretty sure it's going to be 90+ at the football game on Saturday - and we celebrated in style at
their pool which is part of an orchard
. There was an early afternoon storm so the games started after we arrived. The first game was a pie eating contest! Finn participated in the first division and held his own as a four-year-old. Then they called for grown-ups. I assume this includes me. #thisis30
Rachel and I were really confused when we first decided to participate and didn't realize pie eating contests meant you can't use your hands. But we were totally sold once we saw that the pie was from the orchard.
The competition was hilarious - there's some highlights in this short video shot from Sol. We definitely didn't win, but we also didn't stop when the manager says, "Okay moms - you can stop!" I'm going to overlook the fact that she called me a mom. In the video, the manager is encouraging us to keep going, and Rachel totally beat me. It was hilarious - and I don't know if you can tell that we are both laughing so hard that we are almost crying.
It was also the best peach pie I ever had.
Their pool is really awesome - and it's so very east coast. I sort of pretended the set of "The Way Way Back" was just around the corner. Rach, Sol and I went down the slide a ton (so old and so fast) and went off
all
the diving boards. They have a platform diving board that is easily twice as big as anything I've done before. But by the time you climbed up there, the easiest way out was jumping off. We felt like big kids - and the little kids Brady & Finn chanted for us on everything we did. Go Tori go! Go Mama go! Go Daddy go!
Goodbye summer, you were very sweet to me this year.