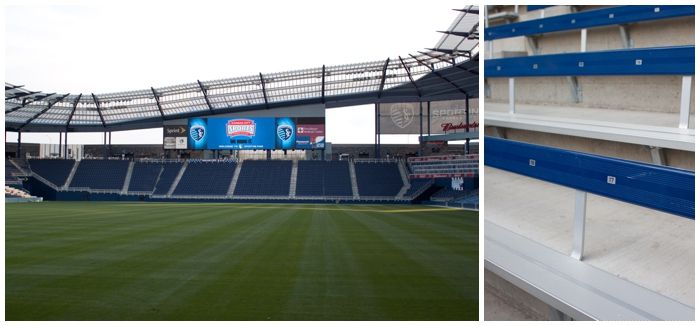 One of the best, newest things in KC is still the Sporting KC park. My friends Abbey & Drew are season ticket holders, and I've been out to a couple of games this summer. I love that it is in Kansas City, Kansas, and that the stadium is so easy to access.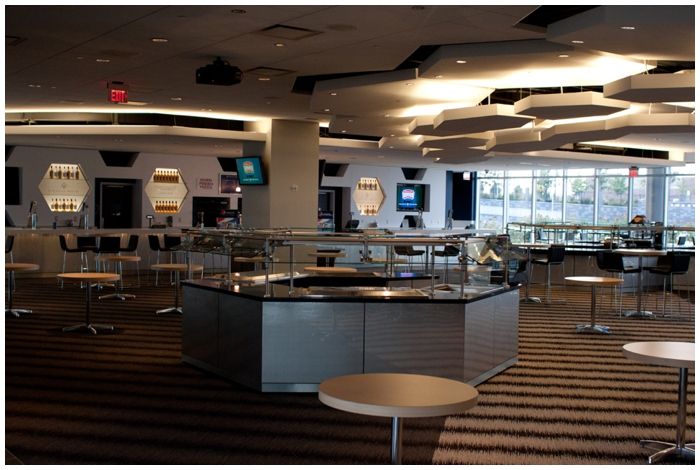 A couple of weeks ago, Lauren & I had the opportunity to take a tour with the Kansas City Sports Commission. It's such a neat venue with lots of layers. After we walked around the field (pitch), we saw all the layers of suites. This fancy place serves lots of food during the games. I included the photo because the ceiling tiles are hexagons like on a soccer ball!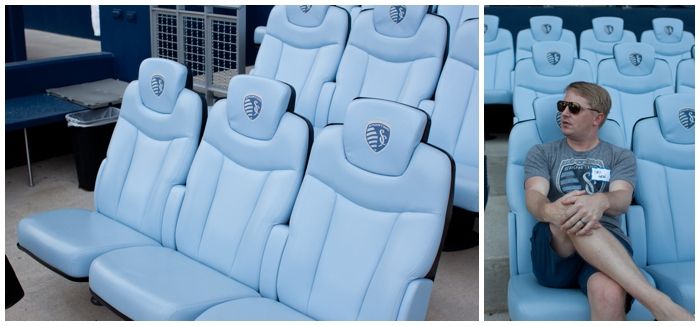 These seats are the nicest in MLS for home and away teams. My high school friend Chris made himself comfortable. They were designed by the same people that make leather seats for Porsche. Or Ferrari. They're the same, right?
The locker room was pretty cool. Their seats all turn back automatically to face the center of the room when they stand up. They are marked off because Sporting was playing a game in Chicago, and it's kind of bad luck if we all sat in their chair while they're away. They have dock stations in each of the chairs, large cupholders and run about $4000 each. One end of the locker room has a Smart Board. I was not impressed. Elementary and middle schools have Smart boards. We have one in our school. Come on Sporting.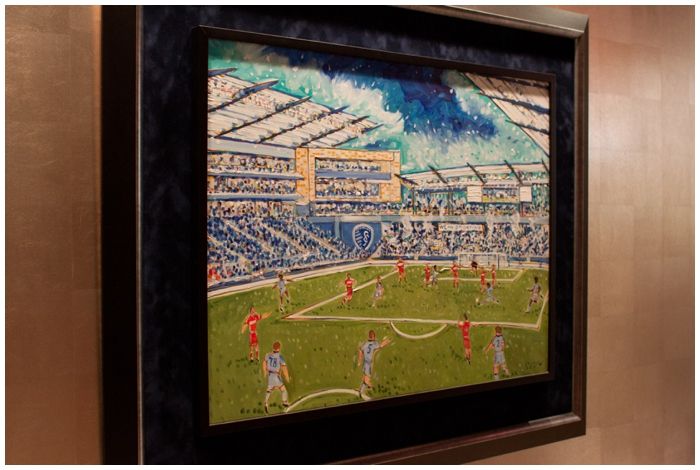 This painting by Michael Savage is fantastic - it shows the blue confetti that flies everywhere when they score a goal. The tour guide said it's from the first game played in the park.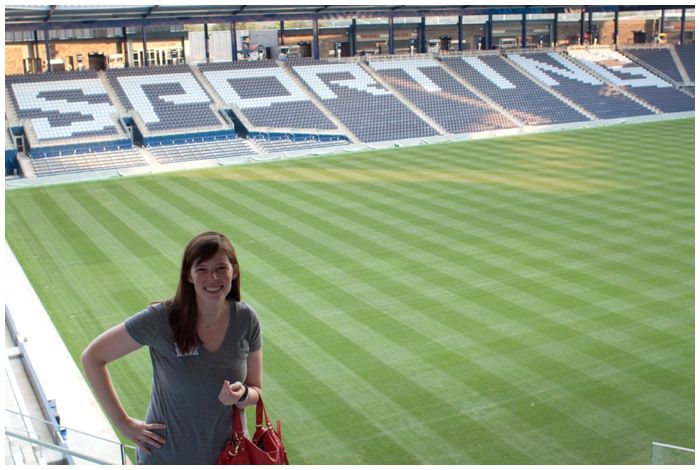 We ended up all the way at the top of the stadium on the tour. There's a great view of the whole stadium. Apparently during the game the cheers from the Cauldron Member's Stand floats up to the top, and they provide cheat sheets of the chants for people who are sitting up there. Unless there is cussing, of course.
After the tour, Lauren and I watched the first half of the game down in the Members Stand with some friends. We were totally surprised by how many people come out to watch all the the game there - Sporting has some hard core fans. If you didn't read it already, this
NY Times post about soccer in Kansas City is amazing
. It makes me so proud of KC (again).