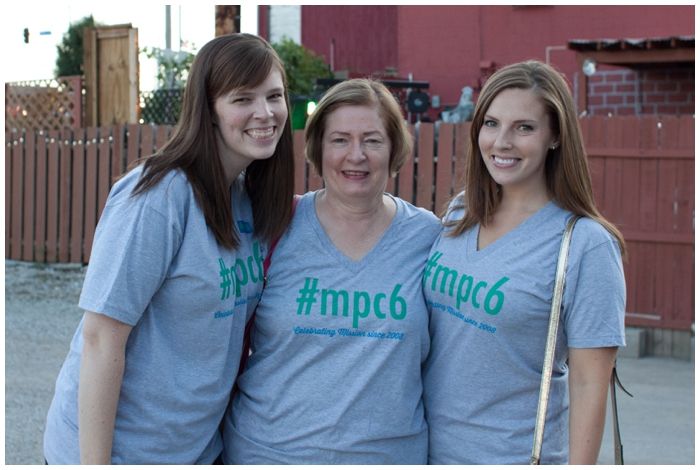 This was the sixth year for the Mission Pub Crawl, which is just a ridiculous tradition (you can read more about it
here
and
here
). I've only missed one, and it must have been when I was in Virginia and the pub crawl was still held in May. Now we love the pub crawl in August because it marks the end of summertime fun and the beginning of school for so many of us. We ordered Mom a shirt, and she joined us for dinner at RJ's Bob-be-Que and at the end of the night to drive Lu home.
This year we got shirts again. I always tell myself, this is the last time, no more shirts and inevitably, we end up doing them again because people start asking. I think people who didn't get one this year were kind of jealous, and we might get shirts next year. We used
Acme in Lawrence
, and I cannot recommend them enough. I did all the work over email, including the design. They let me choose TWO kinds of American Apparel t-shirts (v-neck and crew) without that affecting the overall design costs. And they made stickers. We gave them to people who didn't buy a shirt, and it was very unifying.
I had my camera, but sometimes I get lazy and don't photograph everything and everybody. Thankfully my friend Meredith had a disposable camera that added cat details to each photo when it was printed. This great shot of me at the Clarette Club is missing a cat, but it's still a pretty classic photo from the final stop of the night.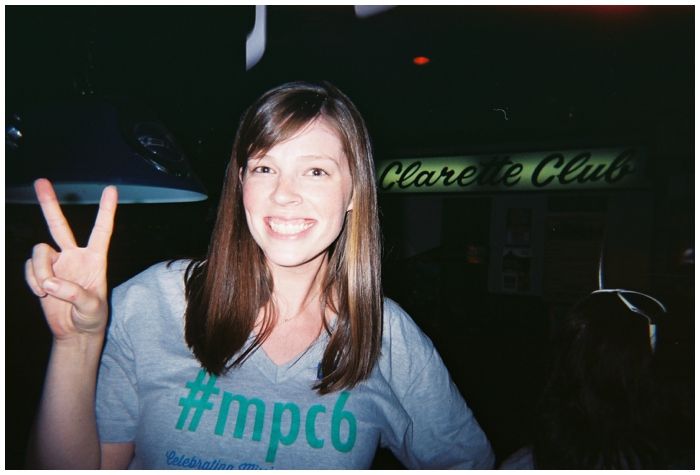 About 60 people joined us throughout the night. We may be getting increasingly too old for this, but if you pace yourself, it's not too bad! I made it to church on Sunday, no problem. The reality is that I couldn't plan another party where I could get sixty people I really like to hang out in my neighborhood with as much success as the pub crawl. It's just the best excuse to see lots of people I like in one place. Also because we move from place to place throughout the night, we can talk to different people and catch up. We're not stuck in a corner of a restaurant trying to talk across big tables. We're dancing, bowling and talking our way through Mission. Happy happy day. You can come next year.