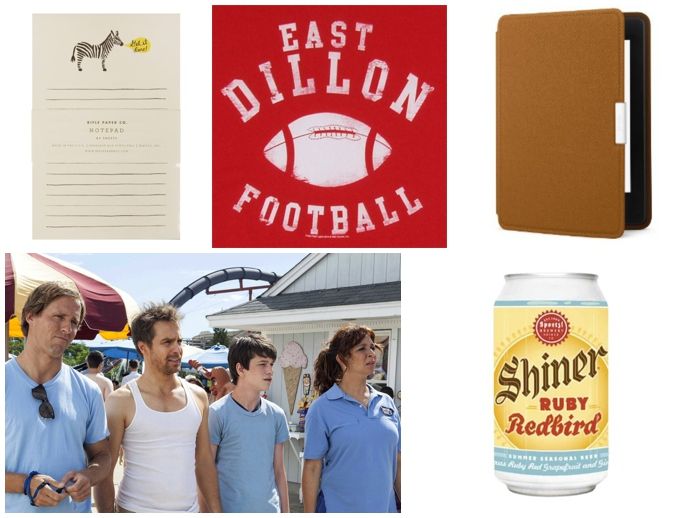 Here are five things I'm loving lately that you probably should love to.
1. To-do lists. You probably already love or hate these. I love them right now because they're the only thing helping me make sense of all that's happening lately. I've been back at work a month already, and there is so much to do to get the year going for teachers and students.
RV Parties
has been busy lately, and I've been keeping track of all the party tasks with long lists on my desk. I'm still using my
binder
, and it works well throughout the week. But I also have and use this little notepad from
Rifle Co.
for weekend and day specific to-do lists. I often stamp the date at the top to feel official. #nerdalert Oh, and my fall grad school class starts tomorrow.
2. Even though I'm trying to get 100 other things done (see #1), I'm also watching a ton of Friday Night Lights. Rachel gave me the complete series for my birthday, and I'm in season 5 now. I wish someone would have made it clear to me HOW MUCH I would love seasons 4 and 5. Coach Taylor and city kids? Be still my heart. I love East Dillon - go Lions!
3. I used my birthday money (I saved it almost a month!) to buy a Kindle Paperwhite. My old Kindle found a new home with Mom and Lauren, and I love this little guy. Like a lot. I picked out the leather saddle cover, and it's pretty preppy. I am also working on getting a KCMO library card so that I can read ebooks from the library. It's pretty fun!
4. We saw
"The Way Way Back"
on Friday night, and honestly, I'd see it again tomorrow. I laughed so hard I couldn't breathe, and I cried. I think because I work with pre-teens/teenagers, have spent enough summers in youth ministry and have high school brothers that I loved it more than some people might, but I thought it was delightful with terrific characters. We saw it at Standees in the Village, and it was a dream. The food was good, and it was nice to go from dinner in a good restaurant to a show without even changing locations. Glad I could finally go - it had been on my summer manifesto list since June!
5. Shiner's Ruby Redbird is officially the beer of the summer for me. I had it for the first time when I was visiting
Lindsay in Dallas
. I found a 12 pack of cans when I got home, and Jon found another 12 pack for me last week. With just a slight touch of grapefruit, it's the best beer for summer.
Please let me know if there are books I need to read on the Kindle, movies I should see at Standees or places to buy East Dillon merchandise.