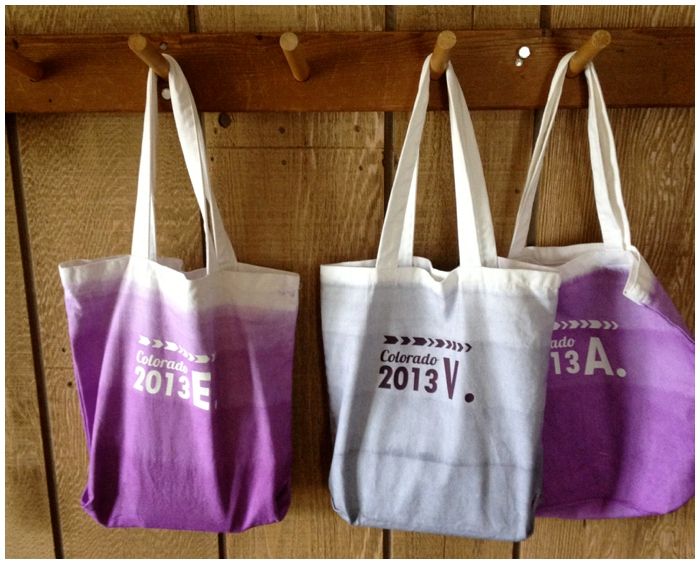 I cultivate my "private" pin boards on Pinterest pretty extensively. I don't need the whole wide internet knowing all my secret gift ideas, plans for a one-day wedding or ideas for the next party I'm throwing. When I saw this project on
You Are My Fave
, I quickly added it to my secret gift board.
Wouldn't you like to know what's on the board? So so many really good ideas, that's what.

I have a Silhouette machine that was one of the best purchases I've ever made. It's not a great tool/toy for everyone as sometime it requires a lot of patience and a bit of technical savvy, but I love mine. In the You Are My Fave post, she mentioned a sale on the heat adhesive from Silhouette so I jumped to try it on these bags.
I stocked up on these small white bags from Hobby Lobby very slowly using the 40% off coupons on the Hobby Lobby app. Thankfully they were available in a discounted three bag package, so I only had to make a few trips to get enough bags for all the girls going to Colorado. I picked bags with gussets on the bottom because they hold more, but they were a little trickier for dying. I washed the bags in the rinse cycle on my machine to prepare them for their dye jobs.
Abbey came over to help, and it made it so much easier. She's an art teacher, so she's pretty good at crafternoons. We worked side by side, Abbey manning the gray and me on the purple. We used one package of gray RIT dye and one of purple - the gray didn't ombre it up as well as the purple, but there is some subtle gradation there. Like the instructions said, we sundried the bags and then I heat set them on low in the dryer for 30 minutes. I made a simple design on the Silhouette and found the heat adhesive worked pretty well. It took some serious heat from my iron, but it looks pretty secure now!
The bags worked out great for the trip, and I called them "car bags" because they were just the right size to keep by you in the car. Kindles, magazines, water bottles, and five pound bags of gummy bears fit pretty well in the small bags. Some of my friends used them for hiking too! It was easy to keep the bags straight thanks to the helpful first initial on the bag. I am always reaching for reusable totes (I have a small problem, actually), so I figured after the trip they would be good for running to the library or farmer's market.