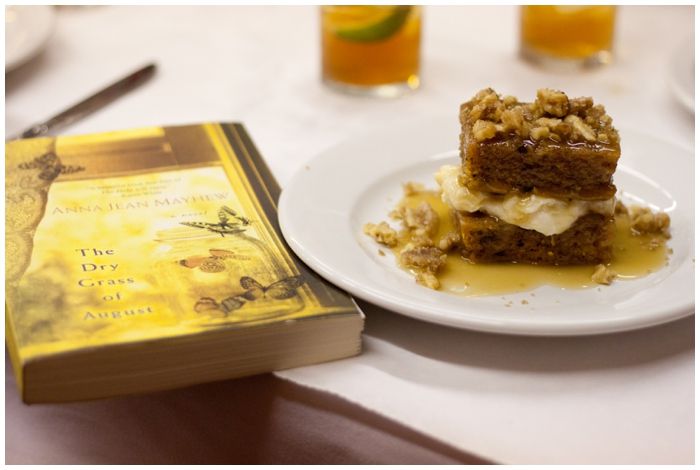 I think we may have a new tradition on our hands - mother & daughter book club! A few months ago at our regularly scheduled book club, we were reminiscing about days gone by at Alpha Chi. Mom's Weekend, and the pub crawl that went with it, was a really good time. So to bring back that time of togetherness, we decided we should have a mother daughter book club meeting. Almost all of us are Kansas City area kids, and so our moms are mostly local too.
Picking a book and a location were the two tough parts. My book guru friend Candi recommended a few choices, and then we discussed our options before picking out The Dry Grass of August. The timing was perfect so most of us could give our moms the book for Mother's Day, complete with a bookmark I designed inside with the details of the event. After checking a couple of options, we decided to go to Bloomsbury Bistro in the Mission Antique Mall.
Bloomsbury was super easy because they offer a small menu with just a few options for groups - choose two from the turkey sandwich, soup, salad or quiche. They include tax and a drink for $14 a person. They were a little confused about set-up though and tried to put us at three small tables "close" to each other. We convinced them that we would rather be in close quarters, elbow to elbow and all get to talk to each other! We almost all ordered or split a dessert. That carrot cake was something else, but I was eying everyone's desserts. Too many amazing options!
And don't worry, we didn't make Kate sit by herself. She's comforting a fussing nine-week-old. My godson is the cutest, even when he's a little mad about being the only dude at book club (again).
Six mother daughter pairs - we were sadly missing Nanette, Erica and Tara and their moms. The book discussion was good and here are some highlights.
The book is a story about a family that travels from Charlotte, NC further into the south with their black maid and all the things that happen to them. We had some great discussion about race and our experiences growing up. Representing a couple of different generations, the experiences were pretty common. Kansas City is white, and the more rural or further north our moms were from, their hometowns were even whiter.
We talked a lot about the characters - the mom is a special one, the father's character, and the relationship between sisters and with the maid (who is often like a mom). Some of the characters grow and change over the course of the book, and some are pretty much the same at the end - terrible people. Abuse is a strong theme in the story, and that was definitely tough to talk about with our moms.
It is like other southern stories - parts of it reminded me of The Help, The Kitchen House and even To Kill a Mockingbird. And then other parts are totally unlike those parts and a very unique story. My mom and I saw different things coming, and so we enjoyed talking about the foreshadowing and flashbacks.
This could be a great tradition for us to do once a year. We have such nice friends raised by very nice mamas, so it's fun to all be in the same room and share a story. Books are just so good for that - they bring people together!