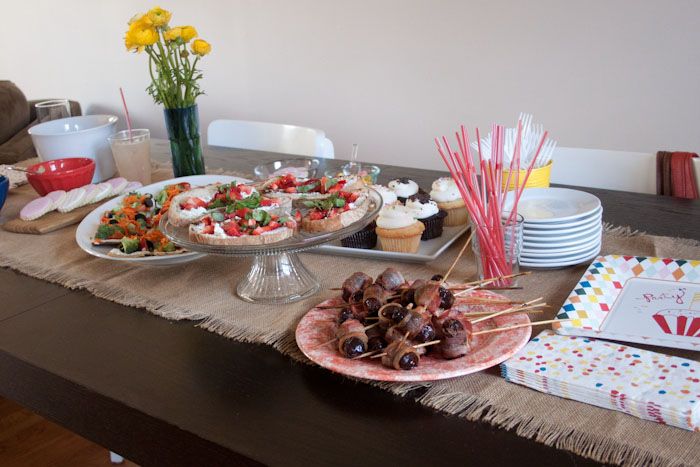 We have a great group of girlfriends, and there are several adorable kids in this group too! To celebrate
Erica's 30th birthday
, we decided to gather at my house so that it could be a happy hour with babies and toddlers running around too! We had lots of fresh dishes and strong cocktails and sparkling wine.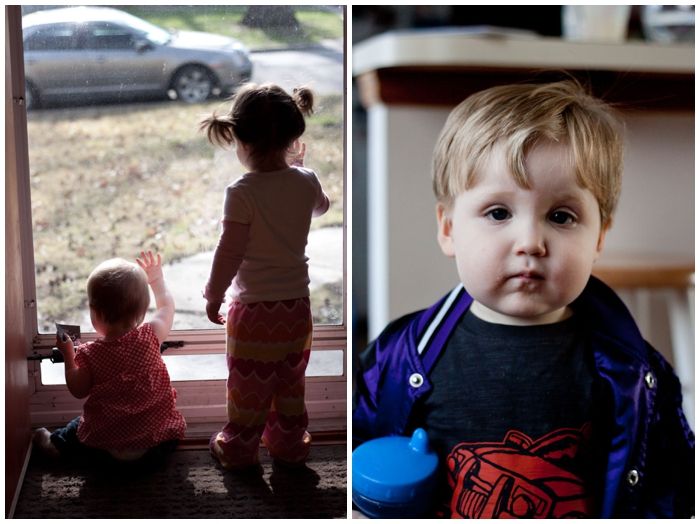 These kids are so stinking cute. Fiona (one tomorrow), Reese (two), and Everett (19 months). They were on the move, scooting and walking around the whole house and reaching for more cookies off the table. I love that they love the cookies!
I found the plates on clearance sometime in the past year at Target, stored them away and thought Friday was the prefect excuse to use them! I love the coordinating patterns from Mara Mi. I opened all the cabinets and searched around until I found plates, bowls and straws to match the cute bright colors. The cookies matched in a total coincidence, and I picked up the beautiful yellow ranunculus at Price Chopper.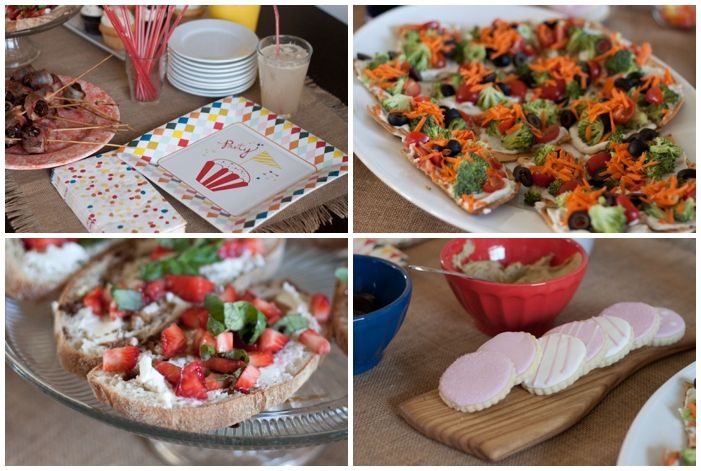 The food was pretty casual and tasty. I also wanted it to be filling because everyone is always hungry at happy hour. Here's the line-up (my friends helped bring some of the foods!):
Veggie pizza on flatbreads toasted in the oven. Anne made these delicious spring treats. We all gave Everett our olives - even those of us who like olives! He was just so cute stuffing them in his little mouth.
Hummus (Sabra basil and pine nut - amazing!) and Trader Joe's reduced guilt pita chips.
Strawberry Bruschetta. Ciabatta bread slightly toasted to make it easier to spread goat cheese. Amazing!
Circle sugar cookies
Bacon wrapped dates on long skewers baked into the oven until the bacon was crispy. We ate a lot of these!
Trader Joe's mango coconut candies dipped in chocolate. You'll love them if you like mango & coconut.
Jolly Rancher jelly beans
Cupcakes from Dolce Bakery Co. in Prairie Village
Palomas. I juiced about 14 small limes from Trader Joe's to have enough lime juice for this. I actually used 2 oz. of lime juice to go with 2 oz. tequila, ice and pink grapefruit soda from Whole Foods. I reread the recipe and realized I could have used way less lime juice (stupid fractions) and forgot the salt.
And now I want another cocktail.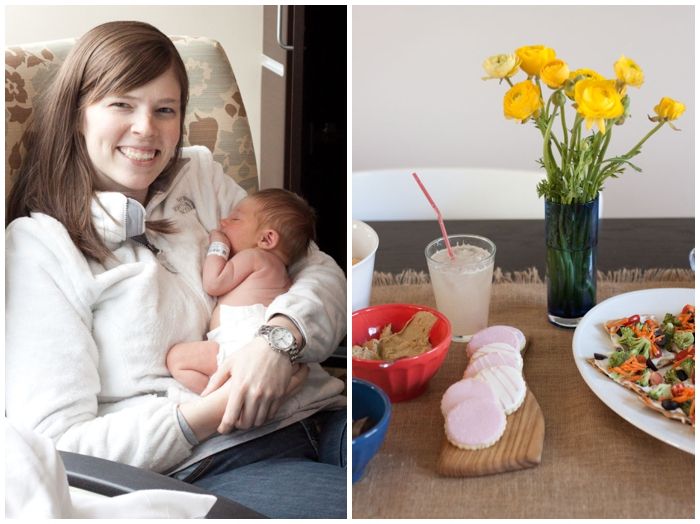 We were missing one mom and two boys. Robert Joseph was born last week, and Kate stayed home with all her boys instead of coming over. I went to see him on Thursday when he was just two whittle days old, and we snuggled. He's the cutest cuddliest little guy. Going to see him again later today!
Click over to the
RV Parties blog
to read the five things you should do before every party. Tried and true.