I mentioned we had the
shower
back in March, but I was waiting for the
Hostess with the Mostess
feature before I put it all up on this blog. You may have already clicked over from Facebook, but if not, here are the crab details in all their glory and crabiness. Erica, Anne and I had a blast putting it together for Em!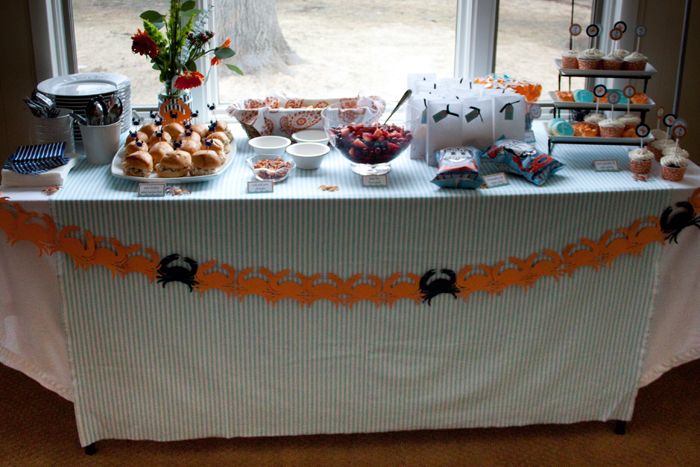 We set up the food table in Erica's well lit sun room on the back of her house. I was talking to my mom the weekend before the party, and she just happened to have fabric that matched perfectly - enough to cover the whole table too. I used Paper Source pool, midnight and papaya for the colors, and I couldn't believe the stripes were pool exactly.
I cut the crabs out on the Silhouette and laced them together with twine. They were easily tangled but adorable when I got them all in line!
We asked guests to bring a card with their sweet wishes for baby Fitz. My favorite was from his dad - I teared up reading it! And there was a banner for the fireplace, of course.

We also tied the crabs with stripes of navy and white striped fabric around mason jars. Again, my mom just happened to have fabric that matched perfectly! There were also little crabs on toothpicks. I purchased them on etsy (vendors at the bottom) and was pretty much obsessed with the detail they added to chicken salad sandwiches. Erica also made crab bisque, and Anne put together a lovely early spring fruit salad!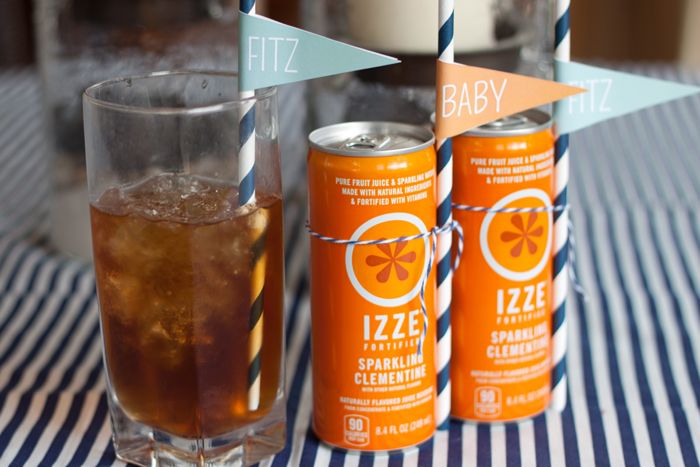 Drink flags of course for Izzes and Paradise Iced Tea that I ordered from ebay. (Occasionally I get a little carried away.) But I must tell you that the Izzes were a big hit! A lot of people had never tried one, and they are so refreshing! Plus, they have more juice than Ocean Spray. Truth.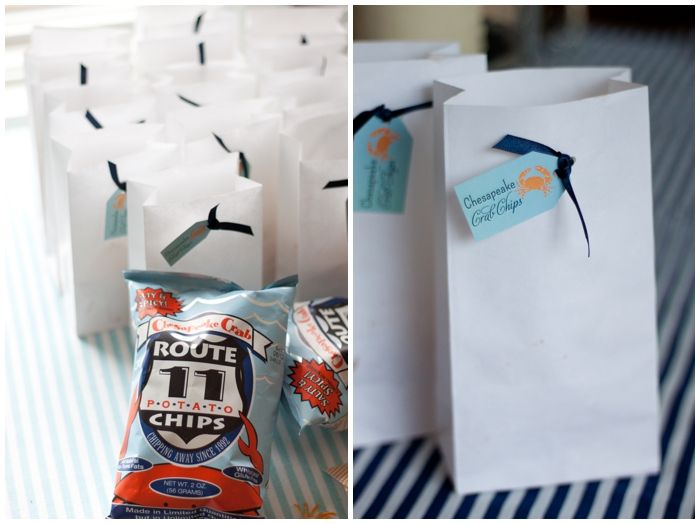 I don't know if you've ever had a reason to pick up crab chips, but you should if you like spicy! They are seasoned with a mix that tastes like Old Bay. We had a few bags out for show, but we also split them into smaller bags for perfect lunch portions. I liked the white bags, but you can imagine that the grease started soaking in pretty quickly. I found these crab chips at Dean & Deluca, but you can also order them online from Utz!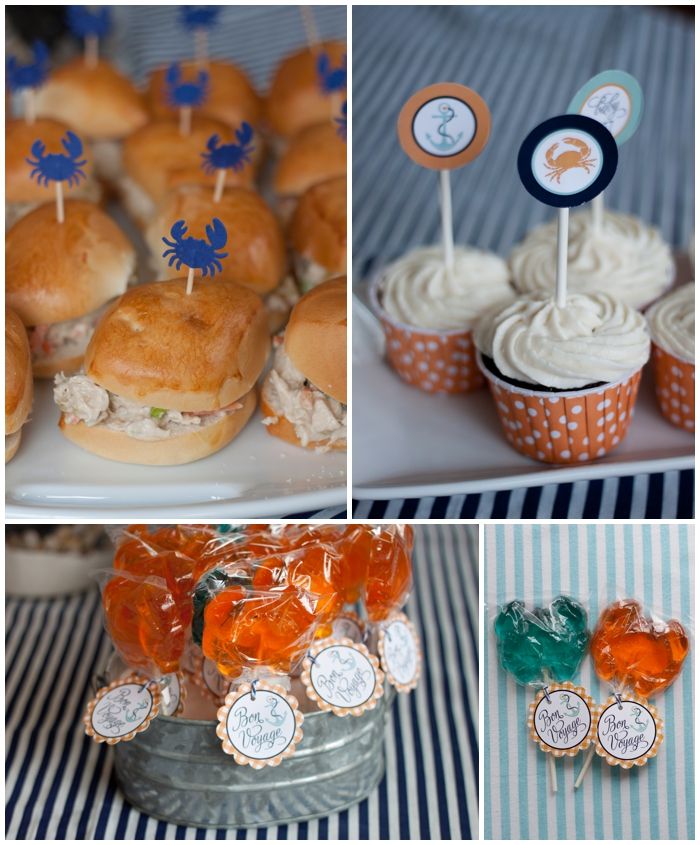 A great etsy vendor donated crab lollipops for people to take home as favors. I baked the cupcakes into the baking cups and frosted them myself. Maybe Allison, my go-to cupcake maker was busy? I don't know, but I'm terrible at it. Thankfully cupcake toppers make up for it.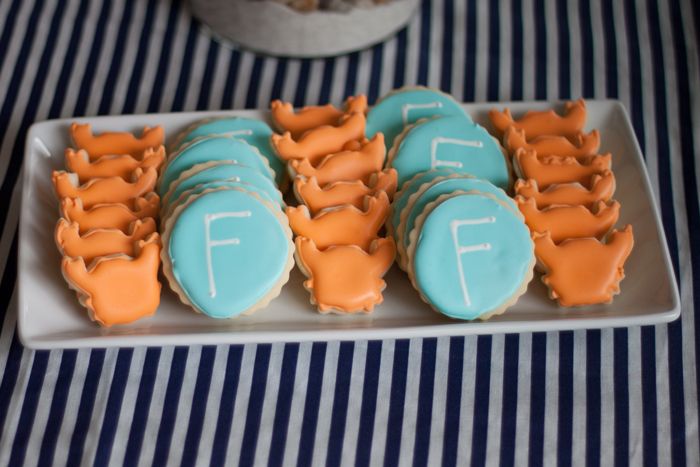 And there were cookies of course. The crabs were bite size and delicious, which made it easier to eat an appropriate serving of five to six. We had some plastic crabs decorating the tables and other seashell decorations around the house. It was so good to see our out-of-town pal and shower her with love!
– Crab Toothpicks:
MoonChi
– Custom Made Crab Lollipops:
Custom Candy Creations
– Straws, Cupcake Cups, Bakery Twine:
Cakes and Kids Too
– Crabs on Food Table:
Amazon
– Mini Paper Bags: Hobby Lobby