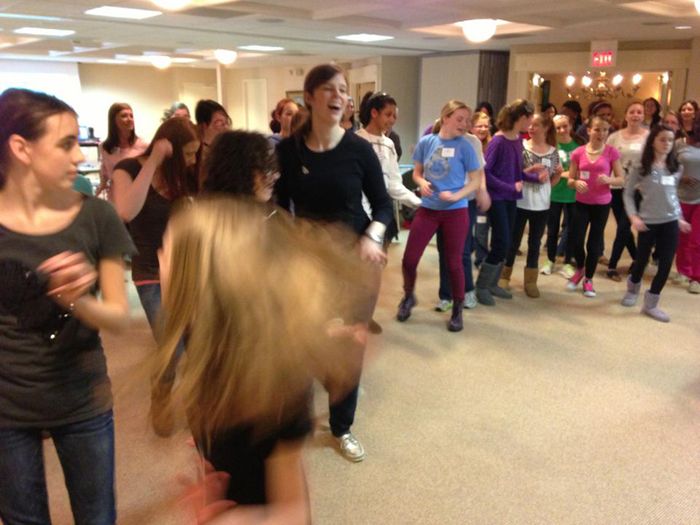 Please excuse the quality of the photos, I was busy zumba-ing and the only access I had to photos was one I stole from my friend Christa's facebook page. You know, Christa Dubill. We're pretty much besties after this event last Friday night! Just kidding, but I know she won't mind.
I met Christa with my Junior League group back in
September
, and we've been planning our big event for seventh grade girls since then. It was originally scheduled for Friday a few weeks ago but was rescheduled thanks to tons of snow in the KC area. And then finally, after months of planning, thirty-five seventh graders and about fifteen adults gathered for an evening of fun, conversation and reflection!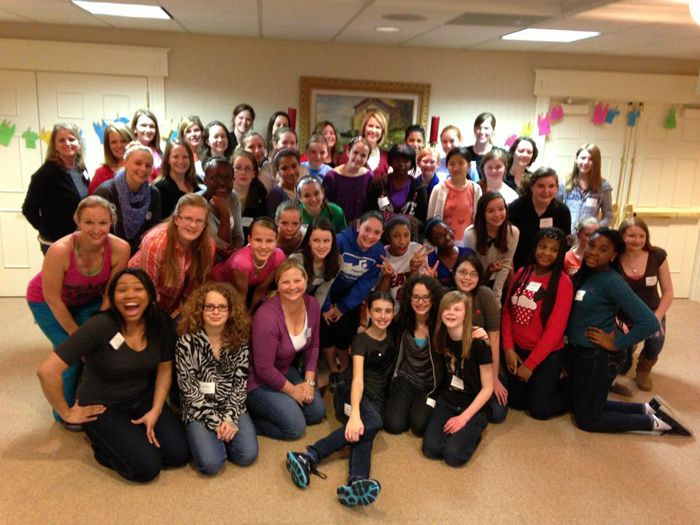 The format for the night was super fun. As the girls arrived, they started make collages about themselves. This is a great sponge activity - it can last as long as necessary and soak up the time. A very good first activity because the girls were early!
There was camp food (chili, cornbread, s'mores cupcakes), and the groups of girls went to three different sessions throughout the night. It was supposed to be like CAMP - the counselor/table captain took each group of girls to the different activities but mostly just cared that they had a fun time. They wrote and talked about support systems, their hopes and dreams, made friendship bracelets and got to know other great ladies of all ages! The volunteers were just as awesome as the 7th graders.
There were two breaks during the night - zumba and getting rid of their dirty laundry. They wrote something that holds them back on a piece of clothing and hung it on the clothesline around the back of the room. Boys, self esteem, challenges at school, etc. My personal favorite piece of dirty laundry? "AFRAID OF FLYING." Well, that
could
hold you back.
Zumba was so fun too, but it made me feel out of touch. I'd never heard this Thrift Store song that made the girls go crazy at the end. Apparently I haven't chaperoned a school dance in a while...
I enjoyed planning and coordinating the event with Christa and the women in my leadership institute group. It was our "project" for the institute, designed to teach us about planning events, leadership etc. I had a totally unfair advantage because I'm really comfortable with seventh graders. I talk to them every day!
It's important I write about how much I love middle schoolers. Because I also helped host a party on Saturday afternoon, and sometimes people say, why don't you just quit your day job and host parties? That sounds
pretty
fun, but my day job is also
pretty
awesome. The seventh graders left telling us how much fun they had, and they couldn't wait for next year. It feels really good to plan something that middle school students enjoy.