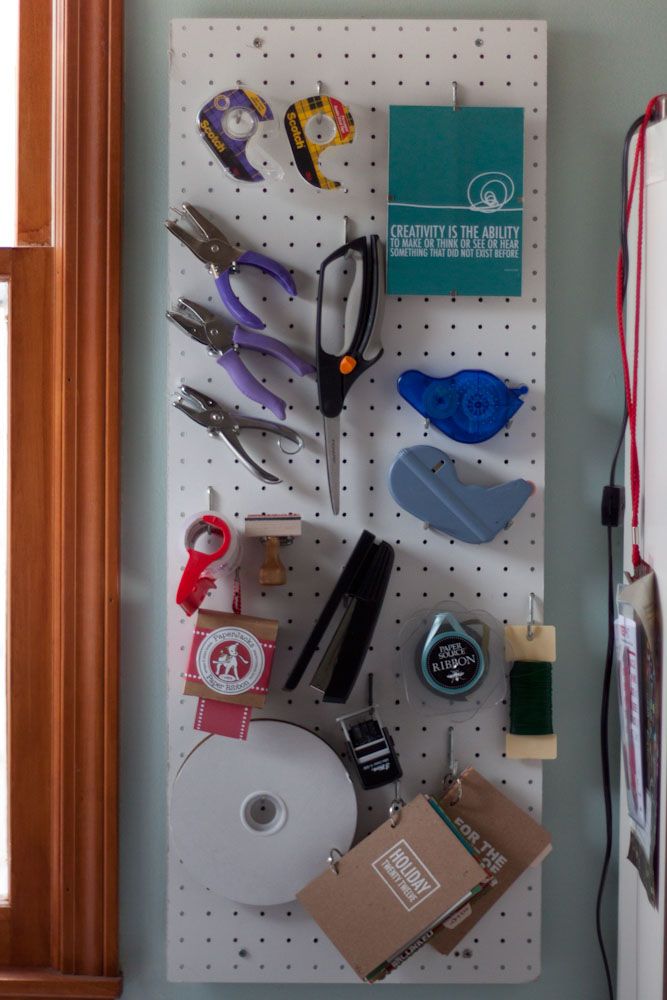 In my
office
at home, there is a tiny sliver of wall between my favorite Expedit Ikea Bookshelf and the window. I'd been eying craft bloggers awesome pegboards for their supplies for a while, and I really wanted one for my office. I had the kind folks at Nuts & Bolts cut it down to size, I spray painted it white, and my friend Jon installed it for me on Sunday afternoon. He was worried about how much weight it would need to hold. Thankfully craft supplies aren't heavy, and I'm nowhere near the 70 lb. max.
The hooks my mom provided. She had all these extra at her house, and the bag she gave me was marked from some long ago garage sale, "$2 - 34 hooks." I played with the various sizes till I found ones that held all my punches, ribbons and tape. I put a framed quote that came from my last order from
Elise
in the top right corner - it says, "Creativity is the ability to make or think or see or hear something that did not exist before." The minibooks are hanging at the bottom - one completed so I can grab it and flip through and one still to do.
And now, a little timelapse of how it all came together. I didn't have a tripod, so it's not exactly perfect. But you get the idea. I'm just excited I figured out how to do the timelapse!