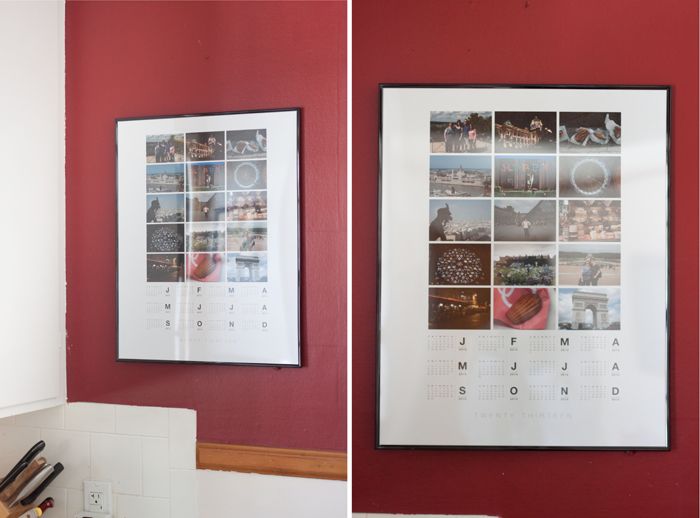 All of the beautiful calendars I love feature very fancy designs and lovely typography which makes them a little expensive. Last year I waited till the Paper Source ones went on sale in early March (they are already on sale this year), and put a very bright and fun one in the kitchen.
This year I didn't love the design as much, and I didn't want to wait that long, so about a month ago I designed my own calendar for the kitchen. I used some of my favorite photos my mom and I took in Europe and formatted them in the a pattern by
Paislee Press
. MPix had a sale on large scale prints a couple weeks ago, so I ordered it in 16 x 20. It came quickly, and I put it in a very inexpensive low profile frame from Hobby Lobby so it won't get in the way of the cabinet. Done.
I purchased the kit from Paislee Press back in November and gave several framed calendars as Christmas presents. I used a couple different patterns, and the ones I gave away featured square photos with the months directly below each photo. I liked that pattern because you could use Instagram photos or vertical or horizontal prints.
This one is perfect for me because pretty much every day I wish I was back in Europe. Also, I'm terrible about leaving the cabinets open so this makes me try to remember to close them so I can see the calendar. I think I'll definitely visit this project again at the end of the year for 2014!