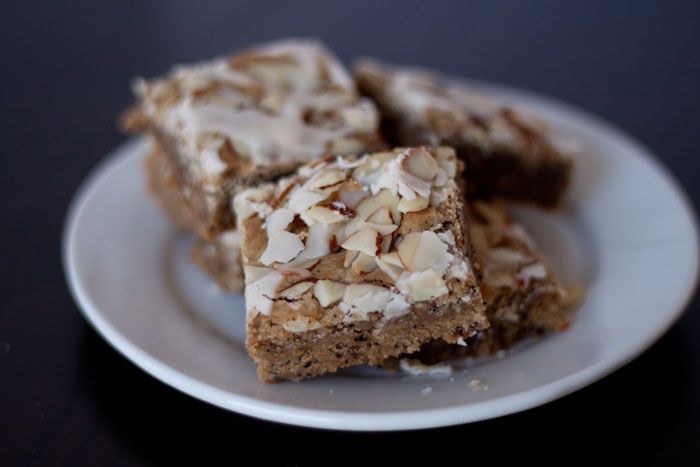 My next cookie in the
2013 challenge
was from the March 2012 issue of Martha Stewart Living. I tore it out last year and saved it to make sometime, and that sometime finally rolled around. To remind you again, the cookie challenge is to make the recipes I already have in my house! Shelves full of cookbooks and piles of recipes torn from lovely magazines.
These bar cookies/blondies were delicious. I had to buy the almonds at Trader Joe's and I "borrowed" the Irish whiskey from my pal Kate because Lord knows a whole bottle of Jameson would go to waste in my house. At first I wasn't sure they were done enough, but eventually I decided they were a perfectly chewy and dense. They should not be consumed in large quantities right before bedtime because there is lots of coffee in them too. I was wired last night!
If you like coffee and especially Irish coffee, you'll love these. My glaze doesn't look like Martha's (apparently royal icing is the only kind of frosting I can do!), but they are a perfect St. Patrick's Day treat! Also, you don't even need a mixer. I made them all by hand.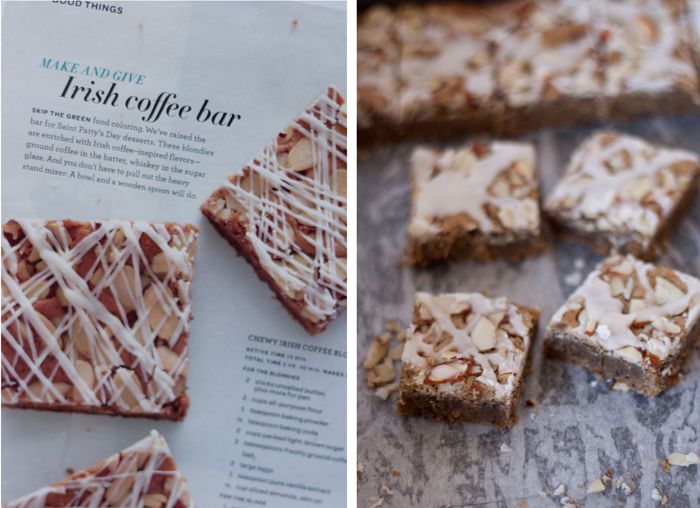 Chewy Irish Coffee Blondies
2 sticks unsalted butter, plus more for pan
2 cups all purpose flour
1 teaspoon baking powder
1/4 teaspoon baking soda
2 cups packed light-brown sugar (my blondies were dark because I only had dark-brown sugar)
3 tablespoons freshly ground coffee
salt
2 large eggs
1 teaspoon pure vanilla extract
1/2 cup sliced almonds, skin on
For the glaze
1 tablespoon melted butter, warm
2 tablespoons Irish whiskey
3/4 cup confectioners' sugar
1. Make the blondies: preheat oven to 350. Butter a 9-by-13 inch baking pan, and line with parchment so that it overhangs on all sides. Butter parchment. Whisk together flour, baking powder and baking soda.
2. Melt butter, and pour into a mixing bowl with brown sugar, ground coffee, and 1 teaspoon salt. Stir to combine. Stir in eggs and vanilla extract. Stir in flour mixture until just combined. Pour batter into pan, and sprinkle with almonds. Bake 27 to 30 minutes, depending on how chewy you like your brownies. Mine were chewy at 27 minutes. Let cool completely!
3. Make the glaze: whisk together butter and whiskey. Gradually whisk in confectioners' sugar until glaze is thick but pourable. Use a spoon or a pastry bag, drizzle glaze over blondies in a rough crosshatch pattern***. Let glaze dry 1 hour. Cut blondie into 2-inch squares.
*or in my case, just try to get as much glaze on the blondies as possible. stupid frosting tip and bag.