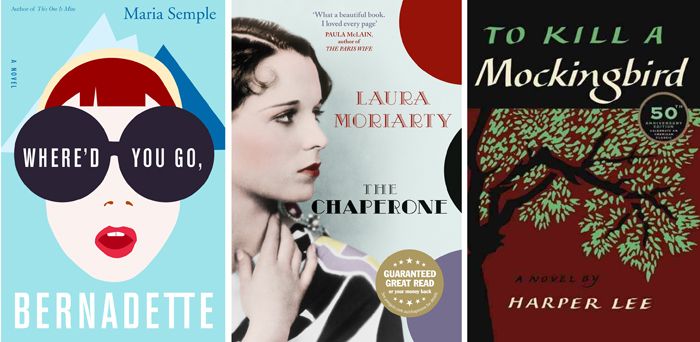 I have to pick up the pace on these book reviews. I'm already two books into February and want to tell you about those already. Instead, let's go back to January.
Where'd You Go Bernadette
I finished on January 1st, and I loved it. It's a little different with a few narrators at the beginning and a few hilarious twists. It's super clever and a pretty awesome reflection of some aspects of culture today, from over the top private school parents to TED talks. I laughed out loud a few times. If you start it, you'll want to finish it to try and figure out Bernadette. That lady is something else.
There was a dry spell where I tried really hard to read The Boy Kings of Texas, but I couldn't do it. It was a finalist for the nonfiction National Book Award, and it was just too much work. So I went back to fiction.
The Chaperone
was our January book club book, and I really liked it too! Recommended to us by our favorite book blogging friend
Ginny
and our guru Candi, it was a great read about Wichita in the early 1920s. It appears it is going to be about a young starlet and her chaperone going to NYC, but it turns into a story about Wichita, women's rights, family dynamics, and changes in American culture. If it had just been about the trip to New York, I probably wouldn't have liked it nearly as much. Book club recommends as a good book club book - it reads very quickly!
To Kill a Mockingbird
was a reread for me because our 8th graders are reading it. Apparently I'm not a great American because the last time I read it was the 8th grade! I couldn't ever remember what happened at the end of the story, though I'm sure I've seen the movie and maybe even a stage version. All I remembered: Atticus, race relations, Boo Radley. I'm so glad I reread it! It was amazing as an adult because I could appreciate Harper Lee and her story so much more than my 13-year-old self could. I finished it in tears on the airplane to Atlanta. If it's been more than a few years since you read TKAM, I recommend a reread. It's worth it.