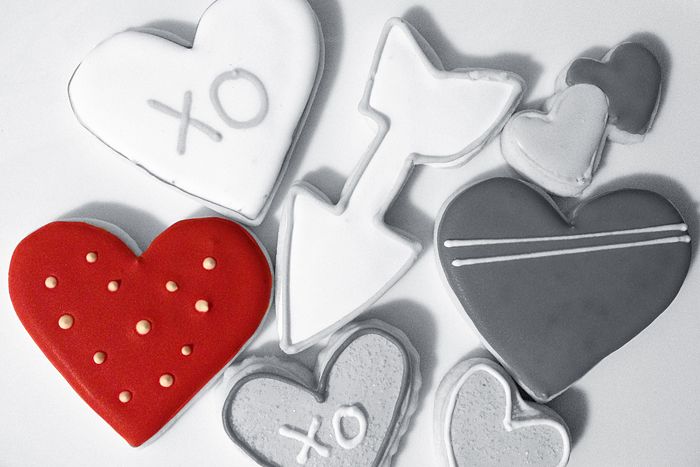 Happy Valentine's Day! I made these cookies for my friend Tara to deliver. They were actually in color (you can see them on Instagram @vluhrs) and pretty cute. That was the extent of my Valentine celebrating this year. I handmade my mom and sister valentines and plan to eat a lot of candy for the rest of the day. You can see last year's valentine
over here
.
Here's some other things I meant to tell you lately...
I finally saw Argo with my mom last weekend. We loved it, obviously. Of the Oscar best picture nominations, I have seen and loved, Argo, Beasts of the Southern Wild, Les Mis, Silver Linings Playbook and Zero Dark Thirty. I'm going to see Amour this weekend, and I think I will fail as a social studies teacher if I don't see Lincoln. After Amour, I will have seen six of the nine nominees. I usually only see two to three! I can't pick a favorite, but it's probably Bradley Cooper.
This is the longest week ever. Lots and lots of after school commitments and a full day of math relays coming up Saturday. So glad I don't have to work Monday!
I saw the author of Quiet on Tuesday night, and even had my picture taken with her. I was a little frustrated with the presentation because many people asked questions, and her answer would be "There's a chapter in the book about that!" But I've already read the book so I wanted to know more. Her presentation confirmed for me that really all humans should read this book. If you aren't an introvert, there's a really good chance your BFF (several of mine are) or significant other is an introvert. She's got a chapter for that!
I have a problem with podcasts. I can listen forever, and they make really happy and marginally smarter. Here are some I've enjoyed recently from Fresh Air: Ben Affleck and Bradley Cooper. OBVIOUSLY.
In the middle of the longest week ever, I gave a presentation I felt went well, but I never know for sure. Received feedback today that someone LOVED it. I won't quit this job yet.
I'm also loving this quote my friend Ann sent me. "The person who doesn't read is at the same disadvantage as someone who cannot read." -Jim Rohn
I saw this trailer with Ryan Gosling and Bradley Cooper in the SAME movie, and I about died. You should listen to the podcast above, and you'll understand even more why I love Bradley Cooper. I liked when he was on Kimmel too.
This is pretty much now a Valentine's day post about Bradley Cooper. Seems about right.
We're giving away a plate on the RV Parties facebook page. Go enter! You can win a sweet free plate that Bradley Cooper autographed. JUST KIDDING. It's just a free plate. Like I'd give that away.