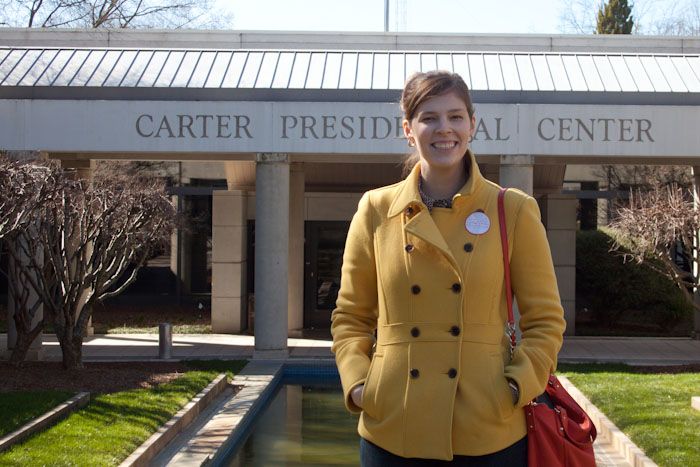 I sort of snuck away for the weekend and didn't really tell you I was leaving! But I returned Sunday night from three nights and three great days in Atlanta. It was my first time in Hot-lanta, so I booked my trip to be a little bit longer than just my meetings so I could see some of the sights.
First priority: Carter Presidential Center.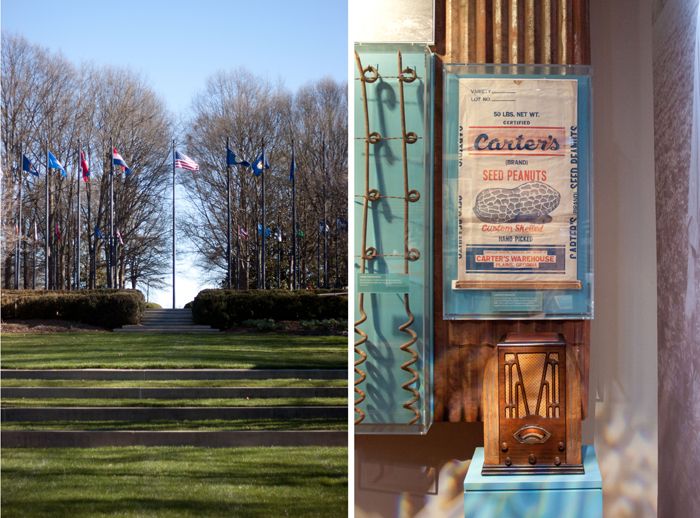 My friend Katie, a K-State Mortar Boarder and Alpha Chi, traveled with me a day early. We figured out the MARTA buses and quickly arrived at Jimmy's presidential library. I LOVE PRESIDENTIAL LIBRARIES. (It really deserves all caps.) There are 13 total, and Jimmy Carter's was my 5th.
My bucket list item is presidential libraries. Some people want to see baseball parks or state capitals. I'm all about the presidents. In my lifetime, I'd love to visit every one and hopefully someday a lady's presidential library.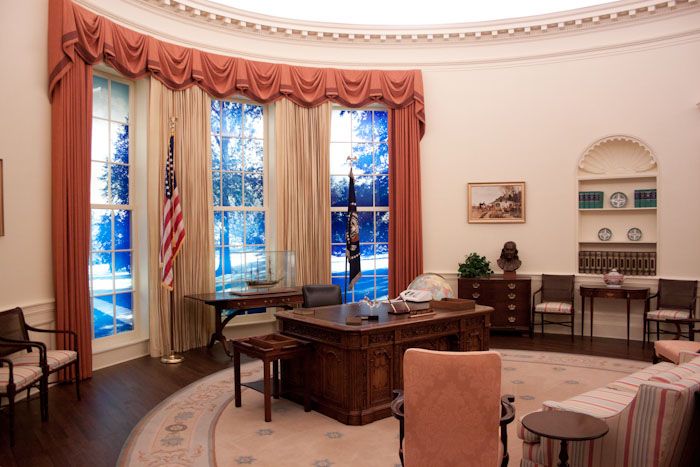 I love presidential libraries because they take 4 or 8 years of American history and tell a story - about people, culture, triumph, tragedy, war, conflict and triumph. I didn't know very much about Presidential Carter or his administration when we arrived, but I definitely left inspired by his commitment to public service. Even though he was only in the White House four years, Jimmy and Rosalynn continued to live a life of service. They did amazing things for people around the world.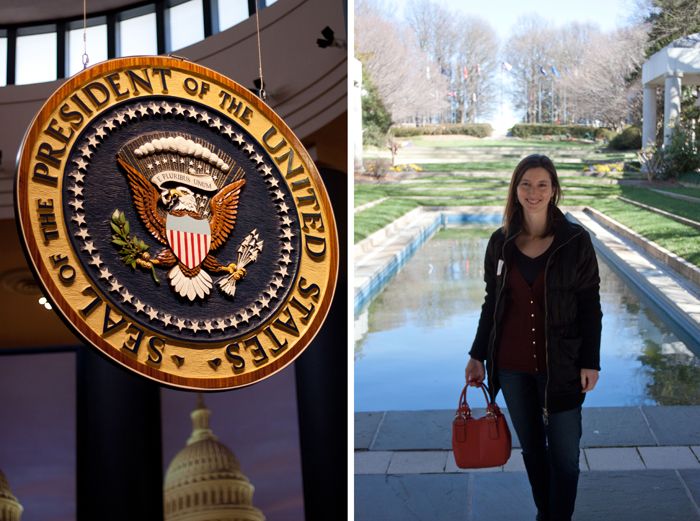 The museum was super quiet while we were there. I saw three other people total. We could totally soak up all of the exhibits and watch as many of the little videos uninterrupted.
If you're playing along at home, here's my updated presidential library checklist. If you live in KS/MO and haven't been to Independence or Abilene, I'm not sure we can be friends much longer until you cross those off your list.
Daddy Bush, College Station, TX
Jimmy Carter, Atlanta, GA
Bill Clinton, Little Rock, AR - Rachel's mom already invited me to come and stay with her
I Like Ike, Abilene, KS
Gerald Ford, Grand Rapids, MI - Though it looks like the library is Ann Arbor
FDR, Hyde Park, NY - I think this one may take me forever to get to!
George W. Bush, Lewisville, TX
Uncle Harry Truman, Independence, MO - Buy me another "If you can't stand the heat, get out of the kitchen!" mug, please. Mine broke. SAD.
Reagan, Simi Valley, CA
Nixon, Yorba Linda, CA
JFK, Boston, MA
LBJ, Austin, TX
Herbert Hoover, West Branch, IA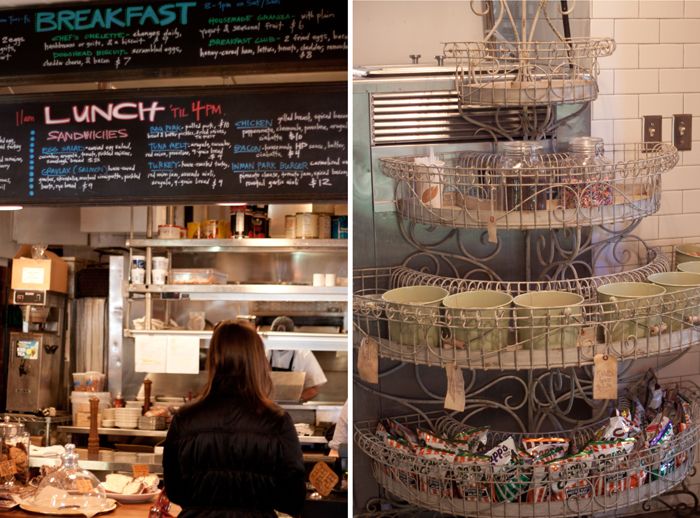 When we were done at the museum, we needed food and we needed it fast. We walked down the hill to Inmann Park, a great neighborhood with terrific food options. A food blogger had personally recommended
Parish
to us, and we found it quickly. Inmann Park was the first original suburb to Atlanta and mixed in with great old houses were new condos and a few little shops - nothing too commercial.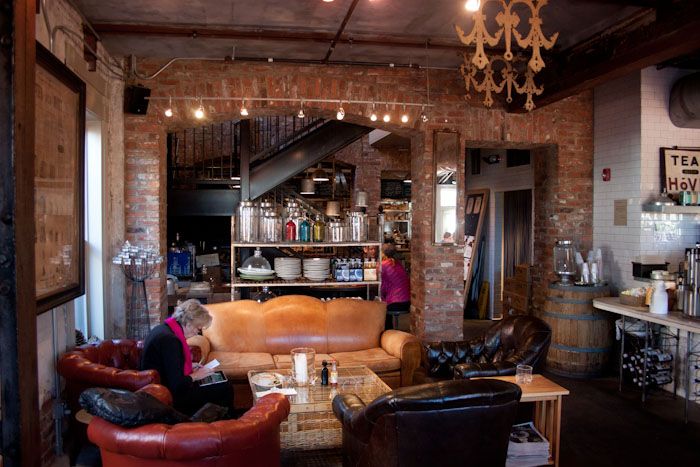 The lunch atmosphere at Parish is casual. Step up and order fantastic homemade soups, sandwiches and salads. The market deal for $5 included a small soup and a half sandwich. We added in the Banana Bread Pudding and had a perfect meal for $15.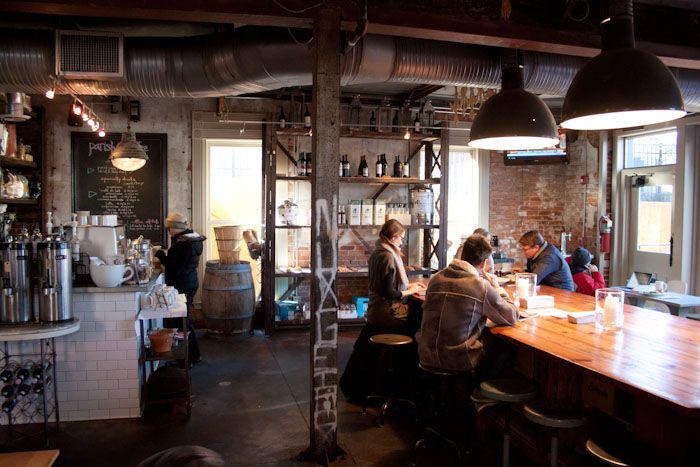 Friday it was pretty chilly in Atlanta, so we were definitely thankful to warm up a bit before a little walking around and then finding the bus back to our hotel. I was pretty obsessed with this casual part of the restaurant. We sat at that big long table you can see above, and the natural light and calm atmosphere kind of made me swoon. And it made me want to have a huge dinner party and make all my friends come over.
Too bad the table is in Georgia.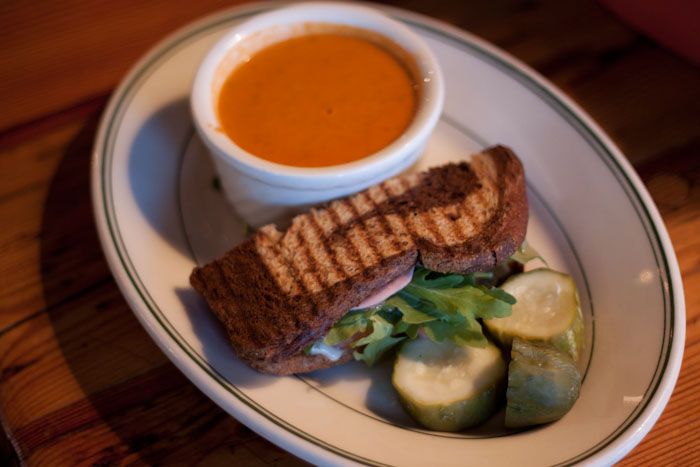 Here's Katie's great lunch. I had the perfect curried egg salad and chicken & wild rice soup. The pickles were fantastic, as was the bread pudding. We did more eating out at recommended restaurants and saw more sights over the weekend, but already Atlanta was off to a pretty great and yummy start.
PS. I'm serious about the local presidential libraries. Go already.
PSS. Happy birthday Grandma Mary!
PSSS. I really do need a new mug from Harry's library.