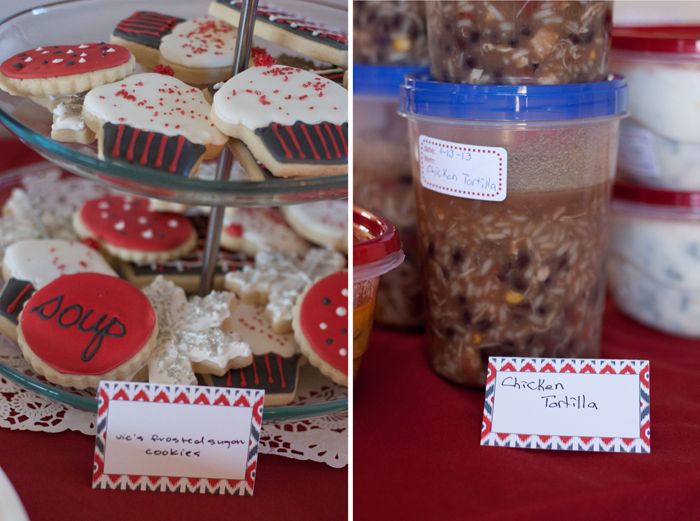 We had a Soup Swap on Sunday afternoon at my place, and it turned out a total success. Super easy to do, very little set-up involved, and every guest now has a freezer full of homemade soup. Perfect because it's still very cold out there!
Keep reading all the way through - I'm including some of the recipes and all the files used in the planning - including the invitation you can edit and send out yourself. (It's red & gray ikat, and it's free!)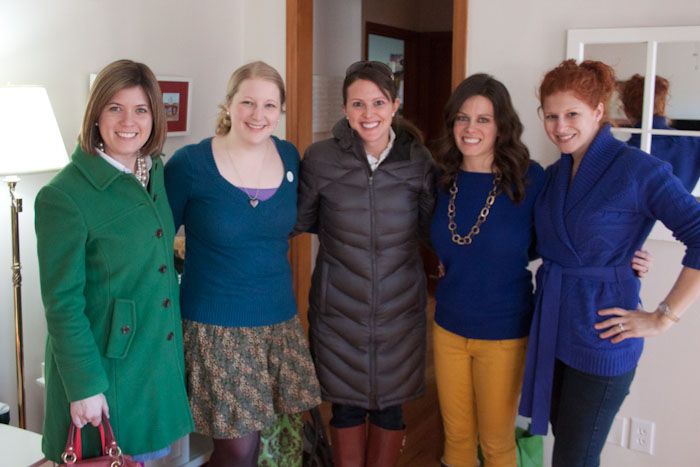 First, pick a charming co-host who also thinks this is a good idea (Erica for me!), and then invite all your friends. Well, not all of them. My little home only held about half of the people I wanted to invite. But we did a pretty good job friend mixing. The first four people had never met each other in real life before Sunday!
We mailed invitations because that's kind of
my thing
, though we could have done an evite just as well. They were in perfect matching gray envelopes with ikat labels on the front. (Also included in the download.)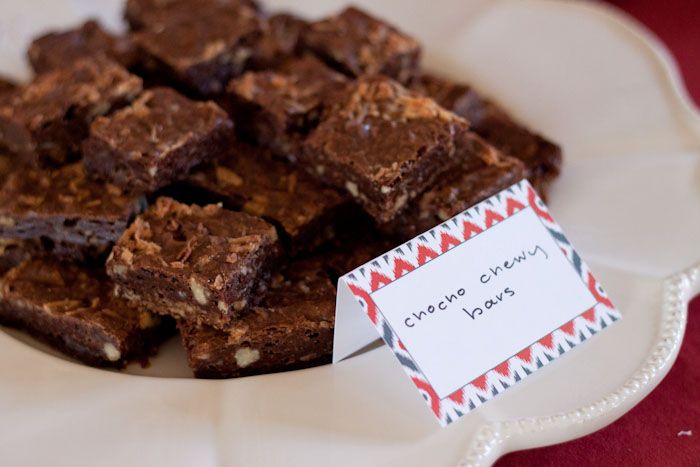 Second, plan a super low maintenance menu with a couple sweets or savory treats. I found the sparkling cranberry brie bites
here
and loved them. (She lied about how much cheese - you'll need almost six ounces AND you need to shake the cranberries in a ziploc, not roll them in bowl.)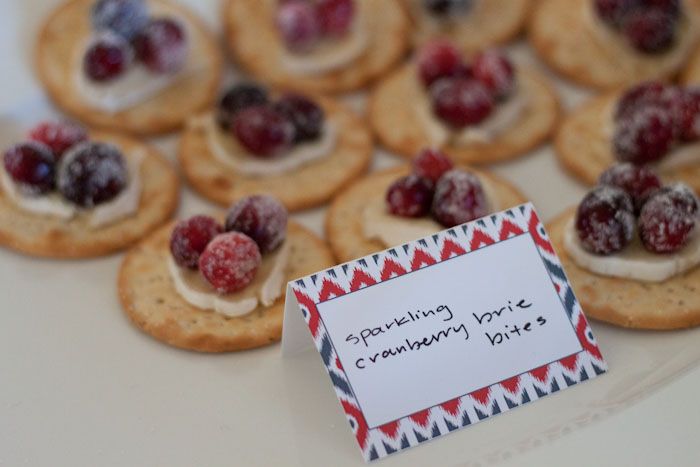 We also served
pomegranate cranberry punch
(double for a group of more than 15), red candies, my sugar cookies done in colors to match the theme, and wonderful jalapeno cheddar crackers that Erica made.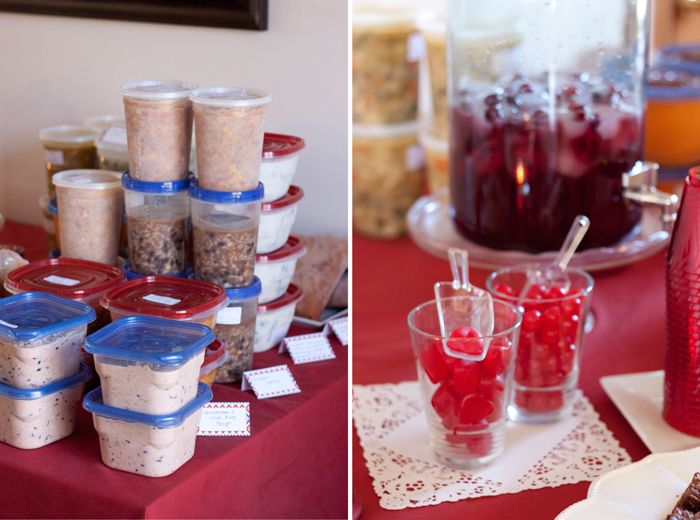 Next make room for the soup! We had 18 soups to exchange in quart size containers - that takes a lot of space! Kate ordered these round containers from
Amazon
(a great find!) and many of the guests used those. I grabbed the Rubbermaid 5.1 cup containers from Hy-Vee. People also used bags and cute canning jars - it all worked out great! We arranged the soup containers around the kitchen, and people labeled them with the printable tags (included at the end of the post.)
I attached t
hese freezer labels
to each of the invitations I mailed out. I have been using them in my freezer for about 8 months, and I love how durable they are. They don't peel off in the freezer and are pretty cute. My freezer is kind of ridiculously matchy and adorable with these labels.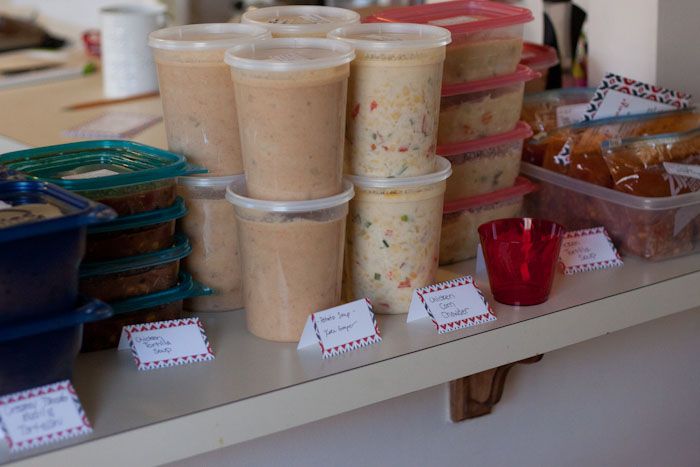 One of the biggest questions guests asked was, "How will we pick!?" Of course I had a plan for that! I made each guest answer a quiz about soup! (It's in the bundle you can download.)
The most correct anyone got was 6, so don't feel too stumped. Then I made everyone line up by the number correct and gave them a number sticker, kind of like the NFL draft. And when there were 8 people who got 4 correct, I just gave them their numbers in alphabetical order. Make sense? I thought about having them rock, paper, scissors it out, but there wasn't really enough room for that in my house.
People milled around talking, and then I would yell out a number set - "1, 2, 3, 4!" "5, 6, 7, 8!" You could only pick ONE of each soup and ONE at a time. Everyone brought their soups in reusable grocery bags so they just filled their bags back up. We didn't tell them to bring the bags, they just did it. So very green! I wanted to buy cute bags and make labels, but I'm so glad I didn't!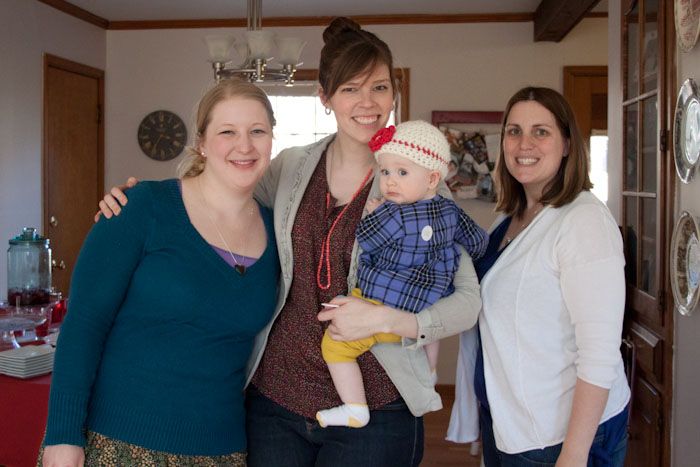 I've already finished the leftovers from when I made my soup, and I'm working on Melinda's Chicken Curry Soup with Cherry Apple Chutney right now. The recipe is in the PDF pack and worth the download alone. It's heavenly, and I want to eat it all the time.
For couples and single people like me, it's a perfect party. Four less meals for me every week for a while! And for the moms in the group? They loved it too. Something grown up to eat while the kids eat frozen chicken nuggets. Everybody wins.
You should really have a soup swap.
Download the files
and make it happen!
Included in the pack: customizable invitation - use Preview or Adobe Reader to customize, 2 x 4 label pattern, soup swap quiz and answers, food tents for the party, and recipes from some of the guests of our soup swap!
Recipe links from the web
Cassie's Wild Rice and Mushroom
(love Bake Your Day recipes!)
Chicken Tortilla
PW's Perfect Potato Soup
(Kate says, "Double the flour, increase cream by 50%, use mix of stock and broth, and be careful not to shred the tip of your finger with the potato peeler.")
The Absolute Best Tomato Soup I've Ever Had
(
Steph
made it from
Nato's
blog!)
PW's Zuppa Toscana
- Sausage, Potato, Kale (Vic - made almost exactly like recipe, a little thin for me, but awesome flavor. Tara - took out the spice by using milk sausage, added bacon and no red pepper)
PW's Chicken Corn Chowder
(Anne says, "I added meat because hubs thought it needed more meat!")
In the download: Taco Soup (two variations from Lucinda & Carly), Chicken & Dumpling (Leah) and Chicken Curry Soup (Melinda)