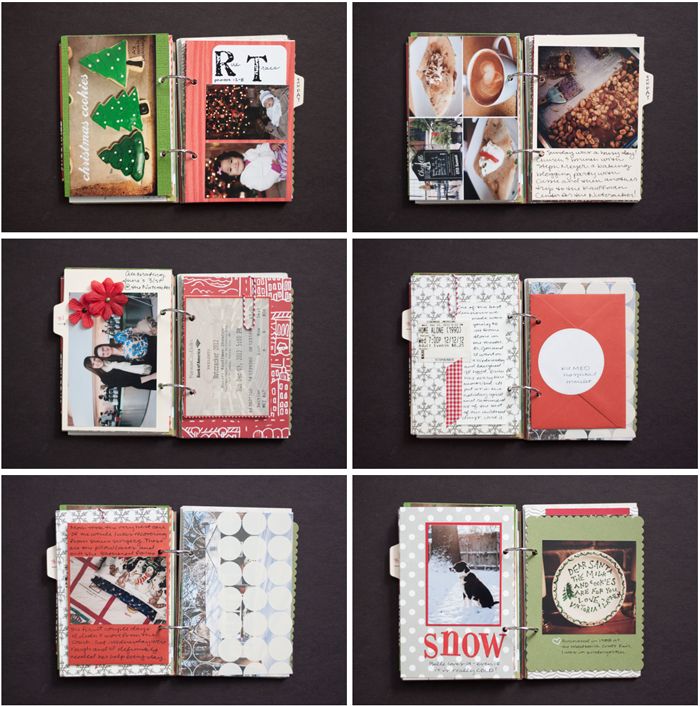 Lest you think I stopped doing my
little holiday book
while recovering from sinus surgery, I have another update for you! There will be one more update because I finished the last pages last night while watching Downton Abbey. The wedding! The debt! Edith is so annoying!
Anyways, back to the mini book. I love putting this little book together, and I still didn't buy anything to complete it! Except for all the photos I had printed to tuck in the page. My favorite size of photo comes from the Walmart up the street. Their little wallet prints are super cheap and fit perfectly on a page. The instagrams I open up in photoshop, put them in a 4 x 6 white doc and save as a jpg. Pretty quick, and I can just trim the edges after they are printed.
Last time I estimated that it only took me about an hour to put the pages together. My mother points out this didn't include any of the photo time, and she's right. That takes a little bit longer. Choosing sizes, uploading on my very slow connection and picking up from the store does take a bit longer.
I love that I can tuck in other stuff that wouldn't be on the blog or in a blurb book - ticket stubs from the Nutcracker and Home Alone, my hospital bracelet in the little envelope. The rest are rub-on letters, stickers and embellishments from my old supply of scrapbook materials. Love this little book.