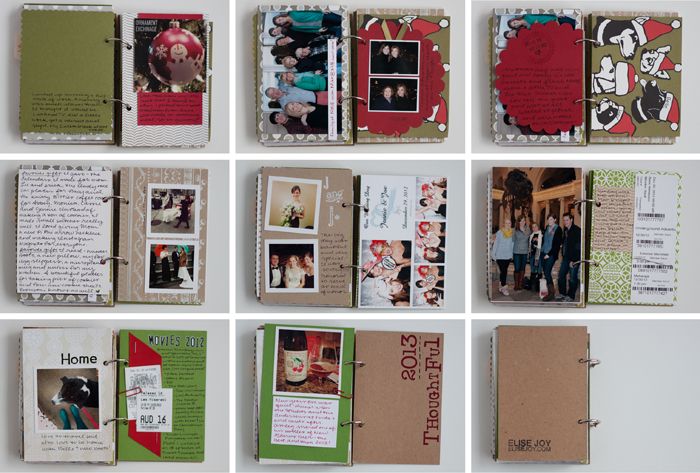 Here are the last nine pages of the minibook! (You can see part one
here
and part two
over here
.) There is one major difference for these last few pages, and it's where I sourced my photos. I needed a lot of photos for friends, family and finishing this book, so I uploaded everything to
Persnickety Prints
. I am a huge fan of printing at Walmart - it's not perfect but cheap and three minutes from my house. But when I need/want the quality to be a little nicer, I'm definitely wooed by Persnickety. The photos upload easily and are easy to share - Jennie and her family were able to download and print anything they wanted from the wedding.
Another great thing about Persnickety is the sizing options. They have several different choices for instagram prints, and I used quite a few finishing up the album. I also ordered the 4x6 photos from PP and even tried their little wallets. Which are actually REALLY little - see the tiny pics of my family in the second photo above?
The rest of the items are pretty simple. Ticket stubs from movies and the Field Museum, a favorite photo from the photo booth at Jennie's wedding, and lots of journaling finish out the book. I didn't buy one single thing to fill the book besides the photos.
I like that minibook helped make a shift for me. I don't have to blog everything that ever happened to remember that it happened. For example I love love love the photo of me with my friends and Sue the dinosaur at the Field Museum. So I posted it on facebook, discussed the merit's of double denim with the world, and tucked it in here. Done. It doesn't need it's own blog post.
This is part of a change I'm making in recording for 2013 that I'll share with you in a couple of weeks. It's sort of a little more behind the scenes work, but I'm pretty stinking excited about it. I'd also love to do another minibook, and I'll
keep watching this new one over on Elise's site
. I'm six months out from that big birthday celebration, but I think it would be a fun minibook to do to document THIRTY and all the awesome things that I'm sure will be happening. For the love of 30 seems like a great theme for a minibook.
PS. Not endorsed by Persnickety at all, just a fan. Use the code document20 to get 20% off Persnickety 4x6s before January 31. You're welcome.