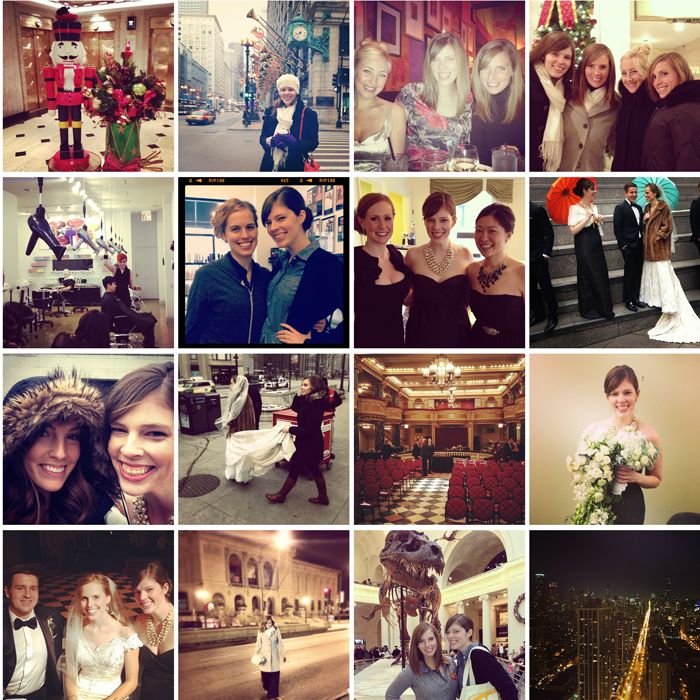 I was in Chicago for most of five days, Thursday through Monday morning. This was my fourth trip to Chicago during 2012, and I love this town. All year we've been building up to Jennie and Joe's wedding on Saturday, and it was incredible! I have some more photos to share but here is a snapshot of the long weekend.
Instagram is so easy to share a story, and between Lauren and I we had a lot of fun telling this Chicago story! It was almost to the point if we didn't instagram it, it didn't really happen.
A quick rundown and review...
Thankfully the Palmer House was still decorated in Christmas decor. Beautiful!
Walking with Gaby to the El in the morning, we stopped outside Marshall Fields. I know it's Macy's now. Whatever.
Rehearsal dinner! Besides the awesomeness of being maid of honor, I also got to spend four days with my bestie from Brooklyn, Andrea.
After the rehearsal dinner, we paused in the lobby to take another photo.
The hair dryers came from the ceiling at the salon we got our hair done.
Me with the bride. At this point, we are getting nervous.
Ready! Two other sweet bridesmaids, Lauren and Karen.
Looking good with the bride and groom. Or cold. Down by the Chicago River, Wabash and Michigan to be exact. Jennie rented the parasols for some very fun pops of color.
Little sister Lauren was along for all the fun. She was dressed very warmly and in charge of Jennie's dress.
Here's Lauren pretending she is Pippa in downtown Chicago. Cracks me up.
The ceremony and the reception were held at the School of the Art Institute on Michigan Avenue. It was gorgeous and totally perfect for their classy wedding.
Two bouquets. Jennie's is on the left and cascades down. Mine was beautiful as well.
After my toast I relaxed a lot more. I also love this picture of me with the bride and groom. Just love it.
My sister standing in the middle of Michigan Avenue. It was after midnight, so pretty quiet.
Sunday we went and saw Sue the dinosaur at the Field Museum. My sister hates dinosaurs and double denim. Thankfully, I'm wearing double denim in this photo. Did you know people call that the Canadian Tuxedo? I think that's hi-larious.
We also got to spend a lot of Sunday with our pal Dereck. He drove us around a bunch and took us to see his new Chicago place. This is the view from the 42nd floor sun deck. It's amazing and pretty chilly this time of the year.