I loved the photos that my mom took for Christmas so much that I had to design two cards this year. I tried not to do it, but I couldn't stop myself. I needed both of these cards.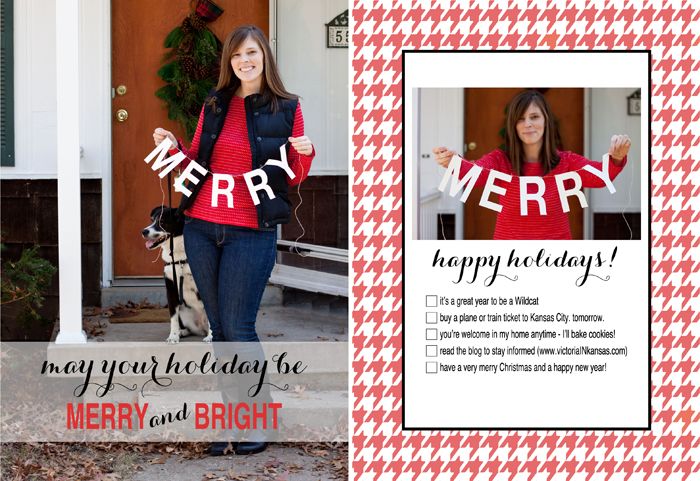 This was the "main" card - I ordered 50 of this 5 x 7 card from
MPix
. For $2.50, they rounded the corners on all the cards for me. I made a much friendlier list of check boxes so there would be less controversy about what I checked. (Read about the
small scandal
here!) I was a little nervous about sending a big card with just a picture of me and Belle, but I think it was pretty well received. I love the houndstooth pattern but knocked the opacity done a bit so it wasn't too bright on the back.
My mom did a brilliant job with the photography. She noticed that the glass door was creating a glare, so we propped it open with a pumpkin that I later photoshopped out. I set up the camera while she stood on the front step, and then we swapped places and posed with the ever uncooperative Belle. She hates looking at the camera
as much as Rachel's kid
s. Maybe she taught Finley?
I made the "MERRY" sign on my Silhouette Cameo and tied it together quickly with some twine. After the photo shoot, I hung it with some garland in my kitchen and loved it all holiday season.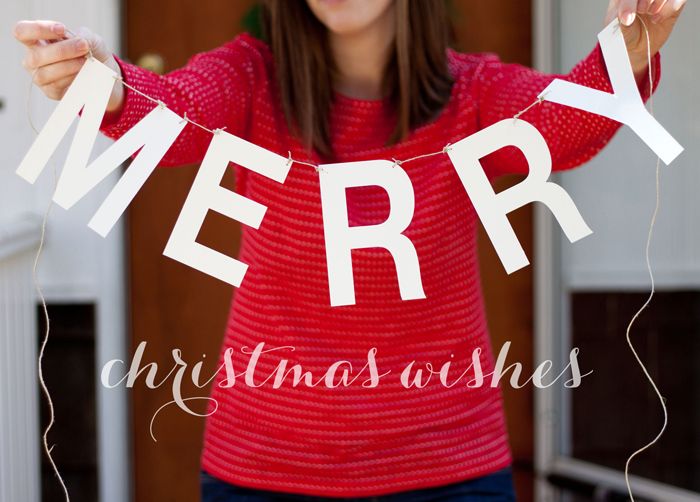 There was also this card which I printed as a small foldover card, only ordering 25. This was the first time I've ordered MPix foldover cards for myself, and they were incredible. Their paper stock is super heavy, and I think the photo printing is pretty great. Price wise, it's definitely very similar to Tiny Prints or Shutterfly. I just like the added control of doing my own designs.
Again, Mom did a brilliant job controlling the focus on the camera. I love the merry banner and the bright red shirt that I found at JCrew Factory. I rarely wear red, but I have loved wearing this all winter. I might go put it on right now for happy hour actually.
Honestly, if you got one card or the other, don't over think it. I sure didn't. Sometimes I chose this card for people who might think I was weird for sending lots of photos of myself on the 5 x 7 version. Or for my Aunt Kathi and Uncle Ted because I wanted to write them a longer Christmas letter.
Would you be surprised if I told you I already had an idea for the 2013 card? I'm so excited already.