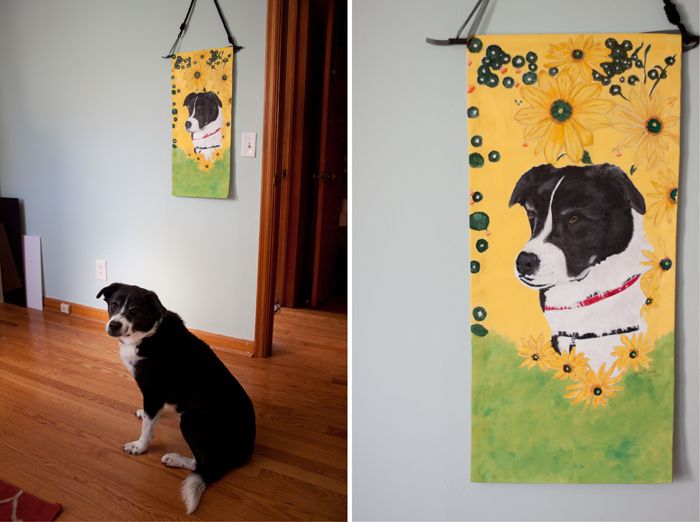 My office is without a doubt my favorite room in the house. It's neat, the natural light is great in the mornings and early afternoons and it's my favorite space to work on my computer or craft it up a little bit. I love it even more lately, and I hurry to get work done in the kitchen so I can come play in my office. And now there is some new art up on the walls!
Last summer at Jennie's shower, her mother Jane
painted two wall canvases
especially for the event. They were so cute! I was also admiring Jane's paintings of the family pets. They are always so realistic and just like the beloved pup.
Lucky for me, Jane surprised me with a perfect canvas of Belle when we went to Chicago for the wedding. I'm so happy she included sunflowers as well! I've always treasured a small postcard Jane painted for me with sunflowers on it in 2008 or 2009, so this goes perfectly with that little card.
Jane was nervous because she's never met Belle, but I think it's pretty spot on. Puppy (almost never) looks at the camera because she's busy doing other things. And that soft white fluff on her neck really is as cuddly as it looks in the painting.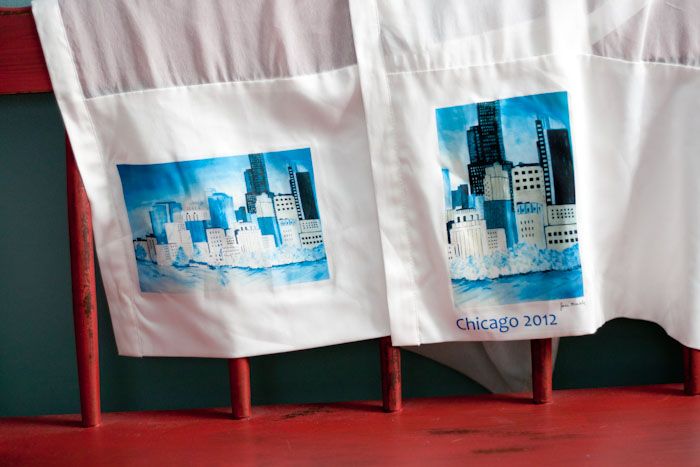 Jane's art was also featured on gifts for the women in the wedding - these lovely scarfs! She painted the Chicago skyline and transferred them on to the scarfs. We were all so delighted to receive the gift - what a special memory from a wonderful weekend with one of my favorite families of all time in one of my favorite cities of all time!