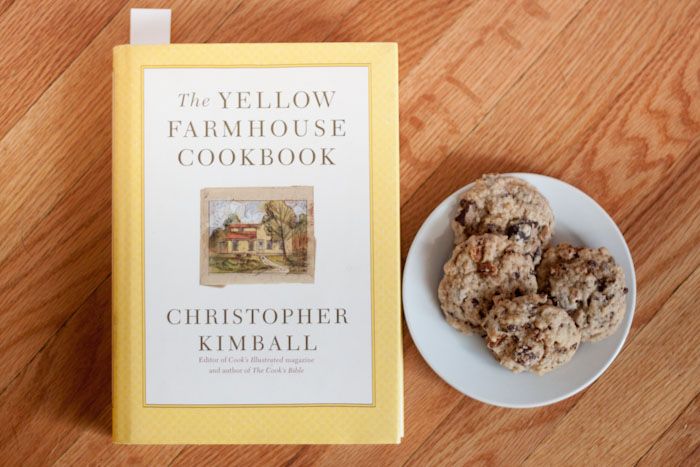 I make a lot of sugar cookies. A lot. But that doesn't mean there aren't other cookies in my life. So I set a goal for 2013 to make thirteen new cookies. Here's the catch - the recipes have to be from my
collection of cookbooks
or the three food/home magazines I get each month. Not the internet, pinterest or someone's blog. It dawned on me in December that I'm always collecting magazine articles and cookbooks, but I rarely use those as my sources for new recipes to try.
Many of the cookbooks in my kitchen are ones that I
had to have
or gifts from dear people in my life. I already made cookie #1, ate some, and gave the rest away to rave reviews. I'm excited to share it with you too! It's from Christopher Kimball's cookbook that is no longer in print, a gift I received from my
dear aunt Kathi
. I was reading it one time when I was visiting their house in Delaware, and we went to the bookstore to try to buy me a copy. Out of print, but thankfully we were able to find it on the internet for a very reasonable price.
I just
had to have it
because it reminded me of her. And then I never opened it again. Eighteen months later, I decided to make something out of it. It was a successful first trip into the cookbook!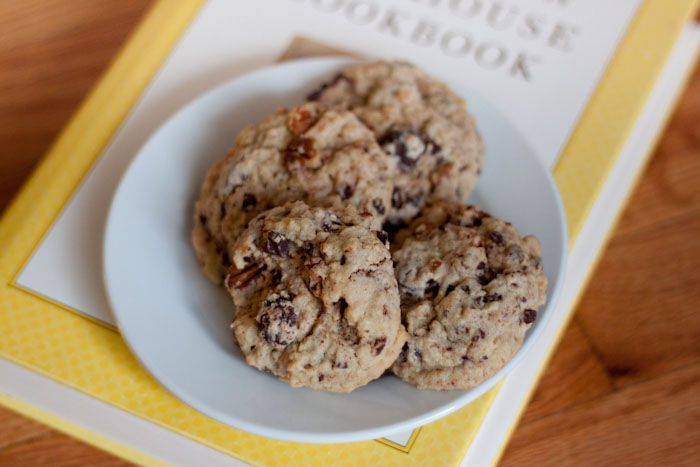 Oatmeal Chocolate Chip
from The Yellow Farmhouse Cookbook: Chris Kimball modified the Neiman Marcus cookie recipe for this gem.
1 1/2 cups rolled oats
2 sticks (1/2 pound) butter, softened but still firm
3/4 cup granulated sugar
3/4 cup packed brown sugar
2 eggs, room temperature
1 teaspoon vanilla extract
2 cups flour
1 teaspoon baking powder
3/4 teaspoon salt
12 ounces chocolate chips
4 ounces grated semisweet chocolate (I processed more Ghiradelli chips in the food processor)
1 1/2 cups chopped pecans or walnuts (I only had about a 1/2 cup pecans but they were awesome)
1. Heat oven to 350 egrees. Places oats in a blender or food processor and blend until very fine.
2. With an electric mixer, beat the butter and both sugars until light, about 3 minutes. Add the eggs one at a time and beat 20 seconds after each addition. Add the vanilla and beat for 15 seconds to blend.
3. Whisk together the flour, processed oats, baking powder, and salt. With a large rubber spatula or wooden spoon, blend the dry ingredients into the butter mixtures. This will be tough since the batter is stiff. Add the chocolate chips, grated chocolate, and nuts.
4. Form dough into balls about 2 inches in diameter and place on a baking sheet covered with parchment paper. Bake 14 or 15 minutes on the middle over rack or until the bottoms are lightly browned. The cookies look/feel a bit soft at this point. They will not spread much and will look undercooked. Do not overcook or they will become hard and dry when they cool. They will harden as they cool. Remove from oven and let cookies cool for 2 minutes on the baking sheet before removing to cooling racks. Cool at least 30 minutes before serving.
PS. I added 1/2 up coconut to half of the cookies because I love coconut. It was good.
PSS. My staff RAVED about these cookies. Rave review about chocolate chip cookies are hard to come by so I was pleased.