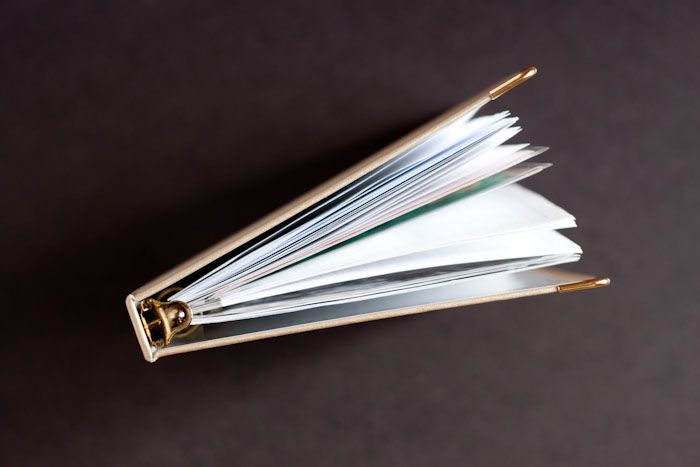 Rach wrote an awesome post yesterday about
grace
. This is by no means a post about how awesome I am at being organized. See it instead as a very shiny way to keep all (or most) of the balls in the air, especially in weeks when I feel over committed.
A lot of women that I work or volunteer with swear by their paper calendars. I adore all of these women, and they are usually at least as busy as me. But I have to disagree about the paper calendar. iCal has revolutionized my planning for meetings, at work and volunteering, and it changed the way I think about my weeks. I'm a huge convert, and I love that I can be on my work computer, at home in my office or on my iPhone, and instantly access my calendar. And I love that Siri will read me my upcoming appointments.
But I could not make the switch to virtual to-do lists. I needed a way to keep organized - and I mean my whole life! So I invented a little system that I named "Organize my life." Really creative, I know.

It started really simply. I made a form for the week in Microsoft Word. I'm a big fan of the "Word Publishing Layout" for easy to make tables and word box formatting. I printed them two to a page, made some graph paper for lists in the back of the spiral, and I was set.
I included some pretty basic categories:
errands/around town, meals for the week, blog posts, RV Parties orders/designs, someone to send a card to, around the house, pray for, and the long view
. Work to-do lists fill page after page of a notebook at school. I try not to get too mixed up in that list because it actually is never complete.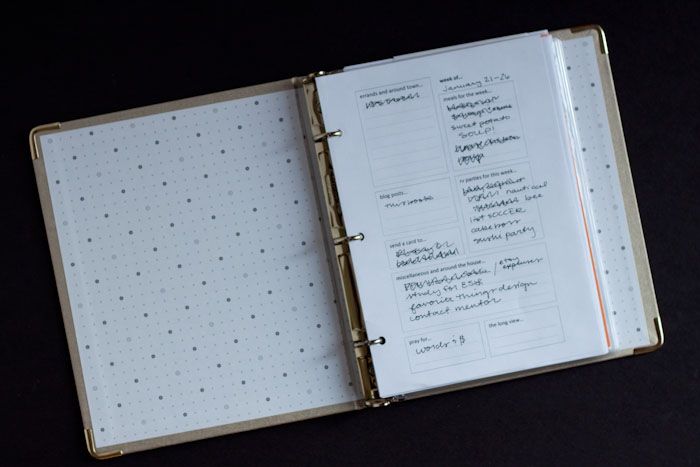 The spiral notebook worked great, and it was cheap! The guys at the UPS Store down the road are good to me. But it got pretty beat up in my purse and backpack, and the grid papers in the bag filled up with notes and lists. I used it for almost three months before I switched to this little binder from
Russell+Hazel
that I purchased at
The Container Store
online. Mine is gold and SO pretty. Instead are the same printed pages, just a little wider. I put
the files
here if anyone really wants to download, modify and use them.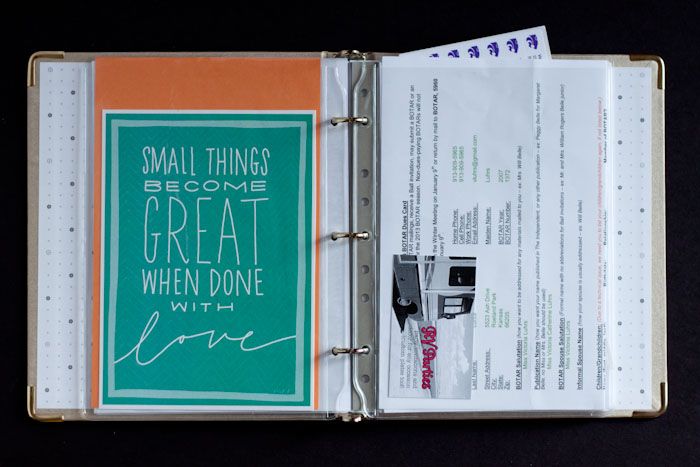 But the best part about the new binder are the page protectors. Inspirational quotes, Bible verses I should commit to heart, address labels, dues cards, blank cards...it all gets tucked into the binder. It's part decorative and part really really useful.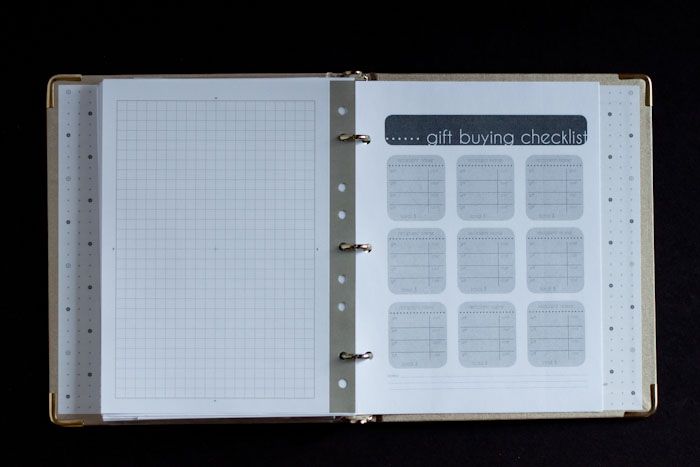 I also ordered the grid paper from
Russell+Hazel
. I just really like grid paper because I really like things to line up. And if there are any other printables that I want to add to my binder, I just print at 65%, and they are ready to go. I've been using the binder for nine weeks, and we're very happy together.
I still don't get everything done. But I do feel a little bit more organized.