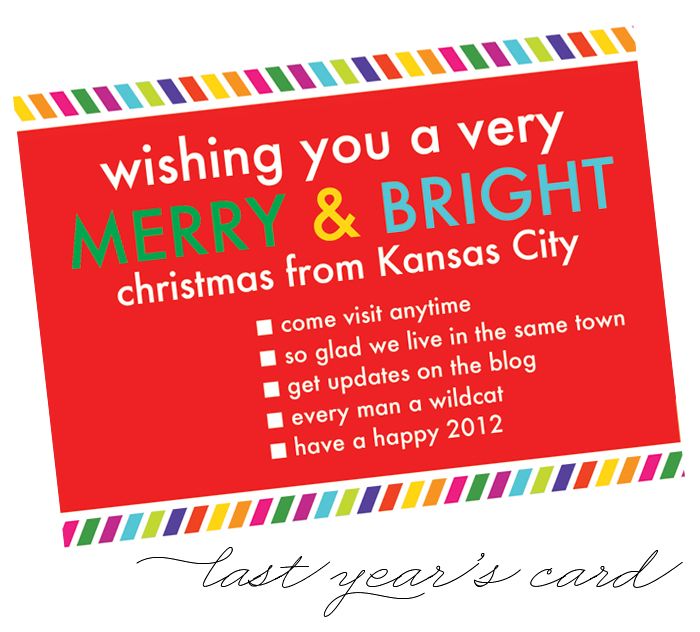 I haven't mailed this year's Christmas card. They are waiting in piles on my kitchen table to be signed, sealed and delivered to friends and family. For the fourth year in a row I designed my own card, and I can't wait for you to see them! They are my favorite yet. And also they serve as my apology for last year.
Last year's card, pictured above, was one that I absolutely loved. Inspired by Kate Spade's trendy patterns and colors, I put together a fun checklist and the bright patterns. So cute, right?
Hilariously, it was the most controversial Christmas card I have ever sent.
Problem #1. There was no picture of me on it.
My friends felt like I was embracing my life by sending a picture of
just me
each year. The problem was that I helped plant this idea by stepping on my soap box about Christmas cards back in
2009
. I even made a bulleted list of five reasons why it's okay I send a picture of myself on my Christmas card. But in 2011 when I didn't follow my own manifesto, I received a lot of flack for it. Erica told me she didn't even know what to put up in her house because she likes to leave the Christmas cards up for months to see her friends.
Problem #2. The checklist.
I meant to inspire my out-of-town friends to come to KC with the box "come visit anytime." Two husbands married to my best friends here in Kansas City teased me about it for quite a while because I didn't check that box on their cards! They kept saying, "It's fine, we won't come over. It's fine. We'll never hang out again." On the other end, Rachel felt like it was rubbing salt in her wounds that we no longer lived in the same town!
Really no one was mad, I'm just a terrifically good natured easy target. It's nice my friends want pictures of me and like me enough that they care I didn't invite them over. But really, everyone is welcome all the time. And I really wish I lived in the same town as Rachel.
The 2012 card is a design marvel, and I'm excited to share it with you next week. It makes me giggle even thinking about how much trouble last year's card caused, and this year's card will probably just make you smile. But who knows - I didn't see last year's hullabaloo coming at all!