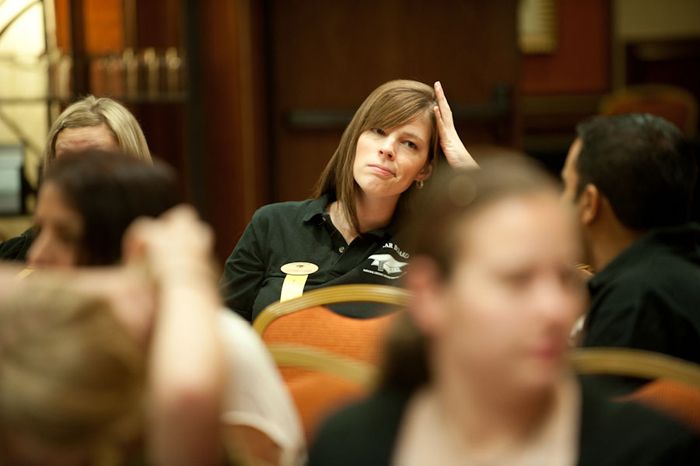 I went to
Mortar Board conference
and there were a lot of meetings and presentations. My friend Erica was the photographer for the whole conference, and while she was capturing photos from the session of everyone talking and engaging in the work, she got this gem of me. And I am clearly
not impressed
with something!
Here are some things that I'm currently not impressed with...
Pumpkin spice lattes. Everyone loves them it seems. Pinterest is full of pumpkin spice latte cupcakes, cookies, dip and donuts. I feel a little bit like a failure as a new coffee drinker.
The Jayhawks trick plays! Totally didn't see those coming.
Word CAPTCHA (Completely Automated Public Turing test to tell Computers and Humans Apart - thanks google!). Most of the blogs I read that have CAPTCHA aren't going to get spammed, but I think blogger has that as the defult. I am not a computer, but I never get the CAPTCHA right without at least three tries. Also, in almost 850 blog posts without word verification, I have received 3 or less spam comments. So you'll be safe if you turn it off.
My ability to make madeleines. First attempt was a total bust. I'm going to try again this weekend if you would like to sample, let me know. Apparently the recipes are supposed to be complicated. Weird.
PS. I probably really do make that face a lot. Especially when I am not impressed.
P.S.S. To turn off word verification (please?), go to blogger - dashboard - settings - posts and comments - word verification and select NO. If you start receiving a ton of spam, then you can turn it back on. And I will say I'm sorry.