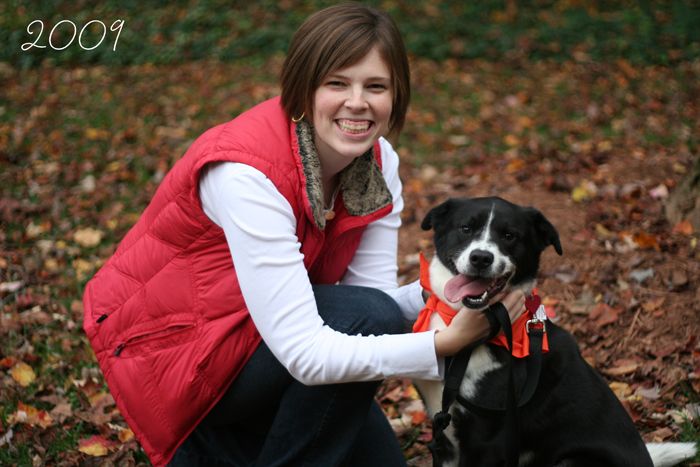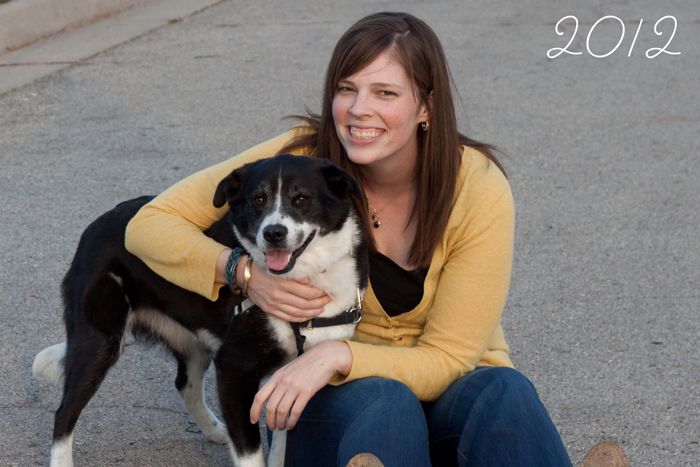 My puppy turned five this year! I don't know exactly when her birthday is because she's a rescue / mutt / street dog but it's probably sometime in the summer. Both of these photos are from fall, almost exactly three years apart. A good reminder of how much my hair has grown, but also of how Belle has gotten older!
Here are ways Bell-y has changed over the past three years.
She has gray hair around her eyes. I didn't notice it until comparing it to the photo from 2009, but she's definitely aged some.
Belle never wants to sleep in my bed. This is mutually beneficial to both of us.
Bedtime is much earlier - she likes to be curled up in one of her two beds (spoiled!) by 9 o'clock each night.
She has a much longer attention span and can sit outside for hours. Especially when she is on the hunt for squirrels. I really need her to address the ground squirrel problem because I'm afraid they are going to come into my house with the dropping temperatures.
I kind of want her to live forever. So we watch her weight, and she started taking joint supplements. Yep, it's a little before something like that is totally necessary, but I want her to live for-e-ver.
She listens a little better. This has definitely not improved greatly, and I would like to take an agility class with her! As soon as she greets guests, she normally leaves them alone. Unless that person is smart/dumb enough to rub her belly, then she will never leave their side. And when Erica's husband Jon comes over, she sits perfectly because she adores him.
Belle is my favorite. I can't imagine my little house without her, and it's too quiet if we're apart even one night. I love my puppy.