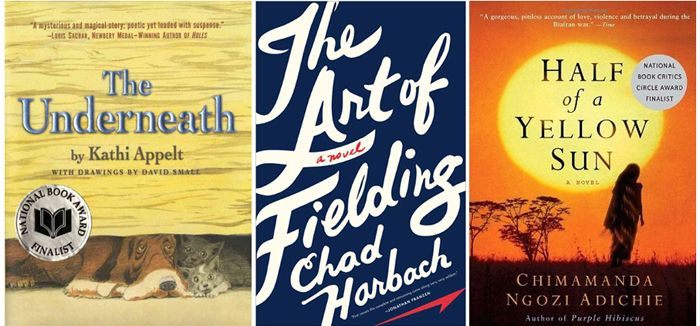 Three books this month, but two of them were over 500 pages so that feels like an accomplishment. About half way through the year, I decided I really wanted to read 52 books this year. That's six more books than last year. But since I'm watching so much less TV, it seemed possible. Including September, I have finished 36 books. Reading twelve more books this year is sounding a little daunting. This definitely means I'll be avoiding the
sequel to Fall of Giants
until the next year. Yes, I'm cheating a bit, but I have a huge pile of books next to my bed as it is!
As a follow-up to previous posts, the question I get most about books is, "I just finished
Last Letter from Your Lover
and I loved it! What should I read next!?" Everyone but my friend Abbey asks that. She didn't like Last Letter. Here's the three books from the
archives
that I think you should go read right now...
Is Everyone Hanging Out Without Me?
by Mindy Kalling. And also, watch her show. When she made a boy take her to three frozen yogurt places on her show on Tuesday, I was dying. I would totally do that. And also I might take a picture using my hair as a shield. Normal.
The Purple Hibiscus
: This book has really stuck with me and was really exquisite. I think even though it is a story from Nigeria, the themes and characters transcend and make it a beautiful book for everyone.
The Fault in Our Stars
: Yes, all of these books are from the same month. Yes, I'm going to tell you AGAIN to start reading John Greene. Really, I'm doing you a favor. After reading three of his books, this is my favorite still.
Now, for this month's books...
The Underneath
probably won't appeal to many readers of this blog, but I loved it. It's fantasy/mystery/swamp people and told by animals. And a really gnarly bad guy - gnarly in a not nice way. I picked it up at the book fair because it was a finalist for the National Book Award. Speaking of which, the new finalists are announced this month. YEAH! This is easily my favorite book award. I think my grandma would like this book though, so I might be sending it along to her. The kittens and the dog in the story are too sweet.
The Art of Fielding
destroyed me and held me captive for the quick week that I read it. After waiting almost nine months to get it from the library, I was so mad I didn't buy it for the Kindle. I really want to bully other people into reading it as well. It's a story set at a fictional, small Wisconsin liberal arts college, and while it is about baseball, it's also not. Love, friendship, success, failure and boundaries are also brilliantly woven throughout the story. I went to Chicago and stayed up till 1 am reading it. Not a smart move on my part, but I couldn't look away from the characters and the story. This is totally my "must read" book of the month. It's incredible, and you can expect to see it on book award lists in the coming months.
Half of a Yellow Sun
is about the Nigerian Civil War or the Nigerian-Biafran war in the late 1960s in Nigeria. You didn't know there was a civil war then? Yes, me neither. Amazing to think of the things that I don't know that happened in Africa. I feel like I'm a pretty well rounded history person, but then I am totally floored by history from the African continent. Or really, besides Northern Africa, how little I know about what happens there today. It's by the same author, Chimamanda Ngozi Adichie, as the Purple Hibiscus. I would start with the Purple Hibiscus, but this is also a worthy read if you have a heart for the people of Africa. It's a great foundational history and captivating story.
And this was, accidentally, a really long post. Maybe I should read less because I think it correlates to more words on posts.