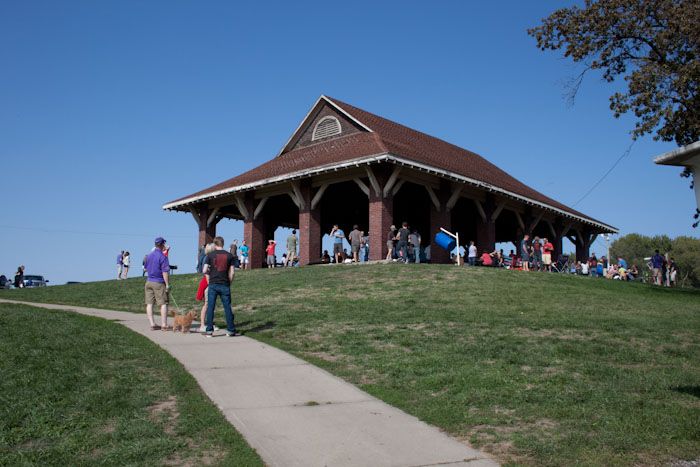 Saturday was a gorgeous day here in Kansas City. Those are clear blue Kansas skies, friends. No photoshopping. A perfect day for Oktoberfest. It's put together by these
fine guys
, and Ashley, Anne's husband, brews some of the best beers of the group. This is a serious operation with hundreds of people coming out for the day.
Previously the event was in May (Maifest), and I missed the first two years. I was totally ready for Saturday's big event.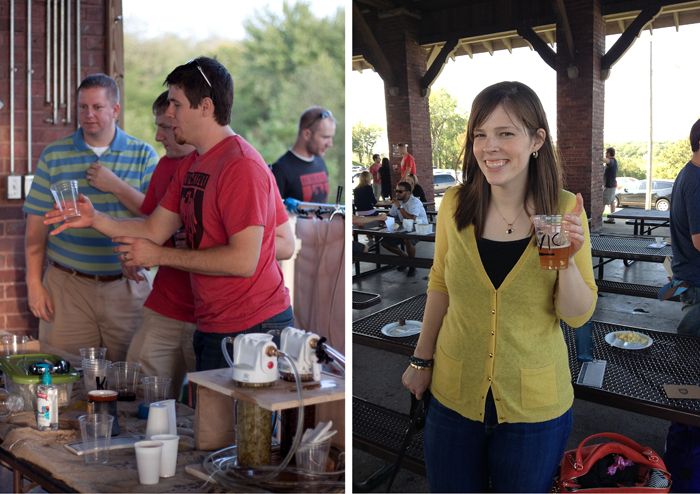 Ashley was less convinced I was ready. When he poured me my first beer, he marked my name on my cup and the line to where my beers could be filled. That was it. No more for Vic. This actually proved to be an excellent strategy.
In the left hand picture, you can see some of the other hosts/organizers serving the beer. There was one beer that they ran over coffee before serving it. Or something very technical like that - it's the very fancy looking gadget at the bottom of the photo. It was a great porter, made even better by the coffee. Yeah coffee!
I also love this photo because my
blog friend Stephanie's
husband is featured behind the table and definitely in the middle of the action. As she puts it, he looks forward to this party like Christmas morning.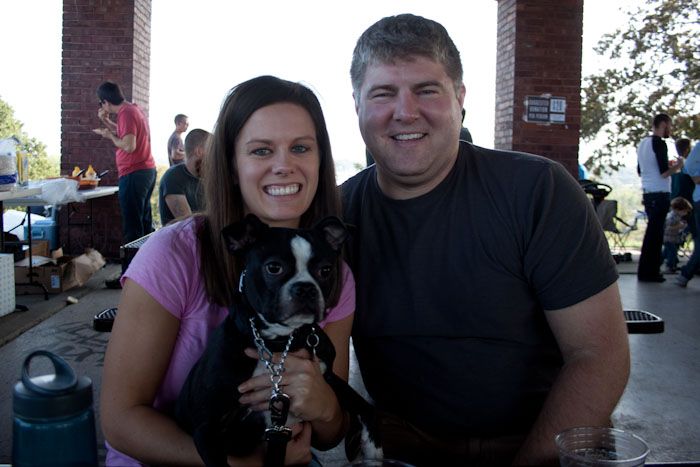 People bring their dogs, so we brought ours. Belle was fine with the other dogs and fine with the crowd. However, after a while she thought she needed to guard the party from newcomers and barked at some later arrivals. She especially disliked hipster glasses. Weird, because I wear them at home all the time.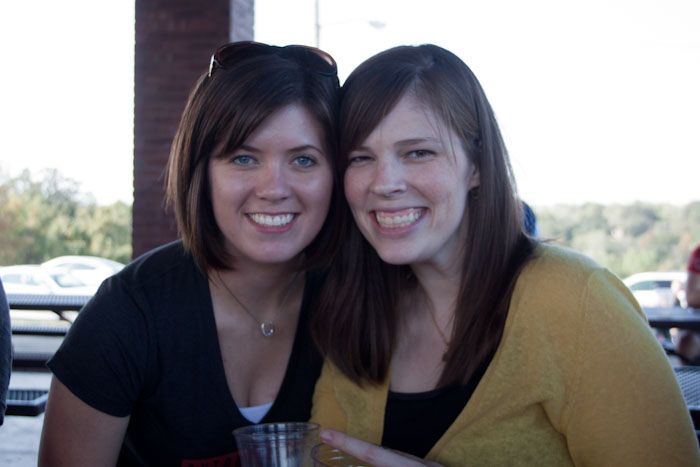 Here's
Stephanie
without her red dogs. Yeah for the internet connections that brings people together in real life! And yes, we talked politics for a while. It's totally normal and was very civil even though everyone was drinking lots of beer. Also, you should read her blog. Especially now that she is done running for the House of Representatives and back into telling the snarky truth full time.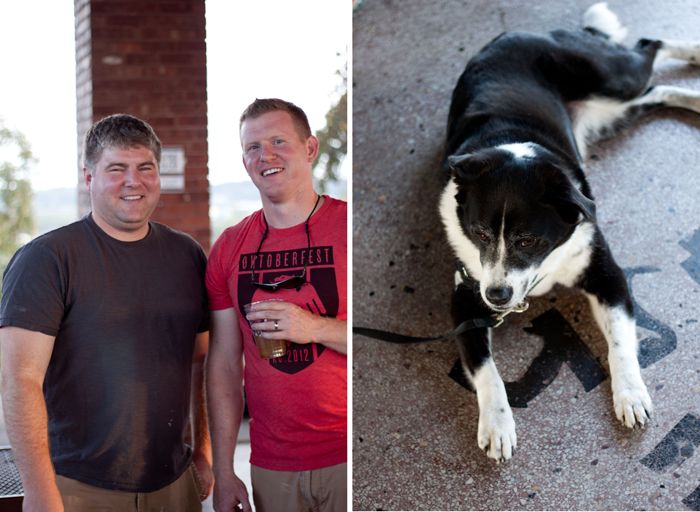 I had to take Jon's picture with his hero the beer man, Ashley. I think Jon also looks forward to this like Christmas. It's such a fantastic event, and I can't wait for next year. I think the only thing that would make it better is if I brought some pretzels. And made everyone
pumpkin doodles
.
Belle was so sweetly tired by the end of our time there. She hung out very nicely at my feet. It was good training for us on crowds and listening. For the record, when I took the same sweet puppy home, she escaped and ran away for a bit. NOT OKAY. After that final sprint, she was officially exhausted and slept till 7:30 the next day. Hungover, I suppose.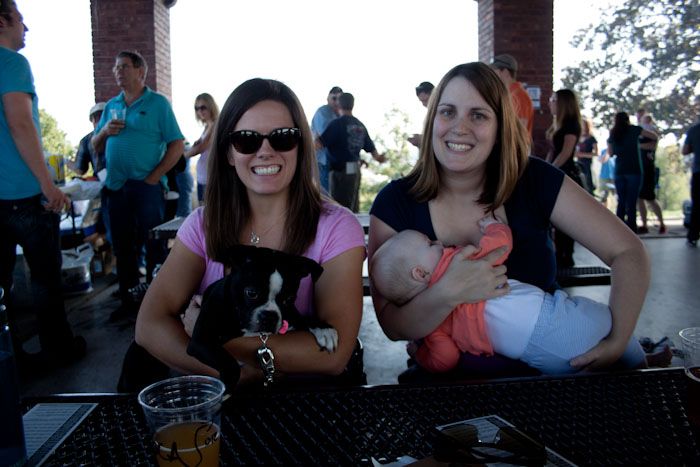 There were dog babies AND regular babies. Fiona and Everett both came with their parents to enjoy the great weather. There was much to watch and see, and Everett got a huge kick out of feeding his leftovers to Lucy, Erica's puppy. Obviously, she also loved it.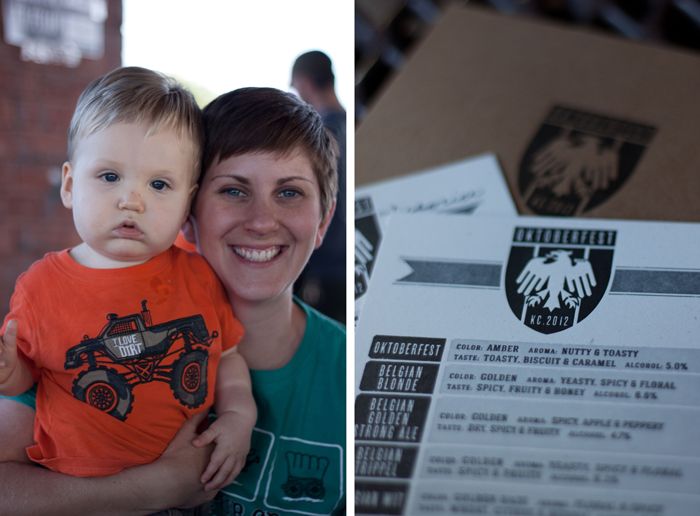 The graphic design also takes this event to the next level. The beer lists (20 different beers!) were letterpressed. I carried one in my purse and used it for checking off the beers I tried - nine different ones total! Keep in mind the little line on my cup, so it was the perfect amount of beer.
I don't think I can pick a favorite but here are some that I loved: Oktoberfest, Punkin, Belgian Trippel, English Dark Mild
(I like to call this one the "Gentle Guinness,")
and the Robust Porter poured over coffee. I already emailed Anne to see if there was extra beer for this weekend's tailgate. Not much, unfortunately, because everything was so good and popular. Punkin was the first beer to go - and it was a partnership beer between Anne and Ashley. She told him to add some more spice. It was perfect!
I'll remind you next year about the event as soon as I know the date. It's spectacular and there is something for everyone. And really, really good beer.