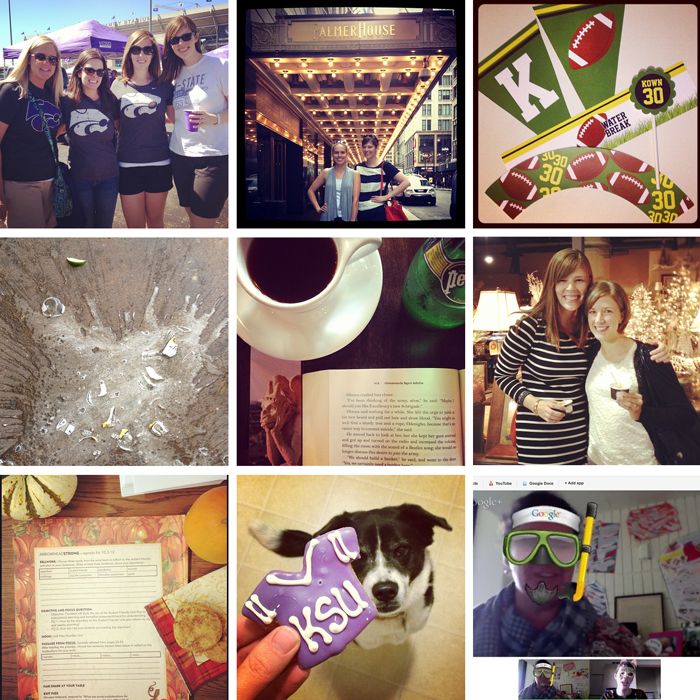 Let's look back at a few gems from the world of Instagram and the last month or so. I didn't number them, so see if you can follow along on your own.
1. The last "warm" K-State game, this was taken at half time with my fellow K-State ladies. So excited the Cats have continued to climb since that win. #3 baby!
2. When I was in
Chicago
back in September, we did some scouting downtown for the wedding events in December. We will be staying at the Palmer House and getting ready there too, and it is LOVELY. I was so impressed and can't wait for December.
3. I did some custom work for a customer who is a Georgia Tech fan. Her husband made it to the "30-yard-line," and we came up with some adorable ways to celebrate including custom football wrappers, mini uniform cupcake toppers and a "stadium" banner with his last name.
4. My one and only happy hour of the year, and I dropped my second Corona on the ground. It just slid off the table. Also, I got charged for it. Is this fair?
5. A Saturday morning coffee at
Quay Coffee
with Perrier, a hunchback bookmark and a book set in
Nigeria
. It was so lovely to pretend I was somewhere else. They specialize in pour over coffee, and it was pretty excellent. So was the reminder to sit down and be still.
6.
BFF
was in town. We ate pizza, salad and gelato. Also, I had a glass of wine. Apparently I believe that eating with Rachel means the calories don't count! I received many sweet compliments about this dress on instagram - it was only $19 from Old Navy and available in tall online. Perfect with tights, boots and a scarf for fall. It makes me very happy!
7. I present or facilitate every Wednesday afternoon in my role as teacher leader. It's part of my job that I love, but it also challenges me. To create a fun atmosphere recently, I decided we needed to add a theme! I picked up the pumpkin paper and the matching napkins at Hobby Lobby. I made pumpkin doodles and picked up the cutest pumpkins at the Hen House by work at 2 for $1. Teachers were so excited if they "won" and got to take the little pumpkin home!
(I believe the Hen House by my school has the VERY BEST selection of pumpkins not in a patch in the entire KC area. And probably better than some pumpkin patches!)
8. I spoil my puppy. I can't hellllllpppp it. Look how cute she is! I had to buy it to celebrate the Cats perfect season so far!
9. I'm working with another teacher leader on a special presentation coming up this week. We have met in person but finalized some details on a Google Hangout with the extra effects. It totally made my day.
Happy Monday!
Follow me on instagram @vluhrs.