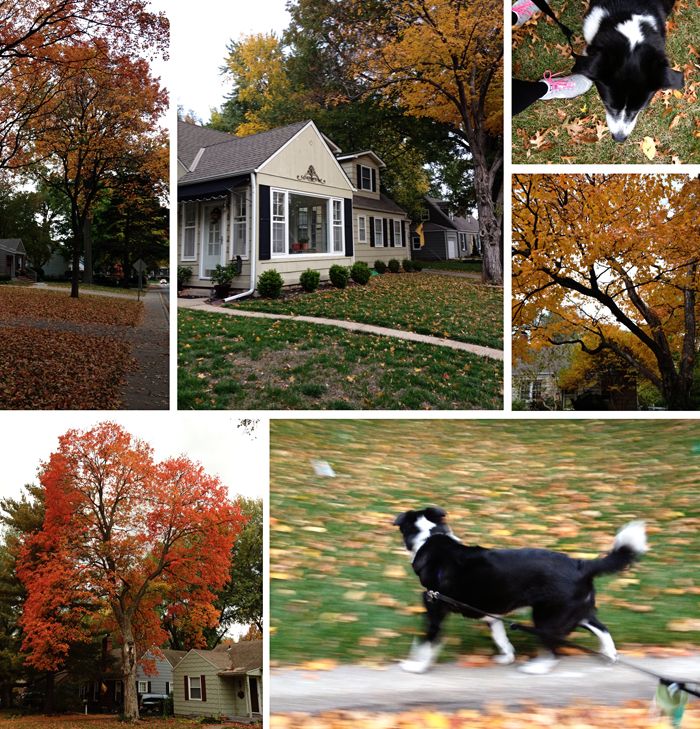 Even on an overcast day, the neighborhood is FULL of bright colors and beautiful scenery. Belle and I have been out walking more than normal because it has been so nice and there is so much to see. Monday the high was in the 80s! I took all of these photos last Wednesday on my iPhone but could barely get Belle to hold still for the photos I grabbed. She also refused to look at me.
How sweet is that little house in the middle? I love the sitting room on the corner, and I could see myself sitting there often to watch the neighborhood and the leaves fall. They had the coziest little chairs in there and on sunny days there would be such great natural light.
Yes, I am a snoop when we're walking through the neighborhood.
Belle is a terrible walking partner in the fall because she's in a hurry to try and catch a squirrel. They are super active, which I hope means they are going to hibernate for a long winter and lots of snow days. However, when she lunges for a squirrel it makes me very nervous because that's how
she broke my finger
.
Come over and walk with us. And then I'll feed you something I baked recently with a couple sticks of butter to even it out. I will not ask you to help rake - the front yard is covered with leaves and I can't see the grass anymore. Surprisingly, this isn't frustrating me that much. My neighbors raked their front yard Monday, and it's already covered with more leaves.