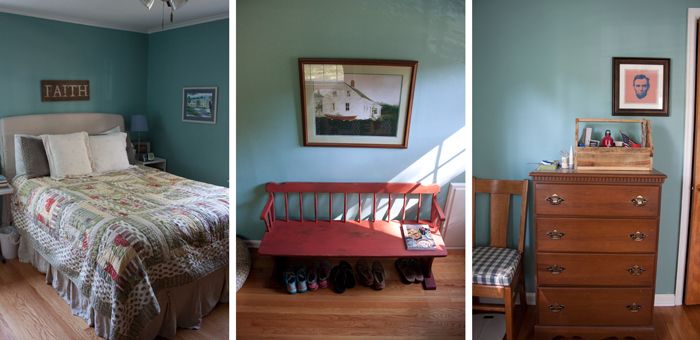 I love this one particular paint family from
Shermin Williams
. However, I do not love taking interior photos of my house. The exposure is a bit of a problem for me always, and I'm utterly befuddled by the catalog quality ones that always show up on Pinterest or even on my beloved
Young House Love
. Rachel also made a valiant effort and was also challenged by the shifty light inside. If you have any tips for shooting interiors, please let me know.
But I love the difference the paint made, so I am going to share anyways.
I started with my quilt and a blue/green shade that is featured in it. My mom has the whole Sherman Williams deck and a good pal, Lauren, helped pick out this color, Tidewater. It's also one shade darker in the same family as my mom's gorgeous bathroom. It's rich and cozy, and complements the wood details in the room. And the red bench I found for only $70 is the perfect feature on the long wall, helping tie together the cottage feel of the print above and my quilt.
A couple of art places found new places in my room. The "Lincoln Square" piece is a gift from Abbey. Rachel thought it was creepy that I wake up with Lincoln every day. It should not have been a surprise
given my history
. I also hung the Alpha Chi house right by my bed because its the place where I met 7/10ths of my BFFs.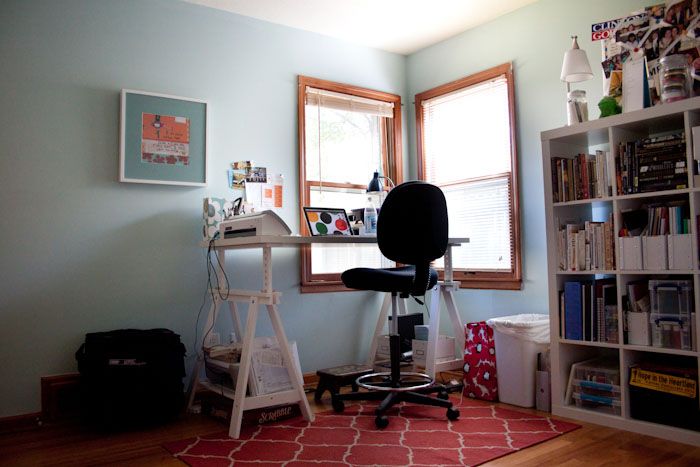 But I didn't stop there. Across the hall the fun with blue-green continues! Two shades lighter, we put in the Tidewater to contrast and compliment with my excessive collection of Ikea furniture and frames. I have lots of red in this room as well.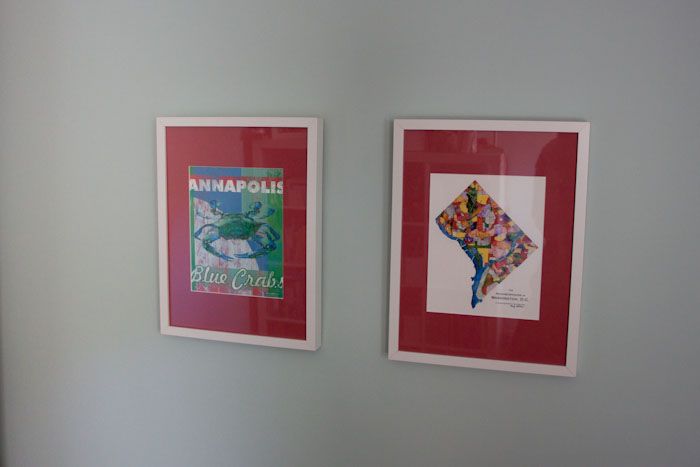 I bought the paint for both of these projects in the days after Richard and I broke up because I wanted to feel more like I owned the space. Abbey and I painted the bedroom almost immediately, but I didn't get around to finishing the office until early September. I finally got my act together when I was tired of looking at these cute matching frames sitting on the floor. Two of my favorite pieces from the "good ole days" on the East Coast now have a place on the wall. Blue + light aqua makes me very happy.
I think the blue/green of Tidewater is prettier in person. Come over! I'm baking a few times this week.
Before photos
here of the bedroom
and
the office is over here
. The table is higher (counter height!) and the drafting chair is so cushy. I can sit here for hours working on design projects. Go look at the before pictures - I think you will see very quickly what a difference it makes.
P.S. A huge thank you to Abbey for not only teaching me how to paint but continuing to supervise my painting because I can't totally be trusted. And cutting in.