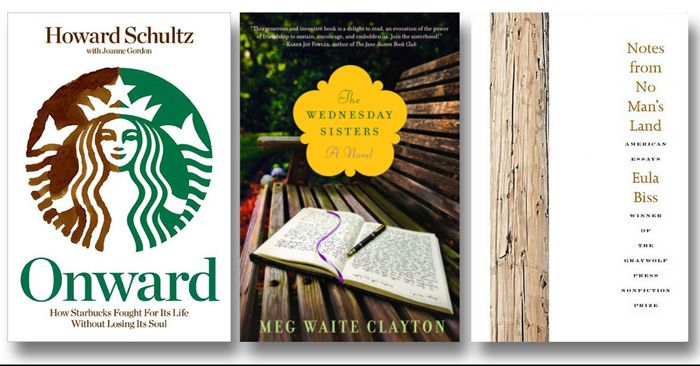 Three books this month and none that I would put on a "I will badger you until you read this" list. But all good - just none as great as Last Letter From your Lover. The book club is reading that for our September book because I bugged them enough.
Onward
was recommended to me twice by my friend Lindsay, a former Starbucks employee and grad student. If she found time to read it, I could too. It also was super interesting as
I started drinking coffee
instead of diet coke. Starbucks sometimes gets a bad rap for destroying local coffee shops, but I think Howard Schultz tells enough behind the scenes information to make you rethink some of your concerns. It reads pretty quickly - and I don't read a lot of nonfiction or business books! It's also a story about how businesses in general responded to the economic downfall of 2008. If you don't drink coffee at all, skip it. Otherwise I think there is some value for everyone. Also, just writing about this book makes me want a latte.
The Wednesday Sisters
was our book club book for the month. It's about five friends who discover feminism and a love of writing in the 1960s. It reminded me a lot of one of our original book club reads, Angry Housewives Eating Bon Bons. Parts were predictable and other parts were touching and realistic. It went well with One Crazy Summer from July because the timeline and setting were similar.
No Man's Land
is the
KU common book
for this year, and it was a bold choice for their first pick. It is a collection of essays about race, privilege and education in America, and I found myself highlighting many parts of it. I think that it would be best read twice and with the kind of close read that you learn in high school because so many of her lines are powerful. A couple other pals read it and found parts of it challenging. It is at times uncomfortable because you know there is truth in her words. I'm a little proud of KU for embracing a tough text as their first choice and hope it leads to rich discussions with students and faculty on campus. (K-State's three choices were
Hunger Games
,
Zeitoun and The Immortal Life of Henrietta Lacks
. Yes, K-State was two years ahead of KU.)
Small note: Because the domain was broken, I have to relink up the posts in the sidebar under "Books I've Read. 2012 is up-to-date with working links and hopefully 2011 will be soon. Happy Reading!