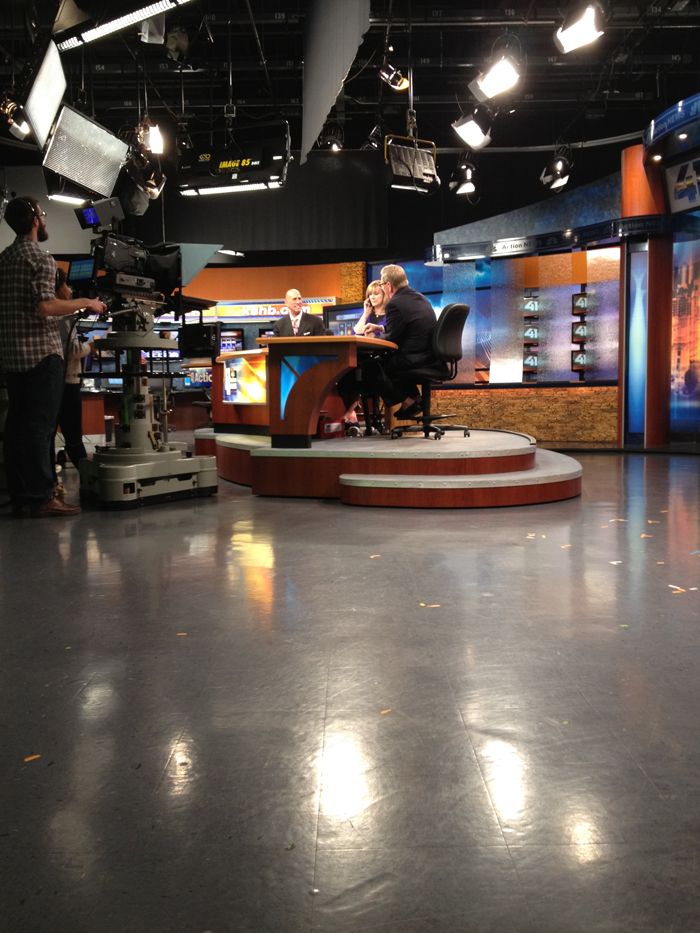 My family loves loves loves NBC, especially
our local news
anchors. We can easily watch from 5:00 to 6:30 each night. And I've always joked that you know you are from Kansas City when people argue about who their favorite weather man (or lady) is. This never happened in DC - we just watched the weather! But in Kansas City, people swear by their weather guys. It's not unusual to hear someone reference Gary Lezak in first person in conversation. "Well, Gary says it is going to cool off by kickoff on Saturday."
True story.
So when I found out my Leadership Institute from Junior League was going to work with Christa Dubill, I was pretty pumped. And when she invited us to watch a show at the station and meet with her there, I thought I was going to die.
This is literally one of the most exciting things to happen to me since I moved home.
We met with Christa a long time and watched all of the 6 o'clock news live from in the studio. Here's some things I learned.
Jack Harry does not wear socks, like ever, while reporting the sports.
There are a lot of screens and cameras in the studio that make it feel small-ish, but it really all happens in that room. The weather tvs, the screens, and even Kansas City Live, the morning show.
Michelle Obama helped make the change in what female news anchors wear. Less suits, more stuff that real women wear. We were pretty fascinated by some of the details in how Christa prepares hair, wardrobe, and balances a working mom schedule!
They purposefully try to end a minute or so early so that the next show already has you hooked and ready to go before 6:30.
The people at Channel 41 also miss Wheel of Fortune on at 6:30 pm.
Gary Lezak is as loveable, dorky and AWESOME in real life as he is on TV. During one of the commercials, he talked to us about how his suit was missing the top button, but he thought he could pull it off. During another commercial, he taught us how to fold a four-point pocket square.
In between the 6 and the 10 o'clock newscasts, Gary and Jeff Penner went to 810 Zone at Harrah's because Gary has a frequent dining card. They also miss the 810 Zone on the Plaza.
Christa Dubill loves the show Parenthood.
They actually really do like each other, and it totally shows on the set.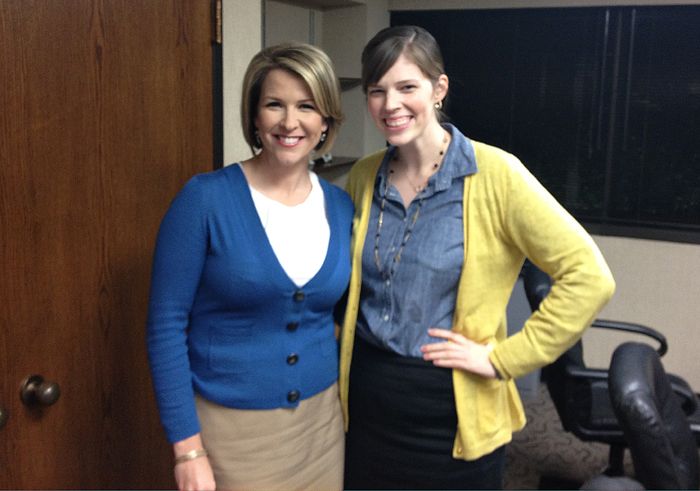 There were several meeting items that we had to take care of tonight for Junior League. After we were done, I totally geeked out and asked Christa to take a photo with me! The lighting wasn't great, but at least there is proof that I was there. As we were walking out, I mentioned how my mom and sister were big fans as well. I casually mentioned that many people were jealous I was going, including my friend Jon. I told Christa, "Jon said if I can only do one thing while I'm at the station, I should touch Jack Harry's hair."
She said, "Let's DO IT! He'll love it!"
So she took me downstairs with one of group leaders and introduced us to Jack Harry. And I asked to touch his hair. See my hand moving? I'm actually touching his hair! Also, he's not super tall.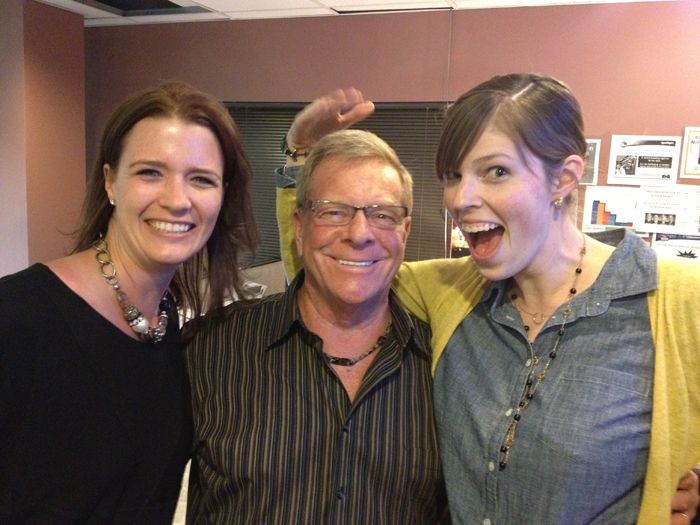 It's actually very soft and springy! Also, Jack Harry is kind of a softy. He was super nice - which I'm not sure I would have guessed from just watching his sports casts. Then we talked K-State football for a while. Lance Veesar was working right next door and enjoyed the whole embarassing scene.
And, you know what? I loved the whole thing.
Bonus picture from Christa Dubill this morning of our group watching the newscast!
PS. When Gary saw our big group in the studio, he said, "Christa! Why didn't you tell me you had people coming? I would have brought Stormy!" That is
literally
the only thing that could have made this thing better.