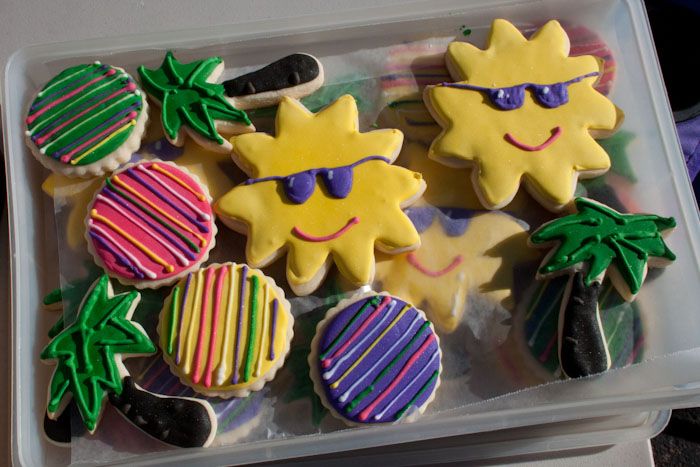 K-State played Miami on Saturday in Manhattan, and the whole day was fabulous. Just awesome. It was an early game (11 am) which means we left my house earlier than I leave for school. I might still be tired from all that fun in the sun. The beaches of Miami made for an easy theme for a batch of cookies. Palm trees, sunglass wearing suns and my favorite stripe cookies.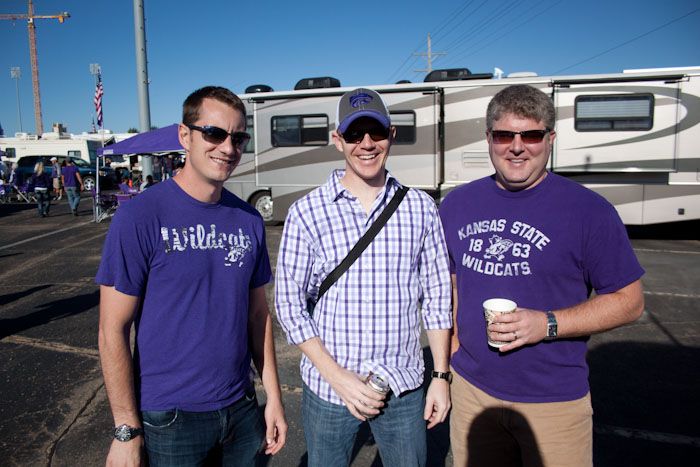 The weather was beautiful. We wore an extra layer in the morning for tailgaiting but definitely didn't need anything more than shorts and t-shirts for the game. And plenty of sunscreen! The boys in the picture are Dereck (in town from Chicago), Sheldon (we celebrated his upcoming wedding with a stock the bar party on Sunday night), and Jon, this week's carpool driver.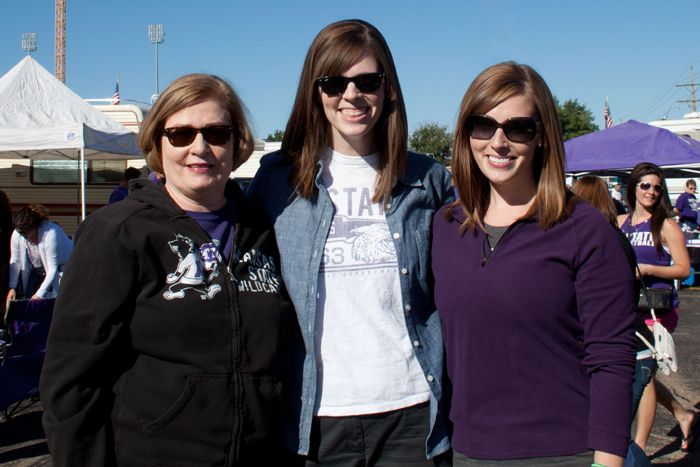 Three Luhrs ladies at the tailgate in the morning! True story - Lauren didn't like this photo because there was a pole coming out of her head. Picky, picky. So I photoshopped it so there wouldn't be a pole. Done. Perfect Kansas blue skies.
Lauren brought a couple of friends from law school to the tailgate, including a nice Miami fan named Grant and his girlfriend. I introduced myself to Grant then went to talk to him again realizing he was a former youth group kid! He recognized me too, and it was fun to catch up with Grant. Hard to believe some of my former youth are in law school. And crazy enough to go to Miami.
The game was awesome - K-State totally dominated and made their way into the top 15.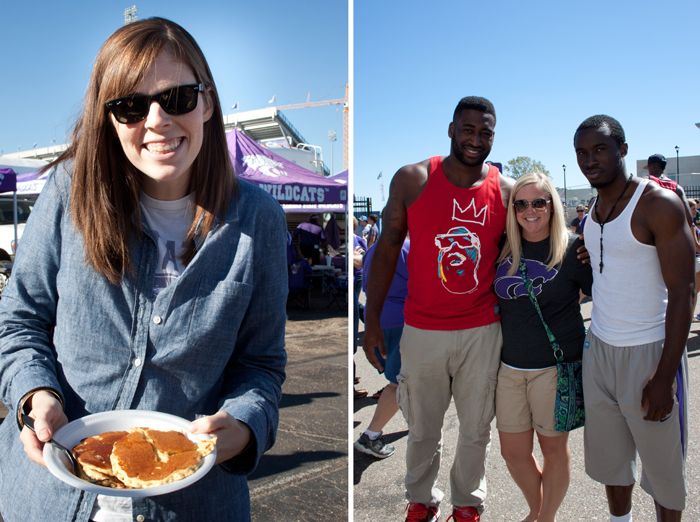 Two major highlights of the day were Chris Cakes pancakes and basketball players! The RV across the way had Chris Cakes catering pancakes. I caught all four on my plate and devoured them. I love those pancakes! Don made amazing bacon as a reminder of why I don't cook bacon at home - I can't do it justice. So greasy, good and perfect.
After the game we ran into three basketball players which made Anne the happiest Wildcat ever! She had the guts to stop and ask to take a photo with them. Here's Thomas Gibson and Martavious Irving - they are big in real life!
Good day at the Bill with such a big win and excellent food in Aggieville afterwards. More on that to come!