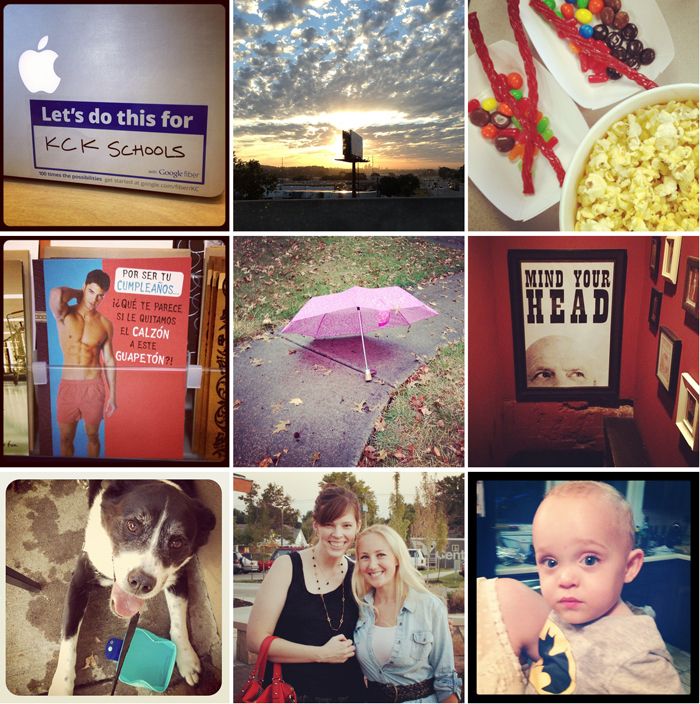 I forgot to number these. I feel like you can follow along if we go line by line starting at the top. Okay? It's sort of an instagram dump as well as a pretty solid summary of some recent life adventures.
1.You deserve a Google Fiber Update especially after I got you
all riled up last month
. It hasn't gone as well as we thought. We're not going to get it in the Fiberhood near my school, which is a serious bummer for us, our students, and the public library right next door. The discussions about race, privilege, internet access and the technology divide have been interesting. Bottom line: Google is still a business. We were actually instructed by the district that we could not promote it. So we'll just cross our fingers for the next roll out and hope we're included. (The sticker came off the laptop pretty soon after this picture was taken for all of you worried about it!)
2. Sometimes when I drive to work the sunrise over downtown is too much to handle.
Great is his faithfulness; his mercies begin afresh each morning. Lamentations 3:23
3. I never talk about my job, but it's good. It's even better when the lead teacher leader Lindsey feeds us excessive amounts of movie theatre snacks on a Friday afternoon. I love when she is in charge - FOOD!
4. My first cousin Nic modeled for some Hallmark cards. True story. And they are now available in Spanish. He received an unfair distribution of Luhrs genes.
5. We FINALLY got rain. And so much of it too! Here's how long it had been since it rained...when I put on my rain jacket, I found a train ticket to Versailles. From June.
6. During the rain, we made a quick trip to Manifesto. There aren't more photos from that trip because drinking by candlelight is not super conducive for photos. It was fantastic! The cocktails were so fun, and it was my favorite speakeasy for sure. I had been to
two
in DC
, but the atmosphere here was a little less chill and definitely buzzing in the basement of the Rieger Hotel. My first cocktail had root beer Shatto milk, and the second was a perfect Pimm's Cup.
7. We walked to Einstein for bagels and coffee last Monday. Belle got really hot and thirsty. Not from the walk but from the two minutes I left her alone outside while I ordered. They were no
NYC bagels
, but it was nice to walk somewhere. I love Belle an extra lot lately - having a five-year-old pup is nice. Except when she steals your turkey sandwich off the counter. That was extremely not cool.
8. Andrea was in town from Brooklyn for the long weekend. We had dinner at Urban Table and Shatto ice cream sandwiches for dessert. We also did a Halloween photo shoot for RV Parties and watched two movies in an old fashioned BFF sleepover. I hadn't seen Andrea in over a year, but we've been friends for over fifteen years so it didn't feel like we missed a beat.
9. I went to a Labor Day party at my friend Annie's. This her darling son Mack in a rare serious moment - he's actually full of smiles! Mack is a champ and a fighter, born super early and super small, but now is almost 18 months old and flirting with all the ladies. As Annie says, "I loves him."