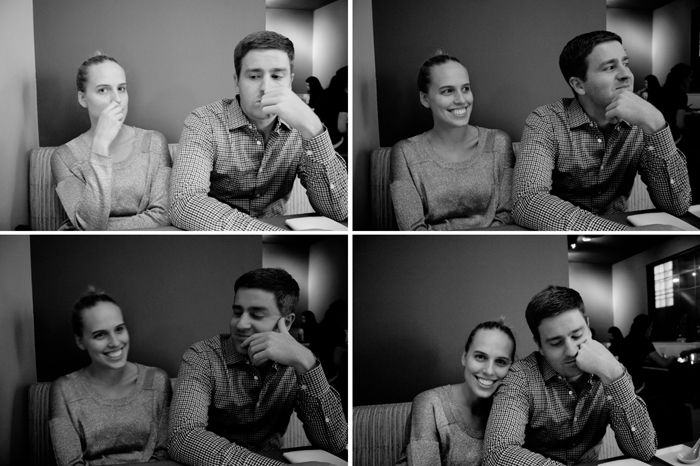 I took these photos last week when we ate at
Takashi
. The lighting was sort of tricky and so were my subjects. I'm just wrapping up the posts from my weekend jaunt to Chicago, which is good because Jennie and Joe arrive on Friday. They're not coming to see just me; Jennie is a bridesmaid in a wedding. It will be my first time hosting TWO people in my little house, but I think Belle and I are ready!
Even with my dedication to
extra sleep
, life is wearing me out a bit! Mortar Board at UMKC, Junior League Leadership Institute and a few other miscellaneous commitments have filled the evenings. I'm in my second week of activities every
single
night, and I'm kind of tired. Getting stuff done and going to meetings is a lot of action.
When I lived in Virginia, I participated in a young adults group at my church that met every other Thursday night. It was a great, mostly casual group that I really enjoyed. For most of last year back in Kansas, I struggled with finding a place in my new church. Erica and Jon joined a small group for young marrieds - I clearly couldn't join with them - and I considered many options from casual young adult gatherings to other small groups. I took one four week class, but nothing else.
This year I jumped at the chance to take a 12-week class with Erica and our friend Lauren. It's one that has pushed me to look at my own life and to see how God's presence has shaped my story. We're talking about peaks and valleys right now. It requires a lot of reflection, but the stories that we tell/hear each week are powerful and important.
I love the class, but about two weeks ago I realized that it was too much. I cannot sustain another weekly commitment, even one that is valuable.
Honestly, I feel guilty about it. I have many friends that are in small groups that meet weekly, and they depend upon and love that fellowship. Maybe if I were married it would make a difference? Maybe I should re-prioritize my life so I do have time for that weekly commitment?
The counter argument that I make in my head is that I'm using God's gifts in a way he designed for me by serving in the community and spending time with friends and organizations I love.
I'm still evaluating, prioritizing and studying how these things impact my life. But I've seen over the last two weeks that my quiet time in the morning has suffered. When meetings keep me out of the house until after 9, and I'm packing my lunch in a hurry after computer time is over or early the next morning, I do not make and have time to sit with my Bible in the morning. This is the consistency I need and crave more than a small group right now.