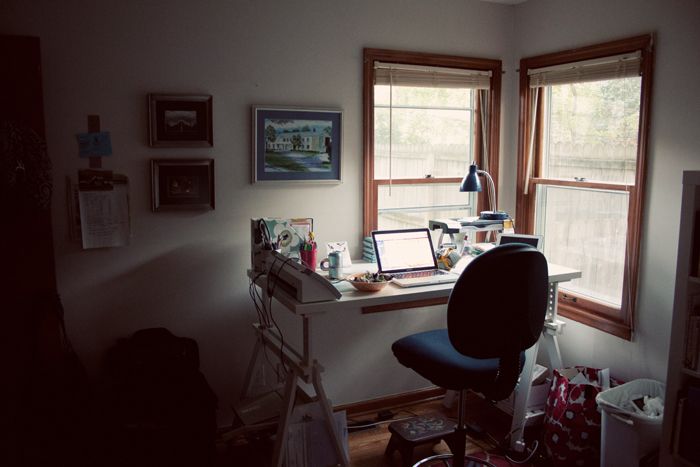 One of my favorite blogs series is over at Mimi & Meg. It's the
Get S#@T Done series
, and I really will read every word of one of those posts. I like to know what successful people do to get stuff done daily and weekly. Or at least how they try!
I try really hard to get stuff done, and I'm mildly successful. I'm writing this down because something might help you or convince you that I sleep and can get overwhelmed like a normal person.
I've been back at work for nine weeks and about a month ago, I had to get some stuff figured out to balance my work and outside of work responsibilities. The first big change was related to sleep schedule! During the second week of August, I declared to Rachel, "No more computer after 10 pm." No finishing up blog posts, last minute changes to etsy orders, and emails/tweets/facebook conversations with Rachel or gchats with Jennie. I also decided I was going to not talk on the phone/text after 10 either.
This is super challenging, and I'm successful about 3 to 4 school nights a week. Sometimes it's hard to get everything wrapped up if I've been at a meeting or with friends in the evening, but it makes a huge difference, and I get more
time to read.
YEAH! I am not one of those people who falls asleep easily. My wound up brain needs a little bit of time to unwind with books, and I usually turn my light off at 10:50 or just after 11 at the latest.
This early (for me) bedtime means that I can pull off a 5:55 am wake-up call, getting up with the puppy and NPR's Morning Edition as soon as the alarm sounds. For the first time in my life, I get up at the same time every morning regardless of what I need to do in the morning. I used to play the "five minute game," setting the alarm for five extra minutes if I stayed up late reading, blogging, straightening my hair, packing a lunch, etc. Not anymore - no cheating allowed. And I've been on time and in my office before the students go through metal detectors more time this year than the months of April and May last year. I know, I AM embarrassed.
I use an elaborate two list system to keep my life and job responsibilities organized, but that deserves its own post. I plan my food and shop on the weekend. Because I have the
luxury
of cooking for one, this adds to the ease during the week. I make dinner no more than twice and then leftover it up and pack easy food for lunch! All laundry has to be done by Sunday night because there isn't time during the week, not to mention it stresses me out.
And if you're still reading this and wondering when I have time to blog, that also has to be prepared in advance. Because
Etsy
can be unpredictable and needs to be addressed during the week, I try to prepare the photos for a week's worth of posts on the weekend. Adding the words is the fast point, and an easy brain break after a long day of work. Posting has gotten significantly faster over the years, and a longer post takes me closer to 30 minutes instead of an hour. But sometimes it still takes an hour.
Because I no longer have
diet coke
as my crutch and a busier than normal schedule, I'm super glad I made these changes. I am not perfect and some weeks don't go according to plan. For example, because I traveled last weekend I had to do laundry on a Tuesday. But the greater amounts of sleep means that more gets done during the day. It took a year of living alone to figure out that bedtime makes all the difference. Why didn't anyone ever tell me to just go to bed?
Just kidding. Rachel, my mom and Erica have always told me that. I just didn't listen.
PS. I would gladly trade all this organization for the chaos of a boyfriend and eventually a family. Just saying.