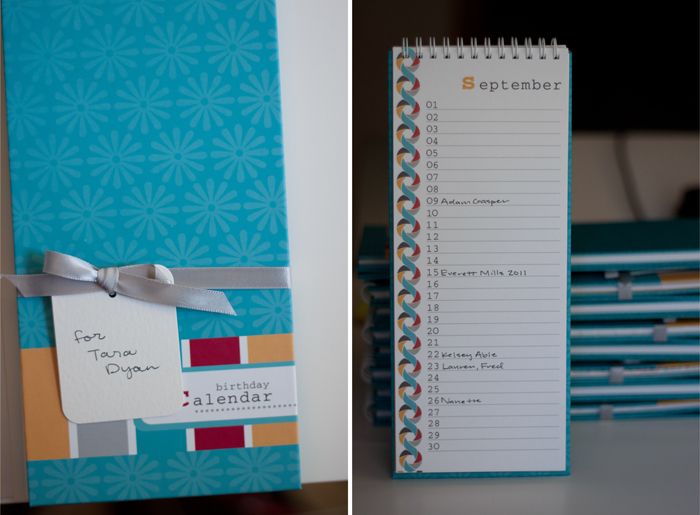 Tuesday night at book club I had a surprise for everyone. Well not everyone - Anne, Abbey and Leah all ended up helping along the way! There are nine of us in book club, and with the exception of me and Abbey, all of our birthdays are in different months. Add in anniversaries and babies' birthdays and that's a lot of dates!
Anne and I saw a need for a perpetual calendar with all of the important days listed. She set to work collecting/confirming the important details, and I started drafting a design. We figured we would get them all printed, bound and provide them as a surprise for friends. We estimated they would be less than $5 or $6 a pop, so it seemed like a great little project.
AND then, Abbey and I went to visit Leah at Hallmark. We found these beautiful little stand-up calendars in the double discount store for about $2 a piece. SOLD. I picked up ten of them and began to fill them in for free.
Everyone loved them on Tuesday night because they came fully loaded with everyone's dates. The design is pretty cute too! I also made one for my sister for her birthday with all of our family's birthdays as well. I've already double checked mine a couple of times and it has a prominent place in my updated office (more to come!).
Thinking ahead for Christmas gifts for your family? Wish you had access to the Hallmark Double Discount Store? I know. It IS awesome. Don't worry - you have other options. Rachel just bought
this sweet calendar
online, and you could print and customize it for your extended family. Or book club.